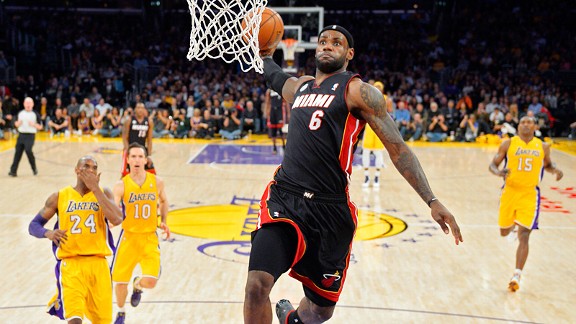 AP Photo/Mark J. Terrill
LeBron James ran away from the Lakers in the clutch, accounting for 14 of Miami's final 16 points.Kobe Bryant was heating up, scoring 10 quick points in the fourth quarter, and the Lakers were mounting a comeback. With the game entering crunch-time, LeBron James switched onto Bryant with 5:27 left in the game and the score tied at 83.
Right off the bat, James smothered Bryant like a wet blanket and forced him to take an off-balance jumper. As the ball bounced off the rim, James dove to the loose ball on the ground, snatched it from Bryant's grasp, stood up and plowed down the floor in transition. All five Lakers packed the paint and did everything in their power to wall off James' attack.
But they forgot about Ray Allen. Seeing this, James found Allen on the wing with a no-look pass and Allen drilled it. Assist for James. Heat up three.
Next trip down the floor, James pulled up on Metta World Peace and swished a 20-footer. Heat up five. Later, James fed Dwyane Wade for a midrange jumper. Assist for James. Again, next time down the floor, James hit Allen on a curl and Allen nailed a tough shot over Dwight Howard. Another assist for James.
Then with the game clock ticking down under a minute, James took World Peace off the dribble one-on-one, pulled up for a midrange jumper and it splashed through the net. Heat up six with 49 seconds left. After a failed Lakers possession, James got the ball back again after an inbound pass, drove to the rim past Pau Gasol and threw it down as Gasol could only push him in the back. And-one. James made the ensuing free throw.
Game over.
Miami ended up winning 99-90 at the Staples Center on a back-to-back in dramatic fashion, but the game was essentially won when James decided to clamp down on Bryant with 5:27 left in the game.
From that point on, the Heat finished the game on a 16-7 run with James matching the entire Lakers' team point-for-point with seven points alone. But what's more amazing is that if we include his four assists, James accounted for 14 of the Heat's final 16 points.
A common complaint about James is that he hasn't hit many last-second shots in his career, which is true. But Thursday's game showed one reason why: He often doesn't let it come to that.
Thanks to James' overwhelming performance in crunch-time on both ends of the floor, the Heat almost beat the Lakers by double-digits when it was a tie game with 2:32 left. Simply put, James made a close game not a close game anymore. For this reason, James remains a ruthless clutch player even without dramatic last-second shots.
And he kills the opponent in more ways than one. On the season, James has played 86 minutes of clutch time, which is defined by NBA.com as when the game is within five points in the final five minutes. In those 86 minutes of high-stakes basketball, James has registered 62 points, 28 assists and 24 rebounds. The assist total is what's most astounding when you think about it. He has more clutch assists this season than any other player. Actually, James has more clutch assists in 86 minutes than Chris Paul, Deron Williams and Russell Westbrook have combined for in 213 minutes.
If we put it all together on a per-36 minute level to better wrap our heads around it, we find that James is averaging a staggering 26 points, 11.7 assists and 10 rebounds in crunch-time. That's right, James is playing at such a high level in the clutch that he's averaging a triple-double on a per-36 minute level. No one else really comes close.
James isn't the ruthless scorer in clutch situations that Kevin Durant can be (Durant's averaging a gaudy 39.1 points per 36 minutes in those situations), but James dissects opposing defenses like a surgeon. Of those 28 assists, 11 of them have gone for 3s. In other words, while James has scored 62 points on his own in clutch time, he's also set up an additional 67 points with his passes. When James has been on the court for the Heat in clutch circumstances this season, he has accounted for 129 of the team's 207 points, or 62 percent of the team's scoring.
Sixty-two percent.
With James controlling the game in so many positive ways, it's no wonder that the Heat have outscored opponents by 50 points in the clutch this season with James on the court. And Thursday's performance against Bryant -- widely considered the most clutch player in the league -- and the Lakers was yet another example of James' winning ways when it matters most.
Statistical support provided by NBA.com.