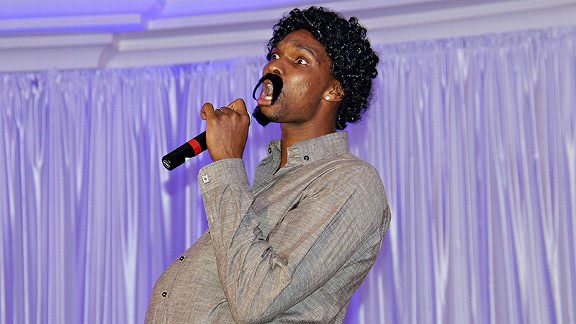 Alexander Tamargo/Getty Images
Yes, that's Chris Bosh.
MIAMI -- For a night, Chris Bosh was the Heat's most valuable player. Or at least that's how Shane Battier characterized Bosh and his karaoke performance Monday night at the Eden Roc hotel in Miami Beach.
Every year, Battier and his wife hold a charity event fundraiser called "Battioke," where people pay ($250 a head this year) to watch NBA stars perform karaoke and also get a chance to bid on Heat-related items at an auction.
It's for a good cause and a good laugh; proceeds from the event go toward the Battiers' Take Charge foundation which helps send South Florida students to college. Thanks to the event, Battier will pay the college tuition of about a half-dozen students.
Performers this time around ranged from LeBron James to Pat Riley to the Heat's newly signed Chris Andersen to Miami resident and Hollywood star Christian Slater. Yes, Christian Slater.
Some notes from the evening:
Remember when a video of James performing Rick James' "Super Freak" made the rounds last year? That was Battioke. James' encore this year was a horribly off-key rendition of Michael Jackson's "Rock With You," but he followed that up with a duet with Dwyane Wade in which they serenaded a birthday girl from the audience to Shai's "If I Ever Fall In Love." You can watch the PG-13 rated performance here.

But Bosh was the big winner of the night. Speaking after Tuesday's Heat practice, Battier explained why Bosh received the night's top award, taking the Battioke trophy from last year's recipient, James Jones. "Chris [Bosh] was my sleeper pick," Battier said. "I don't think anyone has ever done Barry White like he did last night." Looking at the photo above, you can tell Bosh came to play. "Chris was awesome because he undersold the performance," Battier said. "A lot of times when you do Barry White's 'My First, My Last, My Everything,' you tend to go for the bravado and he undersold it. He stuck a pillow under his shirt so he looked like a fat slob and he had this awful goatee. He looked like a cheesy lounge singer at his best."

Here is footage of Andersen and Mike Miller doing Vanilla Ice's "Ice, Ice Baby" courtesy of Hot Hot Hoops. Miller, as you'll see, carried Andersen.

Jones almost became a repeat winner by going onstage with Riley and performing Cee Lo's "Forget You." The best part? When Jones turned to Riley and told him, "Hey, you gotta tell your boy to give me some more minutes. I want to play." Coach Erik Spoelstra was in attendance. No word if Jones will play in Wednesday's game against Toronto.

Udonis Haslem walked out onstage wearing a wig with long dreadlocks (see that here) and did Rick James' "Mary Jane," but not before he jokingly announced that the song choice had nothing to do with his previous brushes with the law. Haslem was arrested in 2010 for possession of marijuana, but the charges were later dropped. Yes, this probably generated the loudest laughs of the night.

Battier gave the best newcomer award to Ray Allen, not Andersen, for Allen's duet with his wife. "I think with the heart and soul of Ray Allen, he wins it. He's lucky he has his wife there to bail him out. Ray was a star, his wife was an even bigger star." Allen and his wife followed in James' footsteps and chose Michael Jackson's "I Just Can't Stop Loving You." Battier mentioned that he borrowed the Battioke idea from Allen, who did a similar event "many moons ago" with the Celtics.

Along with two friends, Slater performed the Heat's victory song "The Heat Is On" by the one and only Glenn Frey.

The list of auctioned items included two courtside seats to an upcoming Rockets game, a pair of LeBron's game-worn shoes and a day on a 100-foot yacht with Battier and his wife, along with select Heat teammates. You know, just normal stuff. Though there's no official word on how much money was raised, some items were going for upward of $20,000, which isn't a surprise considering the room was filled with some of Miami's finest, including Triple Crown winner and former Marlins star Miguel Cabrera, who plays for Battier's hometown Detroit Tigers. Good times all around.