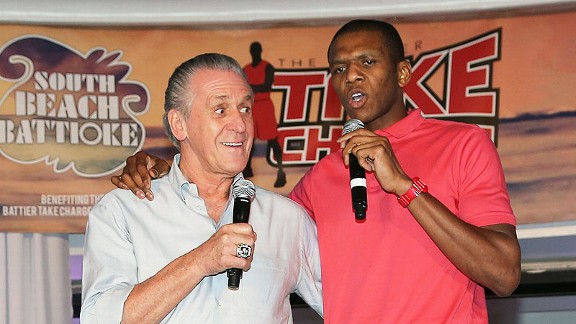 Alexander Tamargo/Getty Images
A week ago, Pat Riley and the Heat may not have been in a singing kind of mood.
MIAMI -- Pat Riley is a man of many motivational methods. But who knew channeling his inner Cee Lo Green would help work such wonders to ease some of the tension within his team?
Yet there stood Riley, the Miami Heat's president, on a stage rapping alongside forward James Jones the other night during a fundraising karaoke event to uproarious laughter. That mood carried into Tuesday's practice as the Heat prepared for Wednesday's home game against the Toronto Raptors.
This time a week ago, the feeling around the Heat was quite different. Just seven days ago, Miami was in the midst of a disastrous road trip, coming off a mini-controversy after coach Erik Spoelstra's decision to bench Dwyane Wade and Chris Bosh late in a loss to Utah and the team was coping with a tired and frustrated leader in LeBron James.
After rallying with two victories to salvage their six-game trip, then enjoying a five-day break in the schedule and poking fun at one another during forward Shane Battier's South Beach fundraising event, the Heat have regrouped nicely.
Now they look forward to returning to action after addressing some concerns on and off the court in recent days. That's the difference a week can make in the NBA, in which last week's drama is this week's joke material.
"Whenever you lose, it's the worst feeling, especially when you lose multiple winnable games," Wade said Tuesday of emerging from a 3-3 road trip that started with three loses in the first four games. "It hurts. There's a lot of things in question, and all of these situations. But when you win, it cures all, in a sense. We're a close-knitted team. If we have any issues, a lot of it is not in the locker room with each other. Even though we didn't have the trip we wanted, we did get better and we did learn something … as a team."
The Heat return home to AmericanAirlines Arena on Wednesday night far more rested, with a bit more size available on the roster and, overall, in no worse shape in the standings than they were when they departed on their longest trip of the season nearly two weeks ago.
At 26-12, Miami holds a 1 1/2-game lead over the New York Knicks for the best record in the Eastern Conference. The Heat have taken steps to address their rebounding struggles by signing veteran center Chris Andersen to a 10-day contract earlier this week that makes him available for Wednesday's game against Toronto. But the team's most meaningful accomplishment in recent days has been the opportunity to give James and Wade significant rest.
The Heat went two days without practicing after returning from the west coast, and James was also allowed to stay home from Tuesday's practice in order to recover from a cold. James' absence came a day after Wade sat out of Monday's workout to nurse a minor toe injury.
"You don't get these type of breaks very often," Spoelstra said Tuesday. "You want to try to accomplish what you can to get guys healthy, to teach, to reinforce some of our habits, but also to take advantage of a couple days, at least, to get after it and drill the physical aspects of our game."
One physical aspect that has been a focus for the Heat is rebounding, where they rank at or near the bottom of the league in many statistical measures. But Miami showed signs of improvement in its past two victories on the trip, even before Andersen was brought in to add size and bulk.
The Heat were outrebounded by seven against the Lakers, but compensated for that deficit by forcing 20 turnovers in a 99-90 win last Thursday. A night earlier, Miami was outrebounded 52-51 but forced 21 turnovers in a 17-point victory against Golden State. It has marked the first time in just more than a month the Heat's defense have forced at least 20 turnovers in consecutive games.
With the defensive turnaround already underway, Spoelstra stressed Tuesday that Andersen wasn't signed to be any sort of savior after being inactive for the past nine months since he was released by the Denver Nuggets last season. Instead, Andersen wants to eventually contribute energy and a few extra blocked shots and rebounds when he gets up to speed.
"I just want to come in here and do what I do," Andersen said. "What I've noticed here is a big trust. Everybody trusts each other on the floor and off the floor. I'm trying to build that trust with these guys. I'm trying to earn it. Just by coming up here and working my tail off, hopefully I'll gain that trust in the next week or so."
While Andersen represents one front-court project for the Heat, Bosh remains another who is a work in progress. After decompression from a turbulent trip, Bosh would like to see his game level off at somewhere near his performance nearly two weeks ago in Portland. James and Wade fed the ball into Bosh early, he attacked the rim often and finished 13-of-18 from the field for 29 points along with four rebounds and four blocked shots in a 92-90 loss.
Bosh said Tuesday that he made it a point during the game against the Blazers to assert himself and demand opportunities. That aggression wasn't there in other games. Bosh said he's still adjusting to knowing when to get himself going by demanding the ball inside, and when to defer and maintain spacing for James and Wade to operate.
"In my position, it's going to be more sporadic -- and I understand that," Bosh said of feature opportunities in the offense. "That's on me a lot [to be aggressive]. I've got to really make and effort to just run down in there. I just have to enjoy myself out there. A lot of the time, I don't want to get in the way. And I can't have that mentality. I have to get in the way sometimes and establish myself."