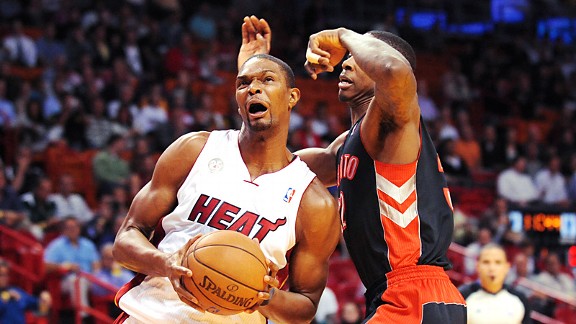 Jim Rassol/Sun Sentinel/Getty Images
Chris Bosh recorded 12 points and 12 rebounds against his former team on Wednesday.
MIAMI –- It's nights like Wednesday when Chris Bosh understands the tremendous challenge many league coaches have when deciding how to fill out reserve spots on All-Star rosters to join the starters selected by fans.
The Miami Heat's 123-116 overtime victory against the Toronto Raptors could easily serve as a microcosm of what the past two-and-a-half seasons have been like for Bosh.
Tucked behind LeBron James' second triple-double of the season, and hidden beneath Dwyane Wade's season-high 35-point outburst was one of Bosh's best games in weeks. Considering his recent struggles, the 12 points and 12 rebounds Bosh finished with Wednesday against his former team would qualify as somewhat of a breakout game.
Yet compared to the impact and numbers his two higher-profile Heat teammates produce, Bosh is overshadowed.
It's not necessarily a case of neglect.
It's simply his new normal.
That's why Bosh insisted after Wednesday's game that he won't sweat the results when the league announces the seven reserves who were chosen by coaches to join James, Wade, Rajon Rondo, Carmelo Anthony and Kevin Garnett on the East team at next month's All-Star game in Houston.
In fact, he says he won't even watch the national telecast when the reserves are revealed before Thursday's game between the Boston Celtics and the New York Knicks.
"I'll probably be sitting on my couch, either playing video games or hanging out with my son," Bosh said. "If I don't make it, it's a waste of time. If I do make it, you don't want to sit there and hear everyone talk about the reasons why you barely made it or shouldn't have been picked."
Make no mistake: Bosh is confident he'll be chosen as an All-Star for the eighth time in his 10-year career. But it doesn't appear he'll be a shoe-in selection in what shapes up to be an ultra-tight fit in the Eastern Conference.
A strong case can be made for as many as 12 frontcourt players who are under consideration for a possible five slots. Coaches are charged with picking two backcourt reserves, three frontcourt reserves and two additional players from either designation. Among the forwards and centers likely to secure two of three reserve frontcourt spots are New York's Tyson Chandler and Boston's Paul Pierce.
That leaves one additional frontcourt spot and two at-large openings up for grabs between the likes of Bosh; Chicago's Joakim Noah, Luol Deng and Carlos Boozer; Indiana's Paul George and David West; Atlanta's Josh Smith and Al Horford; and Brooklyn's Brook Lopez.
The chances improve in Bosh's favor if, for instance, George draws consideration as a backcourt player despite moving from shooting guard to small forward this season.
For coaches like Toronto's Dwane Casey, who can objectively examine the field because he doesn't likely have one of his own players to consider, sorting through the reserve options in the East has been a difficult process.
"I don't want to go into who I voted for, but it's tough because so many guys played well, deserve to play," Casey said Wednesday. "There's just so many guys who are equal and at the same level, bunched in there together. A guy like Bosh, if he's on another team, he's definitely an All-Star. But here, he's overshadowed by LeBron and Wade."
Coaches had to submit their ballots by Wednesday afternoon, so Bosh's effort against the Raptors won't affect where he stands. But it certainly helped the Heat avoid a stumble at home in their return from a long road trip.
Casey said the dynamic in Miami makes it hard on the surface to evaluate Bosh on individual performance, but he added it "should be obvious" for coaches who truly do their homework on the Heat to see Bosh's overall impact.
"That part's not tough at all," Casey said. "I see what he brings to the table."
Much of this season for the Heat has been about trying to find ways for Bosh to fit in at his full-time role at center.
Now, the question is whether he has done enough to get in?
"I think it'll happen," Heat coach Erik Spoelstra said of Bosh. "I think everybody around the league realizes his talent. That's why he's been an All-Star so many years. His game continues to grow. He is getting fewer opportunities, but he is more efficient than he has ever been."
Still, Bosh's candidacy seems to be a complicated case.
While he's shooting a career-best 54.3 percent from the field, Bosh's 7.2 rebounding average and 33 minutes a game are both the lowest of his career. On top of that, Bosh's 17.3 points are the fewest since his third season.
Spoelstra reiterated Wednesday that Bosh's overall production, statistically, has dipped in Miami because he has had to sacrifice and redefine his role the past two seasons.
"More than any star player has," Spoelstra said. "We know how valuable he is to us. He is our most important player."
Spoelstra has maintained his stance that Bosh is the Heat's MIP -- Most Important Player -- for three seasons running. But the more the ball is in James' hands and the more shot attempts are spread across the Heat's perimeter-heavy rotation, the fewer showcase moments come Bosh's way.
"I realize I can do a lot better," Bosh said after his 10th double-double of the season. "Every night I go out there, I just do my best to try to help my team win. Numbers and all of those things, I've never really paid attention to them. If I did, I'd drive myself crazy. All I can do is sit on the couch, have a great day tomorrow and see what happens."
Bosh doesn't believe playing with Miami means possibly sacrificing All-Star appearances and individual accolades for the chance to win more championships.
"I'm more of a why-can't-you-have-both kind of guy," Bosh shot back. "So, why not?"
James doubts there will be much suspense. After using his popular Twitter account to help generate fan votes for Bosh a few weeks ago, James was asked Wednesday to state his case one final time for Bosh as an All-Star candidate.
"I don't need to state it," James said. "He's one of the best players in the Eastern Conference. He should be all right."
Should.
"I feel I'm one of the best players in the league," Bosh said. "Whether it's debatable or not, I really don't care. It's about what I think. And that's it."
By Thursday night, Bosh will either be an All-Star sub or snub. So stay tuned for the reserve results.
Because Bosh probably won't.