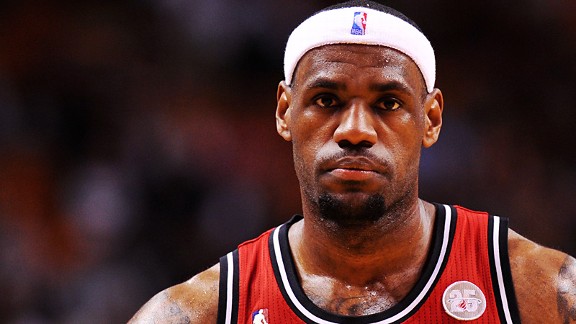 Issac Baldizon/NBAE/Getty Images
LeBron James was all business from the floor, noting that he thought he was fouled on his one miss.
MIAMI -- LeBron James would like folks to think he lacks self-awareness when it comes to many of those magical moments he produces on the basketball court.
Take Monday night, for instance.
Surrounded by two dozen reporters at his locker after leading the Miami Heat to a 99-94 win over the Charlotte Bobcats, James tried to act as if he learned about his latest career milestone only after the game had ended.
There was only one problem with that logic: Perfectionists like LeBron James don't truly tend to operate that way.
On the way to knocking down 13 of his 14 shots, James turned in the best shooting performance of his decorated career as the Miami Heat had to work much harder than expected to open a five-game homestand.
The fact that it took a near-perfect effort from James, a career night on the offensive boards from Dwyane Wade and another huge finish from Chris Bosh to get past the lowly Bobcats shows how much of a struggle some nights in the regular season can be for the defending champions.
But the fact that James is capable of raising his play whenever necessary also reveals just how much he has mastered just about every aspect of his game.
James made his first eight shots before he missed a contested layup with 2:33 left in the third quarter. It would be the only time he failed to connect the rest of the way during a game in which he attempted only one jump shot and steered completely away from the 3-point line.
The final stat line for James read: 31 points, 8 rebounds, 8 assists, 2 steals and 5 turnovers.
And he considered it a sluggish performance after arriving with the team at 3 a.m. Monday from Sunday's game in Toronto and then having to get up a few hours later to take his two young sons to school.
"I felt a little sleepy when I came in here," James said of arriving to AmericanAirlines Arena a few hours before Monday night's game. "But I didn't feel tired at all during the game. I had it going from the start."
Those midday hours of rest after dropping off his kids came in handy for James, who then took the young Bobcats to school the moment his layup gave Miami its first points.
By the end of the first quarter, James was 5-of-5 from the field. He had all six of his shots in the first half, and was 9-of-10 when the end of the third quarter arrived.
"I'm an all-around player," James said of providing whatever the Heat needs at a given point in the game. "I can do whatever the game presents. I can make shots from the outside. Of course, I can make shots from the inside. But I don't let the game determine my game. I go out and figure it out and just play the way I need to play to help our team win. So, I don't know, I'm very confident in my ability and I just go out and try to make things happen."
There have been times in previous games when James might check the stat sheets that are handed to Heat assistant coach Bob McAdoo during Heat timeouts. It's usually a move players don't publicize much, but it happens.
But Monday wasn't necessarily one of those nights when James had to rely on the numbers to inform him exactly where his game stood. It was obvious.
"I think LeBron is cerebral enough to know," Heat coach Erik Spoelstra said. "I think he has a record amount of near triple-doubles. He's always one or two away. Even tonight, when he's got a streak of makes going on, or if he knows or feels he's close to a triple-double, he doesn't allow that to affect his game. He's not going to be a guy who throws the ball off the backboard, trying to get a rebound. He's going to play the game the right way, a competitive way. But it has to be true. It has to be real. But he is a high-IQ cerebral player, so I wouldn't put it past him to know at all times."
It has been that kind of season for James, who is shooting a career-best 55.5 percent from the field. Over the past 11 games, he's shooting at a 60.4 percent clip. Prior to making 92.9 percent of his attempts on Monday, James' previous best display was a 9-for-11 effort last season against the Nets. The five-best shooting performances of James' career have all come in a Heat uniform.
"He was making it a look easy a little bit," Bosh said. "They couldn't do anything about it."
Bosh said he couldn't remember the one shot James missed. But James knew exactly when -- and why -- it happened.
"I don't cry about fouls, but I got fouled on it," James said of the errant layup in the third quarter. "It never stopped me before. But I missed a layup. It sucks."
There wasn't much else he could complain about Monday. He got his way when the Heat elected to stay over a few extra hours in Toronto so players could watch the Super Bowl after Sunday afternoon's victory against the Raptors.
And he got his way Monday night against the Bobcats almost every time he drove into the lane, twisted his body and released a shot. It was a can't-miss scenario for James.
"Some nights you know, and some nights you don't," Wade said. "From the beginning of the game, he was aggressive. When we couldn't get shots to fall, he held court for us. When I'm going [like James], I don't want to know. I just want to keep going [or] you'll start thinking too much."
For James, it's a part of mastering the moment.
"I'm aware," James admitted. "But I'm more aware of time and score, team fouls, who has it going, who doesn't have it going. I'm aware of all of that kind of stuff, too. So with myself, I just let the game flow. I'm not one to -- even though I had one of those games tonight -- I always look at it afterward and say, 'Why didn't I take more shots?' But that's just who I am. I had some more looks, but my teammates had better looks. That's what it's about."