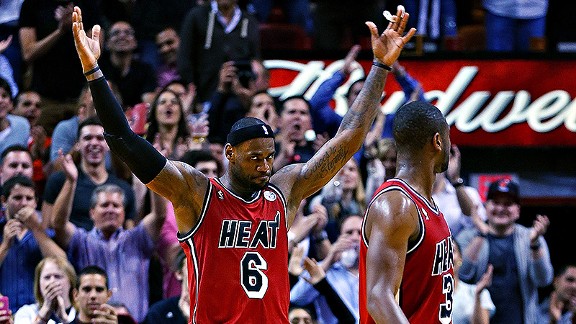 Mike Ehrmann/Getty Images
After another brilliant outing, LeBron James is on target for the most productive season ever.Another day, another record in sight for LeBron James. Actually, this is beginning to sound like a broken record.
James was masterful once again, dropping 40 points, 16 assists and eight rebounds in a double-overtime win Tuesday. No one has matched those numbers in a single game since Basketball Reference started keeping game logs in 1985-86. Sure, he benefited from two overtimes to compile those numbers, but that's a season high in points, a career high in assists and an exclamation point to end his ridiculous month of February.
For perspective, he shot 64.1 percent in February. According to the Elias Sports Bureau, that's the first time an NBA player has shot over 64 percent in any calendar month since Kareem Abdul-Jabbar did it in March 1983 (minimum 200 field goal attempts).
What's crazy is that James never shot below 50 percent in any of his 13 games this past month. His worst shooting performance? That was 52.9 percent this past Sunday. He missed fewer shots the entire month (78) than Rudy Gay missed in a span of less than two weeks (Gay missed 83 shots between Feb. 6 and Feb. 19).
Not a bad month.
Not a bad season.
In fact, Tuesday's outing against the Kings pushed James into uncharted territory.
James is now on pace to eclipse Wilt Chamberlain for the all-time single-season PER record of 31.8, which The Stilt accomplished in 1961-62 and 1962-63. James currently stands at a 31.9 PER. For the uninitiated, PER is a per-minute rating of a player's productivity, and 15.0 is league average. PER does have its blind spots, particularly on the defensive end of the floor, but it gives us a pretty good barometer for James' historic play.
If James keeps this up, he'll have the record all to himself. As you can see by the list below, James' incredible shooting efficiency sets him apart, along with his ability to distribute the ball. Here are the Top 10 single-best seasons by PER, courtesy of Basketball-Reference.com. (Note: blocks, steals and turnovers were not fully recorded until 1977-78.)
Top 10 all-time PER seasons