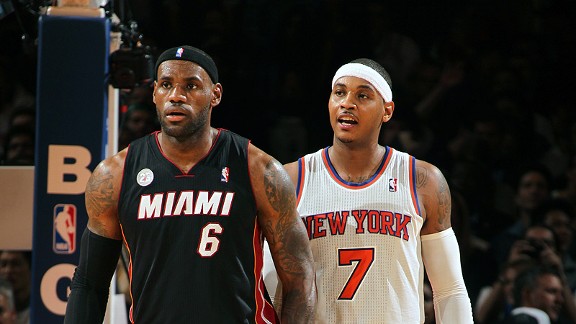 Nathaniel S. Butler/NBAE/Getty Image
LeBron James and the Heat head to Madison Square Garden to face the Atlantic-leading Knicks.In another installment of the Heat Index's 3-on-3 series, our writers give their takes on the storylines before the Heat face the Knicks on Sunday (1 p.m. ET, ABC).
1. The Heat's winning streak is ________________.
Israel Gutierrez: Multi-layered. It started out with us marveling at the efficiency of LeBron James, but within this streak we've seen so much more. Dwyane Wade has looked more like the 2009 version of himself, Ray Allen has fought through his extended slump, the defense has been actually consistent and the wins have come in so many different styles. It has turned a team with minor question marks into a runaway favorite to repeat.

Michael Wallace: Resounding. The Lakers, Clippers, Thunder and Grizzlies all presented different challenges, and LeBron James and crew passed each one with high marks. Along the way, James has played the best ball of his career, and Dwyane Wade has erased many doubts about a lack of explosiveness in his game.
Brian Windhorst: Impressive. Five road wins. Win at OKC. Home wins over Houston, LA Clippers and Grizzlies. A double-OT win. Holding an opponent to 67 points. Historic shooting. Whoa.
---
2. Heat vs. Knicks is ________________.
Gutierrez: The next stop on the regular-season redemption tour. During this streak, the Heat has avenged earlier losses to the Clippers, Blazers, Bulls and Grizzlies. The Knicks spanked the Heat twice early in the season, but that Heat team wasn't anything like the machine that's on display now. If Miami can manage to beat New York, the next stop on the tour is at home against the Pacers on March 10, when the Heat could be riding a 17-game streak. Big game, anybody?
Wallace: Always intriguing. Heat coach Erik Spoelstra couldn't find enough ways to describe how the Knicks pounded, embarrassed, annihilated and torched the Heat in a pair of 20-point victories earlier this season. The Knicks have slipped since that fast start to the season, but they certainly have the Heat's full attention this time around.
Windhorst: A pivotal game. The Heat win, and they have dashed the hopes of another challenger. Knicks win, and it's proof to them they might have a chance against Miami in a series.
---
3. LeBron's pregame dunks are ________________.
Gutierrez: Entertaining, plain and simple. Spending time complaining about when he dunks takes away from the enjoyment. The fact that he could probably win a dunk contest after his legs have taken 10 years of NBA-level pounding is impressive enough. But to demand he partakes in the contest is just silly. If it's OK, I'll just pocket Magic's million dollars and end this nonsense, as a favor to everyone. You're welcome.
Wallace: Much ado about nothing. Having grown weary of all the national debate and attention his pregame dunk routing has drawn in recent days, James finally cracked Friday and reminded the media that he's been doing this since his days in Cleveland. "But I guess it's a small market, and y'all didn't pay attention then," James quipped.
Windhorst: A long-standing tradition. For some reason people are just now talking about them now.