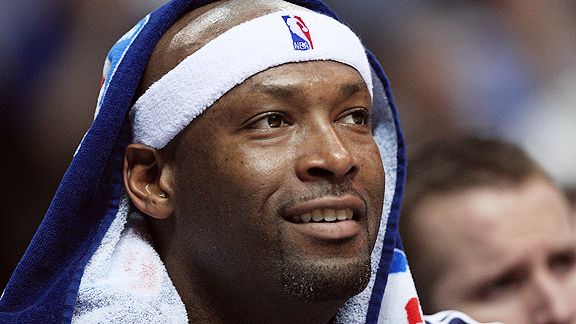 Ronald Martinez/Getty Images Sport
Erick Dampier: Miami's new man in the middle.
MIAMI -- Erick Dampier should have been signed two months ago when he first met with Pat Riley and Erik Spoelstra before the Miami Heat's training camp. But that doesn't mean his arrival Tuesday in advance of Wednesday's clash with Dwight Howard and the Orlando Magic didn't come right on time.
The Heat are hurting right now both figuratively and literally. The pain of their disappointing 8-6 start to the season has been compounded by the the loss of their leading rebounder, co-captain and resident tough guy, Udonis Haslem, for what might be the duration of the season.
On the same day Haslem had surgery to repair a torn ligament in his left foot, the Heat tried to regain their balance by signing Dampier to help fill their rebounding void and need for another big man with some semblance of a mean streak to bang inside.
Dampier, a defensive-oriented veteran center, has spent 14 seasons in the league being two things: big and, at times, bad -- as in you-don't-want-to-mess-with-me bad. But after sitting out all the preseason and the first month of the regular season while sorting through his free-agency options, Dampier essentially arrived at AmericanAirlines Arena on Tuesday with a warning label. Don't expect him to be a savior. But he can be a solid contributor to a below-average rebounding team that ranks near the bottom of the league in interior scoring.
The irony in Tuesday's roster addition was that Dampier joined the team that defeated his Dallas Mavericks in the 2006 NBA Finals. Many of the Mavericks on that team still struggle to grapple with how they squandered a 2-0 series lead by losing four consecutive games -- and a title -- to the Heat. Dampier was reminded of what he wanted to be a forgetful experience as he walked through the halls of the Heat's practice facility, which has floor-to-ceiling photo murals from that championship season.
"I was like, 'Those pictures should have been up at our arena,'" Dampier said, referring to the American Airlines Center in Dallas. "We thought we had it, coming in here at 2-0. I guess they wanted it more than we did. It was five years ago ... it's behind me at this point. You have to look forward."
The Heat begin a critical stretch with Wednesday's visit to the Magic, a home date on Friday with Philadelphia, then Saturday's trip to face Dampier's former team in Dallas. Throughout 96 hours, Dampier will demonstrate what kind of condition he's in and how much lift he has left. But had he been in Miami at the start of the season, it's unlikely he would have allowed Boston's Rajon Rondo to soar for an uncontested dunk in the signature play of that Nov. 11 home loss to the Celtics. And Utah's Paul Millsap would probably have had a few more painful trips to the free throw line thanks to Dampier, who might have slowed down the Jazz forward the night he torched the Heat for 46 points in Utah's comeback victory in Miami.
At age 35 and coming off an injury-filled season that limited him to 55 games last season in Dallas, Dampier won't solve all of the Heat's problems down low. But the moment he stepped onto the practice court with his new teammates on Tuesday, Dampier instantly became the best option among the five centers Miami now has on its oddly imbalanced roster.
How tough is Dampier? Last season, in a game against Oklahoma City, he dislocated a finger to the point where blood gushed out after his bone ripped through the skin. Damp's facial expression never changed. How efficient is Dampier's defensive production? The Mavericks gave up 3.6 points fewer per 100 possessions when he was on the floor last season.
Still, there was a reason Dampier was available. His story is that he was being patient and waiting for the chance to latch on to a title contender. The Houston Rockets, Los Angeles Lakers and Phoenix Suns –- teams that were also linked to Dampier in free agency -– might have a different version.
Yet there's little denying that he can help the Heat. Dampier has yet to make a shot, grab a rebound or commit a hard foul to protect the paint for the Heat. But he already adds more size than Joel Anthony, is more mobile than Zydrunas Ilgauskas, is slightly more skilled than Jamaal Magloire and is obviously more experienced than rookie Dexter Pittman.
And Dampier's addition will eventually allow Ilgauskas to return to his preferred role as a reserve and reduce the number of minutes a reluctant Chris Bosh has had to spend at center. For whatever reason, Riley and Spoelstra didn't see this as a necessity back in September, when the Heat brought Dampier in for a workout but opted not to sign him two days before training camp.
The reasons behind that snub remains a mystery to many, including Dampier.
"Things just didn't get worked out," said Dampier, who signed a one-year deal for a prorated portion of the $1.4 million veteran's minimum. "I don't think there was anything special that happened. They had to make a decision with what they were going to do, and they decided to stay with what they already had. Even though it happened like that, I think things worked out for the better."
For the Heat's sake, it should work out as a case of better late than never.