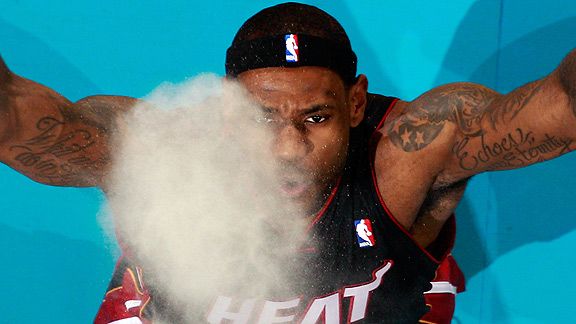 Chris Graythen/Getty Images Sport
This stunt used to attract cheers from fans around the league. Not anymore.
ORLANDO, Fla. -- LeBron James will be the first member of the Miami Heat introduced in the starting lineup on Wednesday night at Amway Center.
The Magic home crowd, like every other crowd outside Miami this season, will likely boo him. And when James touches the ball early in the game, there will probably be more boos.
The boos will follow James as he travels the league this season, whether he's checking in at the scorer's table or walking to the foul line. The volume might vary based on region, the competitiveness of the game or general level of interest, but the pattern figures to be consistent.
This is the new norm for James and one of the many things he admits he's adjusting to as a member of the targeted Heat.
James admitted last week after another night of routine boos in Memphis that he's been perplexed by some of the grief he's received on the road this season.
"It is funny that Memphis fans and fans in the league -- some of the fans that had nothing to do with what I did -- still boo like I was sitting in their room saying I was coming to Memphis," James said Saturday.
James knows it's coming full force next week in Cleveland when he makes his return. He probably expects the same treatment in visits to New York (next month) and Chicago (January), from two fan bases that he rejected in free agency last summer along with the Cavs.
But in places like New Orleans and Memphis, James has still been jeered by fans who supposedly didn't have a dog in the fight this past summer. It seems that universal reaction is part of the fallout of how James handled free agency.
"Every time you touch the ball you heard boos and every time you make a shot you hear cheers," James said. "That's what I heard. The fans come out and support their team."
It isn't like James hasn't been booed before. It was routine over the past several years in places like Washington and Boston -- teams with which his Cavs established playoff rivalries.
But in general, James was used to being cheered in most cities. Several times in his career he's actually gotten standing ovations for his play on the road in places like New York and Salt Lake City.
For now, that seems to have completely changed. But James said it is not affecting him and he doesn't care whether fans get over what obviously upset many this past summer.
"It doesn't matter to me [if fans get over it]," James said. "As an opposing player, you're going to have those boos."