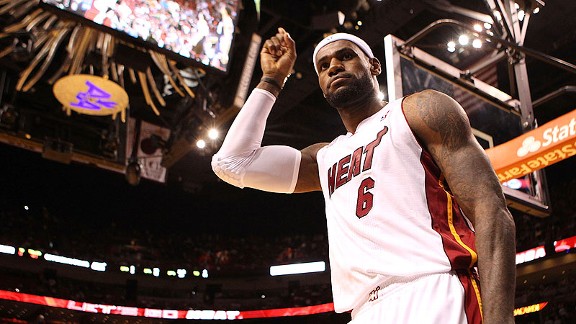 Marc Serota/Getty Images
The Heat's rise over their 27-game win streak was littered with memorable moments.What happened with the Miami Heat over the past eight weeks is something that will be recalled for years, even if they didn't eclipse the Los Angeles Lakers' NBA record of 33 straight wins.
More than 40 years later, that Lakers streak still creates intrigue and inspires celebration. These Heat players, when they are old men, will relive what just happened with fondness. And those who have witnessed it will pass along stories about it to young basketball fans.
Here are 10 of the best memories from the Heat's 27-game win streak:
10. The first comeback
Win No. 6: Feb. 12 vs. Portland (117-104)
The Heat's still-infant winning streak looked to be in some trouble when the Trail Blazers, who had already scored a win over Miami earlier in the season, built a 14-point lead behind terrific shooting and dominating play from LaMarcus Aldridge.
But getting behind big didn't faze the Heat then and didn't bother them later. It turned out to be the first of seven times during the streak the Heat rallied from down double digits. Like a majority of those games, this one ended up turning into a relatively easy victory.
Even when the Blazers had a five-point lead midway through the fourth quarter, the Heat just pressed the gas and broke Portland's spirit without mercy. LeBron James, Dwyane Wade and Chris Bosh combined to shoot 32-of-49.
"It was a LeBron James game," Blazers coach Terry Stotts said.
---
9. The one-two punch
Win No. 3: Feb. 6 vs. Houston (114-108)
James Harden's previous visit to Miami had been miserable, as he and his former Oklahoma City Thunder teammates lost Game 5 of the NBA Finals at AmericanAirlines Arena and then watched the Heat celebrate. Harden performed poorly in that series, especially in the games in Miami, and that led some to question his limitations as a player.
He denied any of that was on his mind when he almost single-handedly stopped the Heat's streak before it got going with a masterful 36-point, 12-rebound, 7-assist performance. He was the game's best player during the fourth quarter as the Heat often were unable to stop him in a high-scoring game that was played at the Rockets' preferred pace.
But the Heat countered with the best combination game from James and Wade up to that point in the season. Wade attacked, getting 13 free throws and making them all on his way to 31 points. James had 32 points and made 10 of his first 13 shots after hitting 13 of 14 in the game before against the Charlotte Bobcats.
We didn't know it then, but James was on his way to one of the greatest shooting hot streaks in history.
Mario Chalmers also had a huge play when he drew a charge on Harden on a fast break in the final minute, which squashed the Rockets' comeback attempt.
---
8. The streak buster
Win No. 13: March 1 vs. Memphis (98-91)
The Grizzlies entered the game having won eight in a row and would win their next six after leaving Miami with a seven-point loss. The dueling hot streaks turned this into a must-watch game, and it ultimately turned out to be one of the streak's biggest victories.
Memphis was 3-1 against the Heat since 2010 entering the night and had crushed the Heat earlier in the season at home because the Grizzlies' size gives Miami's small interior plenty of problems.
James had his worst shooting night of the season, going 4-of-14, and for a while it looked as though his run of 475 regular-season games scoring in double figures was in jeopardy. Wade carried the Heat offensively for three quarters on his way to 22 points.
But James had a big fourth quarter and nailed a 3-pointer with 24 seconds left that clinched the game. At the time it qualified as the biggest shot James had made all season, a threshold that would be readjusted several times as the winning streak continued.
"LeBron made the big shot and that's all that matters," said the Grizzlies' Marc Gasol, who had 24 points. "He took a shot like he's supposed to and made it, so kudos."
---
7. "Mi casa es su casa"
Win No. 21: March 15 at Milwaukee (107-94)
James, Wade and Bosh all scored more than 20 points. It was, by far, the best collective game they'd played together in the Bradley Center, a place in which they'd struggled since coming together three seasons ago.
Good and lucky
The Heat enjoyed excellent health during their streak. Dwyane Wade missed only two games with a sore knee and Shane Battier missed a game with a hamstring injury. But their opponents were decimated by injuries. Here's a list of players who missed games against the Heat during the win streak:
After the Heat downplayed the value of the growing streak for days, there was a noticeable difference in the mood and rhetoric from the team after the game. The Heat had become just the fourth team ever to win 20 in a row and, by avenging a 19-point loss in their last trip to Milwaukee, were on the verge of
tying the 2007-08 Houston Rockets for the second-longest winning streak ever.
Shane Battier, who was on that Rockets team, had channeled Miami Dolphins running back Mercury Morris a week earlier when comparing the streaks.
"Don't talk to me when you're on my block, talk to me when you're on my porch," Battier joked at the time.
Now that the Heat were ready to tie that Rockets team, and were on Battier's porch, if you will, he had another message: "Mi casa es su casa," Battier said.
What the Heat were doing and were capable of doing was sinking in and the players were embracing it.
"We don't take it for granted because in professional sports wins aren't easy to come by and the fact that we've won a fourth of our season [in a row] means a lot to all of us," James said. "It's not the ultimate for us, but it is an accomplishment we know about and we're living in it. We're just trying to make a mark in NBA history any way we can. We want to leave a mark so when we're all done we can say our team was special."
---
6. The game winner
Win No. 16: March 6 vs. Orlando (97-96)
Way back then it seemed like winning a game after being eight points down with eight minutes to go was a big deal. The Heat were guilty of falling asleep in this one, blowing a 20-point lead as Magic big man Nik Vucevic racked up 25 points and 21 rebounds.
But Vucevic was one of three Magic players to foul out in the fourth -- which had coach Jacque Vaughn steaming about the foul disparity afterward -- and he was not there when James drove to the rim in the final 10 seconds.
After missing two clutch jumpers moments earlier, James decided to drive left and go to the rim. Earlier that week, Michael Jordan said in an ESPN.com story that if he were guarding James he would make him go left because he usually pulls up for a jumper.
With no Vucevic in to protect the rim, James blasted past DeQuan Jones going left and put in the game-winning layup with 3.2 seconds left. It was James' first game winner in the final five seconds since he beat the Magic in Game 2 of the 2009 Eastern Conference finals.
"I had no intention of shooting another jumper," James said, possibly in a veiled reference to Jordan's comments.
---
5. Lower the roof
Win No. 7: Feb. 14 at Oklahoma City (110-100)
James put up 39 points, 12 rebounds and 7 assists as the Heat jumped out to a stunning 15-point lead in the first quarter and never trailed. What was supposed to be one of the best regular-season games on the schedule turned into a one-sided affair.
James scored 10 points in a span of 1:46 in the second quarter to virtually break the Thunder. Kevin Durant tried to lead a desperate OKC comeback by scoring 22 points in the fourth quarter, but James squashed it with another series of shots.
After a long 3-pointer that settled the issue and silenced the Oklahoma City crowd that had been trying to will its team back into it, James glided past the Heat bench with his arms outspread in a downward pushing motion.
He later described it as an homage to Nick Van Exel, whose "lower the roof" became an anti-pop culture trend during his heyday in the mid-1990s. The "lower the roof" pose became a bit of a standard during the winning streak, especially when James made big plays on the road.
---
4. "Video game numbers."
Win No. 12: Feb. 26 vs. Sacramento (141-129 2OT)
The box score was prodigious. James had 40 points and 16 assists, the first player to do that since 1994. Wade had 39 points and a career-best 19 field goals. Marcus Thornton had 36 points off the bench for the Kings, the most for a nonstarter this season. The Heat tied a franchise record for scoring. James finished off February shooting 64 percent.
Coach Erik Spoelstra called them all "video game numbers."
It was hardly satisfying; the Heat blew several chances to put the game away when both Wade and James missed clutch free throws. Wade ended the game standing on the ball after Tyreke Evans stole it from him moments earlier and then missed a clear lay-in attempt, while Wade was trying to dribble out the clock. It was a fitting way to end an outlandish game.
---
3. The Battier speech
Win No. 1: Feb. 3 at Toronto (100-85)
Overcoming the hero
In many NBA regular season games, one great performance can often be the difference. Numerous players brought their "A" game against the Heat and delivered huge games, but the Heat were repeatedly able to overcome them. Here's a look at some of the efforts the Heat were able to beat:
For days the players had been not-so-subtly complaining that their schedule was going to cause them to miss the Super Bowl. After an afternoon game in Toronto, the Heat were scheduled for a three-plus-hour flight back to Miami during the big game and their charter jet was not equipped with television or Wi-Fi.
"It's unfortunate," Spoelstra said. "But we have a game the next day and we need to get back."
But the coach had a secret plan, which he sprang on the players after their victory over the Raptors. They were not going home right away so they could rest up for the next night. They were going next door to Real Sports, a massive sports bar complex that had prepared a private balcony for the Heat players and staff to watch the game on its 40-foot TV screen.
Spoelstra watched game film through the first quarter but, eventually, joined the fun as the players watched, ate and generally celebrated like children who'd just been delivered a snow day.
On the bus on the way to the airport after the Ravens beat the 49ers and a 34-minute power outage delayed the Heat flight even more, Battier made a speech about the value of the moment to his satisfied and euphoric teammates. It ended up turning into a defining point in the season.
"You had to be there," Bosh said. "It was after watching the Super Bowl. It was a good game, we had a great time. I guess the main focus was that you're going to miss me when I'm gone. He tied in everything. He tied in life to the Super Bowl. It was just everything."
Battier and his teammates have closely guarded the actual words, but they seemed to make a lasting impression on everyone as the Heat talked about it weeks later as being a pivot point.
"I talk from the heart. I'm an old man around here so I've seen a few things, heard from some great coaches. I don't think there's any magic in the words," Battier said. "It was all in the virtues of teamwork, brotherhood and staying in the moment in my own special way. I was filled with the spirit of community and brotherhood. It was a fantastic day. I just wanted to let my teammates know how I felt."
---
2. "I'm glad it happened to him."
Win No. 23: March 17 at Boston (105-103)
Of all the big games James has played in Boston over the years, he did something in this one he'd never done before. With 10 seconds left he drilled the game winner, an under-pressure jumper at the end of the shot clock that completed a 13-point comeback in the fourth quarter to keep the streak alive when it had looked dead just a few minutes earlier.
But that won't be the memory James keeps from the game. That would be his vicious alley-oop dunk that flattened Celtics guard and longtime personal rival Jason Terry in the first half. Terry didn't see James coming as he trailed on a fast break and Terry was swallowed by a combination of James' speed and power.
James received a rare taunting technical for standing over and menacing Terry after the play. It was the latest chapter in a long-running feud between the players dating back years to when Terry committed a flagrant foul on James when Terry played for the Atlanta Hawks and James for the Cleveland Cavaliers. It escalated over the years with trash talk going back and forth, including Terry ripping James in a rap video. James also issued a hard foul against Terry in the 2011 Finals after Terry beat him badly off the dribble.
James then followed it up by showing Terry up to the media, something James had almost no history of doing.
"I've had a chance to [review] it, and it was one of my better [dunks]," James said later. "The fact that it happened to JT made it that much sweeter. Because we all know JT and he talks too much sometimes. And I'm glad it happened to him."
---
1. "Unique and bizarre."
Win No. 24: March 20 at Cleveland (98-95)
A 30-minute delay for condensation leakage on the floor. A fan charging the court to ask James to come back to Cleveland. The Cavs building a 27-point lead despite missing their three best players.
And none of that was the most amazing event of the night: that was the Heat's stunning turnaround to keep their streak alive.
Miami executed a 34-point swing on the scoreboard in just more than 12 minutes of game time from the middle of the third quarter until the middle of the fourth. Then the Heat nearly lost an eight-point lead in the game's final two minutes before finally putting the Cavs away as James actually got some cheers from a fan base that had made a cottage industry out of hating him for the past three seasons.
James, who had 25 points, 12 rebounds and 10 assists, called it "one of the most unique and bizarre nights of my life." It was also a testament to how much the Heat valued the streak. The fifth game of a road trip and a 27-point deficit in a game that was meaningless in the standings would be a recipe for throwing in the towel under normal circumstances. This, of course, was not normal.
"After it becomes a thing," Bosh said, "you don't want to lose anymore."