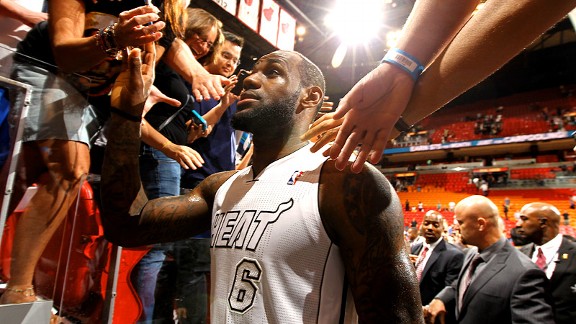 Issac Baldizon/Getty Images
LeBron James, who had missed the previous three games, left the court after an impressive outing.MIAMI -- Midway through the first half Saturday, LeBron James deflected a pass into the open court and saw the basketball rapidly rolling toward the Miami Heat basket, just waiting for him to scoop it up for a highlight dunk.
There was just one problem.
James was in his first game back after missing a week with a sore right hamstring and wasn't quite ready to push it. His teammates weren't ready to see him try too much too soon, either.
"That ball was flying," James said. "I don't know if I could have caught up to it or not, but I wasn't even going to try, game one back off a hamstring injury. I looked at [Heat teammates], and they were like, 'All right, slow down.'"
James quickly pulled up and decided to let the ball roll out of bounds. That would be the only sign all night that the Heat's catalyst was slowed by any sort of nagging injury.
Playing for the first time after a three-game absence, James showed no signs of rust on his way to scoring 27 points in 30 minutes in the Heat's 106-87 home victory against the Philadelphia 76ers. Coach Erik Spoelstra's plan was to reduce James' minutes in his first game back since he sustained the injury in a March 29 win in New Orleans.
Despite a week off, James picked up right where he left off against the Hornets, when he made his first seven 3-pointers and finished with 36 points in only three quarters. James sat the fourth quarter after tweaking his hamstring.
On Saturday against Philadelphia, James made 12 of 17 shots from the field, and added five assists, four rebounds and a steal. Apparently, the rest and recovery did him plenty of good and the hamstring checked out just fine. James proved as much when he capped Saturday's game by exploding into the open court and taking off a step past the free throw line on a breakaway dunk in the final minutes.
Earlier in the game, James was hesitant and reluctant to show that kind of burst. By the time he worked up a sweat and regained his rhythm, he was back to his old habits.
"I was able to mix it up," James said. "I was able to get to the rim, make some jump shots, just trying to play my game. The last fast-break dunk I had, I even tried to push my hamstring even more to see where I was, just trying to stretch out. It reacted well, so that was a good thing."
James' return to the lineup, coupled with the Heat securing their second 60-win season in franchise history, overshadowed other developments on the team's injury front. The three-time MVP's comeback coincided with center Chris Bosh sitting out Saturday with a hyperextended right knee. Spoelstra said Bosh hurt his knee several days ago and has played through the soreness. But when Bosh arrived at the arena for Saturday's game, he informed the training staff he was sore and could use a game off to rest.
The Heat also continue to be without Dwyane Wade, who sat out for the sixth time in the past eight games because of lingering effects from a bruised right knee and right ankle sprain. Spoelstra said Saturday that Wade is still dealing with soreness and swelling in the knee, which he initially injured March 6 against Orlando and aggravated twice.
Wade hasn't played since the March 29 game in New Orleans. The team considers him day to day, but Spoelstra was reluctant to say whether it would be a priority to get Wade back on the court to regain rhythm at some point in the final six games before the April 20 start of the playoffs.
"His body will tell us when we'll play him," Spoelstra said of Wade. "He got hit right on top of his knee twice. He was able to resolve it, then get past it. But in the New Orleans game, he got beat up in that game and was on the floor."
The Heat are hopeful Bosh could be back for Tuesday's home game against Milwaukee, but Spoelstra has repeatedly said the team is more focused on having its primary rotation players rejuvenated for the playoffs. In addition to James, Wade and Bosh, guards Mario Chalmers and Ray Allen have missed recent games with lingering ankle injuries, although both played Saturday.
James was happy to be back on the court. The three consecutive games he sat out were the most he has missed in a row since he joined the Heat before the 2010-11 season. But James also said he wasn't going to return to action from the strained hamstring, "unless I knew I was ready."
"My body felt good the last couple of days, so I gave it a go," James said. "I came in knowing [Spoelstra] was going to monitor my minutes. I didn't have to pace myself."
But James did have to prove himself -- at least in front of the training staff before he was cleared to play Saturday. It was a tedious process that required James to complete three days of gradually more difficult workouts.
After rest and extensive treatment in the first four days after the injury, James was able to do some light court work during Thursday's practice. James and the Heat's entire medical staff traveled with the team Friday to Charlotte, where he got in a 25-minute shooting and agility session on the arena court before the Heat played the Bobcats. Then, about two hours before Saturday's game, James was in the Heat's practice facility with the training staff for more tests.
"He's been doing extensive work behind the scenes with the training staff -- all of the exercises to strengthen up the [hamstring] area, to put him in position to show us the last couple of days," Spoelstra said of James. "[Saturday] he had to show us ... that he could pass all of the movements. It was about a 15-minute series of sprints, jumps, backpedals, lateral moves, all of that under the close eye of that staff before we gave him the green light."
Then, James gave it a go. Early on, he had to feel his way through. He played six minutes in the first quarter and just 14 minutes in the first half -- about eight fewer than normal.
"But any time you come off an injury, in your mind, you're going to be like, 'Can I do this, can I do that?'" James said. "But I felt good. Then I went out there and just let my instincts do the moves and go for it."