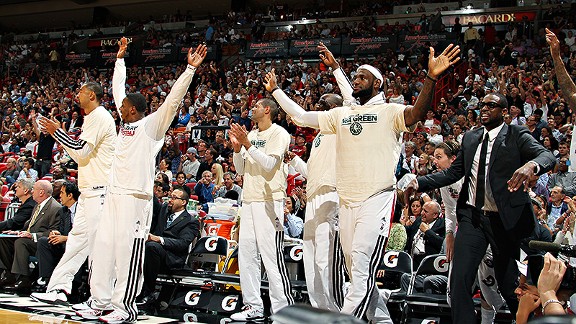 Issac Baldizon/Getty Images
With Chris Andersen sinking a 3-pointer, it was a sign of good times in Miami.MIAMI -- With Dwyane Wade and Chris Bosh sitting out Tuesday's game against the Milwaukee Bucks, the Miami Heat had a problem on their hands.
Heat coach Erik Spoelstra decided to go small by inserting Mike Miller and Shane Battier into the starting lineup alongside Mario Chalmers, LeBron James and Udonis Haslem, which meant only one thing: They had no one taller than 6-foot-8 to jump the opening tip against Milwaukee 6-11 center Larry Sanders.
So, who was going to step up to the plate?
Haslem didn't want to do it, so he asked James if he would do the honors. James respectfully declined. Then James did what only seemed right at the time: He told Chalmers to do it.
"Of course, Chalmers would do anything," James said. "He's crazy and confident at the same time."
Chalmers, all 6-1 of him, guaranteed that he would win it, but then Battier stepped in and vowed to take the opening tip. The 6-8 Battier drew the short straw against Sanders, who is three inches taller and a decade younger.
Sure enough, Battier won the opening tip and secured the Heat possession.
"It was awesome," James said.
And that's pretty much how things went on Tuesday night in Miami. The short-handed Heat beat the fully staffed Bucks handily by 11 points at AmericanAirlines Arena. The Bucks have now lost eight of their past 11 games while the Heat have won 31 of their past 33.
The Heat are locked into the No. 1 seed in the Eastern Conference standings while the Bucks are all but slotted into the No. 8 seed. So it makes sense that many framed Tuesday's matchup as a playoff preview. But if that's the case, the Bucks better hope it's not a sign of things to come.
Even without Wade and Bosh, the Heat toyed with the opposition.
One example? A transition play in the first quarter. With James running a two-on-one fast break on Monta Ellis, James launched from the left side of the paint to throw a lob to Mike Miller with his right hand. But when Ellis retreated toward Miller to stop the lob, James called an audible in midair, scooping the ball into his left hand and lobbing it up anyway.
To himself. Off the backboard.
"I had to make an in-flight adjustment," James said.
James caught the ball with his right hand as it bounced off the glass, then flushed it home. Ellis didn't even try to contest it. It's times like these that we're reminded that James is fully ambidextrous; he shoots with his right and writes with his left.
James finished with 28 points, seven rebounds and seven assists on 11-of-16 shooting to stretch his field goal percentage on the season to a staggering 56.3 percent. Even on a night when the Heat shot just 8-of-35 from downtown, James continued to set up his teammates and make sure they got their shots.
At one point, Battier missed three straight 3-pointers in a span of 60 seconds and James still hit him with a pass for a fourth helping, this time from the right corner. It went in, of course. Battier smiled and first-pumped straight up into the air as James laughed his way down the court.
Moments like this are why even James' opponents think he's due for his fourth MVP in five seasons.
"He's on a different planet right now," Bucks forward Mike Dunleavy said of James after the game. "He's got complete control of the game whenever he wants it. You have to give it to the guy, he trusts his teammates. He keeps coming to them, and they eventually knock the shots down. They're a heck of a team, and that's why he's the MVP."
As if the self-alley-oop-off-the-backboard wasn't enough, Heat center Chris Andersen -– yes, that Chris Andersen -- splashed a 3-pointer from the top of the key in the fourth quarter with the shot clock winding down. It was the first made 3 since 2009 for the man they call "Birdman," his third make during his entire 10-year career.
James claims the bench knew it was going in as soon as Andersen released the shot.
"We called it," James said. "When he let it go, we were like, 'Oh yeah, that's going in.' He drained it so we had to do the bird call."
Obviously.
But why were the Heat so confident that Andersen could make that shot? Apparently, the Heat begin every morning shootaround with a popular childhood game called "Knockout," in which the players take turns trying to hit a 3-pointer before the person in front of them. The sharpshooting roster? Ray Allen, Shane Battier, Mario Chalmers, James Jones … and Andersen.
James insists that Andersen has held his own against the others.
"I know he's been in the [Knockout] finals," James said. "I don't know if he's won one before with all those great shooters, though."
With the win, the Heat have equaled a franchise record with 61 wins, tying the 1996-97 squad. With another victory against the Washington Wizards on Wednesday night, the second game of a back-to-back, the Heat would be the winningest team in Heat history.
Even though Wade has been sidelined with an ankle injury the past five games and Bosh has a bout with the flu, it seems like it's been all fun and games these days. Wade was set to travel with the team to Washington, but Spoelstra indicated that Bosh would remain in Miami "barring a miraculous recovery."
The Heat had some extra incentive on Tuesday as a win over the Bucks pretty much ensured that the Heat won't be playing against the Celtics in the first-round of the playoffs. With Heat president Pat Riley and Celtics president of basketball operations Danny Ainge exchanging some strong words laced with profanity, James was asked whether there would be extra fuel for Friday's game against the Celtics.
After a lighthearted conversation talking about knockout games and mid-air theatrics, James quickly turned dismissive.
"Nah," James said. "Not at all."
Sure, it's all fun and games, right?