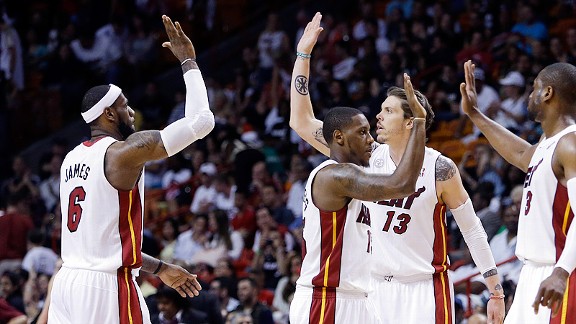 AP Photo/Lynne Sladky
After dispatching the Bulls, the Heat now focus on their first-round opponent, the Milwaukee Bucks.MIAMI -- Having passed their final pre-playoff test with Sunday's rugged 105-93 victory over the Chicago Bulls, the Miami Heat now essentially get a full week of rest before the defending champions begin their run at a repeat.
Monday's visit to play Cleveland represents little more than a chance for LeBron James to check on his home in Akron before he likely takes the night off against the Cavaliers.
With the Heat already locked into their first-round playoff series against the eighth-seeded Milwaukee Bucks, coach Erik Spoelstra announced Sunday that Miami's first full playoff practice will take place Wednesday morning.
That would be just hours before the Heat play the regular-season finale Wednesday night against the Orlando Magic. It's one of many clear signs that indicate just how eager the Heat are to start the only part of their schedule that matters.
In a season that could have been mired by distractions, a championship hangover and falling well short of expectations, the Heat instead delivered easily what has been the best regular-season run in franchise history.
Now, with James, Dwyane Wade and Chris Bosh not likely to make their next appearance together on the court until Game 1 of the playoffs this coming weekend, the Heat regroup to show just how much better this team is than the one that cruised past Oklahoma City last year in the Finals.
The Heat have transitioned from losing to Dallas in the 2011 Finals to winning it all last season to rewriting the franchise record book this season. Just how different is this Heat team than the ones from the past two seasons?
Spoelstra believes this team has a different mindset.
"I think we're a better team now going into the playoffs than we were last year," Spoelstra said Sunday. "It started with having a growth mindset. We started really hammering home that concept in the preseason -- don't stay the same. Individually, you have to get better. Collectively, every month we have to try and get better."
That individual growth has led to James, Bosh, Wade all having the most efficient offensive seasons of their careers. Members of the supporting cast, including Mario Chalmers, Shane Battier and Mike Miller, can also point to career-high production in at least one statistical category.
James insists the Heat are a far more resilient team than either of the past two Miami squads he's led to the NBA Finals. There isn't a deficit or challenge they believe they can't overcome. That wasn't the case two years ago in Dallas.
"We've seen it all," James said. "There isn't nothing that could surprise us that we haven't seen. We've been down in series, we've been down on the road, we've been down at home. So we've seen a little bit of everything in these first three years. We had that feeling [of winning a title] and we want it back again. That makes us even more hungry."
This version of the playoff Heat is far more experienced on the biggest stage, too. James said the offseason additions of Ray Allen, who won a title in Boston and went to the NBA Finals twice, and Rashard Lewis, a starter on Orlando's team that went to the Finals in 2009, have provided a level of depth that didn't necessarily exist on previous Heat teams.
And then there's Chris Andersen, who scored a season-high 15 points in Sunday's win against Chicago. Andersen gives the Heat an active inside presence at both ends of the court, which is something Miami never did quite find as the team rotated through Jamaal Magloire, Zydrunas Ilgauskas, Erick Dampier, Eddy Curry and Ronny Turiaf since 2010.
Beyond the individual improvement, resilience and depth, Wade suggested the accountability is much stronger this time around. There were times the past two seasons when players would get rattled or retreat into their own corners after falling behind or dealing with other adversity.
"There would have been more angry individuals," Wade said. "I don't know if it would have been as much talk."
But Wade spoke Sunday of a team than now that shrugs its collective shoulders when problems arise. The dialogue is always open and issues are dealt with honestly.
"There are going to be moments where it's going to be amazing [and] there are going to be moments where three, four, five plays might go bad for you," Wade said. "You just have to keep working your game. Now, when we come in we talk about what we need to do. And then, we just go out and handle it. We understand each other. We know what we need to do as a unit. It doesn't happen every day or every game. But for a majority, we go out and do our job."
A more comfortable team is a more confident one, too.
"There was always a lot of doubt before. The doubt is going to come," Bosh said of critics of the Heat over the past three seasons. "If we play our best basketball, nobody's going to beat us four out of seven times. Nobody. That's just how I feel. And I know everybody else here feels just like that. Everything external, we can't control that. We just keep everything in here and control what we can control."
More than anything, the Heat enter their third playoff run of the James-Wade-Bosh era with health and momentum.
A season highlighted by a 27-game win streak, franchise records for overall wins and home victories, a likely fourth league MVP campaign for James and marks at career-high levels for several players now gets down to real business.
"Everybody's clicking," Chalmers said. "It's been better every year for us. Our first year we struggled. Our second year we got better. And our third year, we're getting even better. So it's a great progression for us. We're ready [for the postseason again]. As ready as we're going to get."