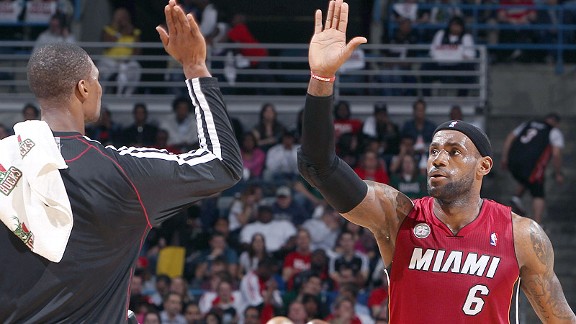 Gary Dineen/NBAE/Getty Images
LeBron James and the Miami Heat look ahead after sweeping the Milwaukee Bucks with little difficulty.MIAMI -- LeBron James called it the next big step.
And on Sunday, it carried the Miami Heat over a threshold that led to their first four-game playoff sweep since James, Dwyane Wade and Chris Bosh came together as free agents during the summer before the 2010-11 season.
The defending champion Heat closed out their first-round series against the Milwaukee Bucks with their fourth straight victory by double figures, this time an 88-77 win that assured Miami of two things in the coming days.
Plenty of rest.
But also a break in momentum.
Dealing with a solid week of idle time as they wait for their second-round series to start could present the Heat with an ever bigger challenge than anything they faced during those glorified scrimmages against the overmatched Bucks.
"We like what we were able to accomplish this series," James said after he posted 30 points, eight rebounds, seven assists, three steals and a block in Game 4. "We get a chance to get rest because we took care of business. But our business is not done. We also have to keep our heads and not lose our rhythm with practice and preparation."
But now the wait begins.
After easily emerging from the least compelling matchup in the entire playoff field, James and the Heat become spectators. They'll watch Game 5 between the Chicago Bulls and Brooklyn Nets on Monday, a series Chicago leads 3-1. But even if that series concludes Monday night, the Heat might not play Game 1 of the next round until the coming weekend.
How tough might waiting around that long be for the Heat?
"Not tough at all," James said. "We feel we have a team that's built for the playoffs. We've been waiting for this."
That's part of the reason James felt the Heat took a significant step forward by taking care of the Bucks as quickly as possible. It was a symbolic sign of growth from the previous two seasons when the Heat started the playoffs.
In the first round of the 2010-11 playoffs, the Heat had a 3-0 lead on the Philadelphia 76ers but couldn't pull off the sweep and had to wrap up the series in five games. That was also the case last season, when Miami won the first three games against New York in the first round only to watch the Knicks force a Game 5 before the series ended.
Even with Wade sitting out Sunday with a sore right knee, the Heat had no intentions of leaving any work undone. They also had help from an accommodating Milwaukee team that has half of its roster headed for free agency.
"The biggest focus for us will be keeping ourselves physically ready," Heat coach Erik Spoelstra said, with his team likely headed for consecutive off days Monday and Tuesday before resuming on-court workouts. "That's probably the most abnormal of circumstances. You're used to playing every 48 hours or so, that's the NBA rhythm. Mentally, I'm not as concerned about our guys. We will have to strike a balance between our conditioning, staying fit, getting after it in practice and getting our guys healthy."
The Heat were already a step ahead of the process in that final area on Spoelstra's check list. Wade, who has been dealing with recurring soreness from multiple bruises to his right knee, warmed up for 20 minutes before Sunday's game before the official decision was made to sit out.
A combination of factors, including the Heat's commanding lead in the series and the productive play from shooting guard Ray Allen, played a role in Wade and the team erring on the side of caution with his condition.
But consultation from James throughout the day Sunday was also a determining factor. James said he told Wade early Sunday morning that if he didn't feel he could play at the top of his game, then he should consider sitting out.
"We've seen too many injuries in the NBA already," James said, referring to Derrick Rose, Russell Westbrook, Kobe Bryant and several other superstars lost to injuries.
Wade then got most of his workout in on the bench, where he frequently jumped to cheering on teammates and also offered advice when they came to the sideline for rest.
"I was going to push through it [and play]," Wade said after the game. "But my teammates told me that if I was hurting, they got it. So I trusted my teammates and we were able to get the win. It's going to be great to get some rest. But we also have to take this time to remain sharp."
Sunday's sweeping step comes at a time when the Heat's supporting cast has maintained a productive stride, even as one of their best players in Wade limps slightly along.
Allen became the NBA's career leader in made 3-pointers during Game 3 and provided another boost off the bench. He shot 46.4 percent from 3-point range and averaged 16.5 points in the series. It was the most points a Heat reserve has averaged in a playoff series in franchise history.
Second-year point guard Norris Cole and midseason acquisition Chris Andersen were also huge during a series that saw the Heat pull away in the second half of every game, with second-unit players sparking those spurts.
After averaging six more points in the first-round series than he did during the season, Allen was asked to describe the difference in his play from the regular season and now.
"I just know now is the time you need to win," Allen said.
After taking that first step on their quest to repeat, the Heat can regroup a few days to regain their footing. As James said, they took care of their first-round business well.
Maybe even a bit too well, considering all the time they now have on their hands.