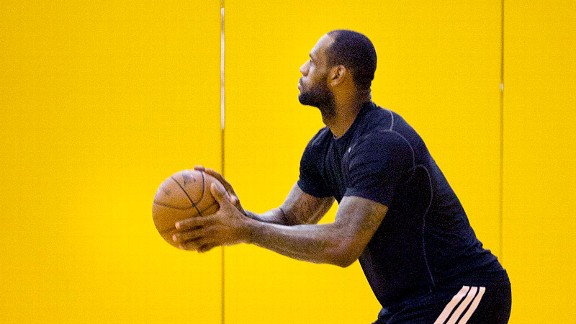 AP Photo/J Pat Carter
Thinking about the game in new ways helped LeBron James earn his fourth MVP award.LeBron James' Most Valuable Player awards have become a little bit like children.
They look alike but each has their own personality with the little differences in how they were nurtured, each one building on the next.
He's now getting his fourth and there's plenty of room in his cavernous trophy case for more. Each has its own special set of circumstances. The first brought relief and affirmation. The second was admittance to the club of superstars. His third, which came last year, felt so redemptive after he was beaten down emotionally after his controversial move to Miami and initial failure there.
This one, his most impressive yet when it comes to a body of work during a season, has its own properties. This is James' mental MVP.
He's been bigger, stronger and faster than his opponents for a long time now. But this season, more than any other, James truly thought about the game on a deeper level than ever before, seeing the challenge of matching strategy with cerebral execution.
As he's matured and conquered various goals. It's been fascinating to watch James begin to eye the unsolvable puzzle of trying to master the game itself and not just his direct opponents. Like a chess grandmaster or, more appropriately for James' generation, a video gamer, James has slowly but steadily become obsessed with becoming immersed in nuance. His maturation and understanding of his place keep pushing him to look for a better way.
The first giant stride in James' career came when he embraced the reality that he had to be a dominant player at both ends. It was not an accident that when James won his first MVP in 2009 it was also the first time his name arrived near the top of the list in the Defensive Player of the Year voting.
The next major step was to be able to handle pressure and rise above it. This will never be complete -- James swims in an ocean of it -- there will always be more and also be a demand to fight it. But he's done the work and gone through the stages, learning how to tread and then to occasionally surf in it.
Early in his career he was in denial, becoming fond of saying, "I don't believe in pressure" with such naiveté that for a while it was charming and disarming even if it was complete bull. Then there were the bargaining years, where he would often blame teammates at times for his own shortcomings.
Often they deserved blame for something but not for what gripped James at his weakest moments. And finally there was acceptance after he hit rock bottom in 2011 as he spent months of work learning how to control his emotions enough to overcome and become a champion at last.
Now, though, James has moved to a new phase that has captured his focus. Raising this particular Maurice Podoloff Trophy is a signal that James has once again achieved a new level on his way toward the Hall of Fame.
You could see it coming. Last season James arrived thinking anew about the game. He didn't even take a 3-pointer until the end of the fourth game of that 2011-12 season as you could already see him tinkering with a newfound interest in efficiency and building a better mousetrap.
Some of it was the influence of coach Erik Spoelstra, a devotee of analytics who opened James' eyes to the power of paying attention to where he was on the court and how to study his performance in a way James hadn't ever before.
Some of it was playing with Shane Battier, who had a thick scouting report delivered to his locker before every game and it caught James' eye. Shouldn't he too be studying the numbers and the tendencies and the intricacies of the game at that level?
Some of it was the reality that playing with Dwyane Wade and Chris Bosh meant. There would be fewer touches and fewer shots and, therefore, James needed to figure out how to value the ones he got more. That would take study and understanding, not just reps.
And some of it was James just looking for that next challenge, that next edge, which is what got him to where he was anyway. He'd devoted himself to shooting drills, to conditioning, to nutrition, to film study, to being a better teammate, to examining his issues dealing with pressure, to learning how to play different positions, to accepting what was expected of him.
All of this manifested itself in one of the most remarkable storylines of the season: those shooting percentages that just kept going up and up. They settled at 57 percent field goal shooting and 41 percent from 3-point range, numbers he once never would have dreamed of but now feel like maybe just a starting point in the transformation. It was the end result of all of that that got the attention. He'd never shot less but never seemed to score so easily.
Less bad shots, more good shots, more attempts from places he learned he was good at shooting from against defensive strategies, less attempts against strategies that were designed to bait him into bad decisions. The grimaces on his face didn't just start to show up when made a physical mistake but when he made a mental one as James began clearly devoting himself to being better at things fans couldn't even see.
It was often dismissed as a hot streak or the result of a bunch of dunks. It was so much deeper than that. It was James applying his understanding of a decade in the NBA and merging it with his talent. It was James finishing up his dissertation on a facet of the game that he probably didn't even need to tap; he could've gotten by and been a Hall of Famer without it.
But as the bar raises on his career and he attempts to fulfill his long-term goal of not being compared to anyone else and establishing a new standard, James has hit another new plateau that requires some acknowledgement.
This MVP is James' Ph.D.