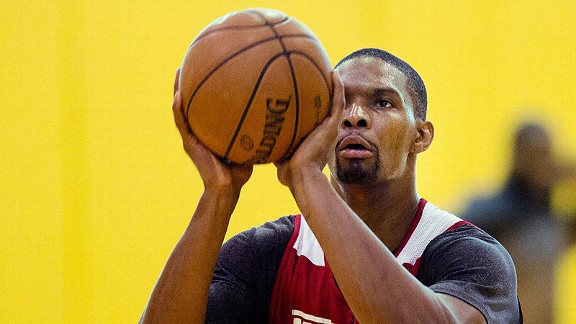 AP Photo/J Pat Carter
Chris Bosh worked on his shooting touch Sunday, impressed by what he had seen from the Bulls.MIAMI – Initially, Chris Bosh had no interest in watching the Chicago Bulls limp into Brooklyn on Saturday for the decisive Game 7 of their first-round series against the Nets.
Bosh had other things to do.
There were weekend-long plans to celebrate his 1-year-old son's birthday. There was also one more night to relax before the Miami Heat really started to home in on their next playoff opponent after sweeping Milwaukee a week ago.
But there was something about the way those feisty, short-handed Bulls jumped out to a 17-point lead with a passionate, relentless and desperate brand of ball that didn't allow Bosh to remove his eyes from the TV once he caught a glimpse.
He had seen this Bullish act before.
Playing without two other key starters amid Derrick Rose's continued absence, the Bulls had no business going on the road to win Game 7 of a playoff series for the first time in the franchise's decorated history. But Chicago has been defying odds and overcoming adversity for months, if not the past few seasons.
"They've been through a lot together," Bosh said of the Bulls, who roll into Miami on Monday for Game 1 of the Eastern Conference semifinals against the Heat. "Through all the battles they had, through the long seasons they had that have tuned them up for the playoffs, you can't underestimate them. I don't care who's sick, who's out. They're going to play tough defense and play together."
The Heat didn't have to pore over game film of Chicago's improbably upset of the Nets on Saturday to know just what the Bulls are capable of accomplishing.
There's a victory on the Bulls' résumé this season that's arguably just as impressive. It came on March 27 in Chicago, when the Bulls played without All-Star center Joakim Noah yet ended the Heat's 27-game winning streak that was the second-longest in NBA history.
Therefore, there might be no other team in the league more familiar with the Bulls' ability to grind their way through ravaging injuries and adversity than the Heat. Miami and Chicago split the four-game regular-season series, with each team winning once on the road.
The Bulls enter Game 1 in Miami less than 48 hours after defeating the Nets without guard Kirk Hinrich (calf) and forward Luol Deng, who spent a night in a hospital last week following complications from a spinal tap procedure. Rose, the 2010-11 MVP, travels and practices with the team in his recovery from last year's knee surgery but is not likely to make his season debut in the series against Miami.
The Heat, by contrast, have been off for more than a week since they wrapped up their series against the Bucks, enduring the benefits and boredom of extended rest. Heat guard Dwyane Wade, who sat out of the Game 4 clincher against Milwaukee, has had nearly two weeks to rest and receive treatment for his bruised right knee.
Wade participated in each of the Heat's past two practices and said Sunday he expects to play Monday against the Bulls and work through rust after his period of inactivity.
Heat catalyst LeBron James, who received his fourth MVP award Sunday, said he has been anxious and frustrated by the layoff but is relieved his team is back in action Monday.
"I'm glad we got some rest for some of our guys who were banged up. I know D-Wade was able to use it to his advantage," James said. "I'm looking forward to [Game 1]. I'm getting my mind ready for it, and it should be fun."
With so many injury issues, James said it will be a challenge to prepare for the Bulls. But he believes the Heat will adjust quickly regardless of who's available.
"We're preparing for the guys that are in uniform," James said. "We don't know [who]. We're in the shadows just like everyone else. We're preparing for all of those guys."
Noah, who has fought through recurring foot soreness and was the star of the Game 7 upset in Brooklyn, said the Bulls are ready for the Heat despite a short turnaround. He referred to the Bulls throughout the season as "a team of fighters" and said he expects the Heat series to be "a war."
Citing perspective, neither Wade nor Heat coach Erik Spoelstra wanted to use the term "war" to describe the series, but agreed Miami is in for a tough battle.
"Obviously, this team is kind of like the Boston Celtics in a sense that no matter what happens to them, they won't go away," Wade said of the Bulls. "They have tough guys mentally and physically. They're going to fight. No matter who's in that uniform, they're going to give it their all. They earned the right to be in this round."
Wade, who also watched the Bulls pick apart the Nets on Saturday, said it was obvious from the outset that Chicago was in a refuse-to-lose mode. He described how two early offensive rebounds by Noah and Carlos Boozer set the tone for the Bulls' intensity level.
Chicago came out with that same aggression against the Heat the night the streak was snapped, when Hinrich stepped in front of James in transition and delivered a hard foul that sent both crashing to the court in the first quarter. Miami is prepared for much of the same.
"They're here for a reason," Wade said. "We respect them as competitors, and that's a good thing. They're going to make us come in with our thinking caps on. They're going to make us make adjustments throughout games. There are going to be some frustrating moments. For a team that has aspirations of getting to the [NBA] Finals again, it's going to be a great challenge for us."
The Heat have no plans to back down from the physical play. Despite being an overwhelming favorite to win the series, they also won't take the Bulls lightly.
No way.
"That's their foundation, a bedrock of who they are," Spoelstra said of the Bulls' toughness. "We feel that's our bedrock, a foundation of who we are as well. We have two teams with two similar mentalities. It will be a lot of things that decide the outcomes of these games. But the effort areas, the loose balls, the rebounds, will be major factors."
Bosh said words couldn't describe how hard-fought it will be. He also said neither team has to look far for additional motivation in the best-of-seven series with a trip to the conference finals at stake.
"Them being the Bulls is enough," said Bosh, who agreed with Noah's use of battlefield hyperbole to describe the series. "We know what they're going to bring. We know the passion and the play [Noah is] going to bring. But we're going to be ready for it. War starts on our terms, on our floor. And we have to make sure we take advantage of it."