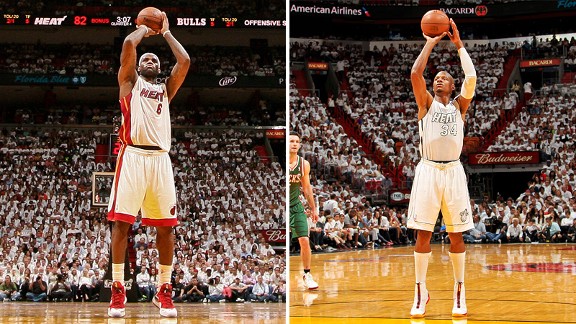 Getty Images
LeBron James unveiled a new free throw routine in Game 1 and it looks very familiar.
MIAMI -- In his quest to perfect the game of basketball, LeBron James now appears to be perfecting the Ray Allen free throw.
Did you catch it in Game 1?
Dribble, dribble, dribble. Spin the ball. Collect. Rise off the heels. Release.
That's the signature sequence of Allen's free throw routine. He's used it for years, propelling him to an 89.4 percent career free throw shooting percentage which ranks fifth-highest in the history of the NBA.
And now James appears to be trying to mimic it.
Jump over to the Heat's website for team writer Couper Moorhead's breakdown and you can watch the side-by-side video. The only difference between the two forms? James holds the ball slightly longer before starting his release. Other than that, James has it down pat.
Game 1 of the East semifinals was the first time we've seen it, but the osmosis makes sense if you've been hanging around the Heat practices this season. After every practice, James and Allen have partnered up for free throw shooting and jump-shooting drills. And if there's one weakness in James' game these days, it's at the charity stripe. Literally. In reports this season, opposing scouts have listed free throws as his only weakness.
After finding out about his fourth MVP in five years over the weekend, James told reporters about his next big project.
"My free throw shooting," said James, who has shot 74.7 percent at the line over his career. "I want to -- I need to shoot in the 80s. That's my next goal. And then, just continue to do what I've been doing the last couple of years. But my free throw shooting is what I really want to zone in on."
Sure enough, in his first game back since those comments, James unveiled his latest routine, which no longer features a deep bending of the knees. That's something that Allen has tried to fix.
"The other day, we just looked at it and [James] was talking about missing," Allen said at Tuesday's practice. "I told him, 'You got to stop dipping so much on your free throw. Keep it more consistent, the ball more in front of you.'"
It's just one game, but James shot 7-for-9 in Game 1 with his new routine, which is slightly below his goal of 80 percent. We'll see if it sticks. As close observers know, James has been notoriously inconsistent over his career, switching his routine almost on a week-to-week basis.
Over the past couple of seasons, James has dabbled with a step-over move; he lunges forward after his release, which was borderline illegal. He doesn't do that anymore. Earlier this season, he went three dribbles and up. Not anymore; now, he twirls the ball as Allen does before rising.
To some, it's maddening that James hasn't developed into an elite free throw shooter yet. To others, it's a nice reminder that he is human. James has been working on his free throws throughout his career, but he's made it his top priority after sharpening his post-up game and 3-point shot to the point that they're both strengths.
And now he has Allen as his personal coach.
"I've been consistently in the top five in the NBA in free throws," Allen said, "so what better person to learn it from?"
James is learning through competition. The two future Hall of Famers engage in a little battle every day after practice, something they call "the swish game." The rules are simple: two points for a made free throw that doesn't touch the rim, one point for a regular made free throw, and minus one point for a missed free throw. First to 21 points wins. And James does beat Allen on occasion, but not enough that LeBron will tweak the master's formula. It's the other way around.
The swish game may help James reach his goal of 80 percent, but Allen has set a higher goal for James: the 50/40/90 club that Kevin Durant joined this season. That's 50 percent from the floor, 40 percent from 3-point land and 90 percent from the free throw line. Durant became NBA history's eighth member of the club, joining sharpshooters Larry Bird, Steve Nash and Steve Kerr, among others.
One player missing from that club? Ray Allen. He wants to see James get there.
"We've been talking about 50/40/90 all the time, and the free throws right now is his nemesis," Allen says. "He's great in every other aspect. This year, we've shot over a thousand free throws together. We've been trying to find a way to get him comfortable."
James has a long, long way to go before he reaches that 90 percent plateau, but it's certainly on his mind and has been for some time now. But if James can develop into a deadeye free throw shooter through his Allen impersonation, the Allen signing this past offseason will be worth it based on that alone.