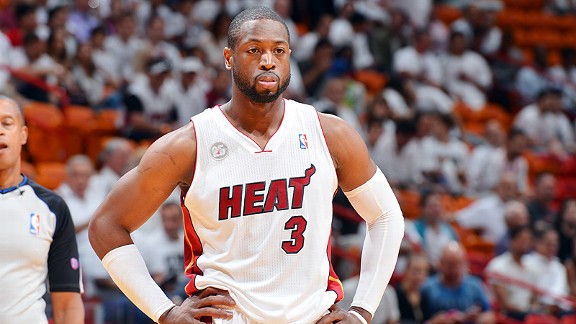 Jesse D. Garrabrant/NBAE/Getty Images
Burdened with a bruised knee, Dwyane Wade has been a shell of his former self in these playoffs.
Is it time for the Heat to be concerned about Dwyane Wade yet?
It seems like a fair question in a vacuum, but of course, we don't operate in a vacuum. Actually, we've been here before. And Wade has made us look like morons for doubting him.
If you remember in last season's playoffs, Wade looked like a shell of his former self in Game 3 of the Eastern Conference semifinals, scoring five points on 2-for-13 shooting from the floor against Indiana. Team doctors drained fluid from his troublesome left knee before the game to try to alleviate the discomfort, but the Heat fell behind 2-1 to the Pacers. It was commonly said that Wade was done and the Heat were done.
Wade then averaged 24.1 points, 6.1 rebounds and 4.7 assists for the rest of the playoffs, and the Heat won the 2012 championship.
As if we didn't learn our lesson the first time: Doubts about Wade's effectiveness were raised again during this past regular season. And sure enough, Wade made those concerns look foolish and premature after a torrid shooting tear, registering a preposterous 55 percent conversion rate after the All-Star break.
Fooled us twice, shame on us.
And now Wade is at it again.
Playing through a balky knee (is there an echo in here?), Wade has averaged just 13.3 points per game in the playoffs, which is just below Reggie Jackson and a smidge above Omer Asik. He's shooting 45.8 percent from the floor, down from 52.1 percent during the regular season. His player efficiency rating (PER) has plummeted from 24.0 in the regular season to 17.5 in the postseason. Once again, Wade's play is begging us to doubt him again.
So what do we do with this information? Do we just move right along and pretend that it isn't happening?
Of course not. Wade very well could put up 40 points in Game 4, but that shouldn't stop us from analyzing what has been plaguing Wade so far. What exactly is happening?
Unhealthy knee, unhealthy game
If Wade's bruised right knee, which caused him to miss Game 4 against the Milwaukee Bucks in the first round, is limiting his game, it shows. Heat coach Erik Spoelstra has been praising Wade for his shot discipline after Wade took just seven shots in Game 3, but that discipline hasn't carried over in other areas. Wade's turnover rate has jumped from 13.2 percent of his possessions ending in a turnover in the regular season to 19.8 percent in the playoffs. In other words, Wade fumbles the ball every fifth time that he finishes a play. That's not good.
And those turnovers are telling. If you watch the film, you'll notice that Wade hasn't been able to slalom his way to the basket like he normally does. Instead, he has routinely stopped short in the midrange area for either an off-balance jump shot or a jump pass to the perimeter where he airmails it directly to a Chicago Bulls defender.
When healthy, Wade can hang in the air and use those jump passes as a weapon even though players everywhere are taught never to leave your feet to make a pass. But recently, Wade hasn't shown the requisite lift to make it an effective counter. The result is gobs of turnovers off of jump passes that make youth coaches everywhere cringe.
Usually, Wade doesn't need those jump passes to be successful. He has made a living in the pick-and-roll where he can step around defenders and use his lightning-quick agility to maneuver his way to the rim. But that's not the case anymore. Wade has scored a measly 14 points on 31 pick-and-roll plays this postseason, according to Synergy Sports video tracking. His efficiency on that action (0.452 points per play) ranks dead last in the playoffs among players with at least 25 pick-and-roll plays. Translation: Wade's greatest strength has been reduced lately to a weakness.
No longer finding freebies
Without a dependable pick-and-roll game to catch his defender off-balance, Wade has watched his trips to the free throw line vanish. This postseason, he has tallied one more free throw than Chris Andersen, even though Andersen has played 102 fewer minutes. Moreover, Wade has failed to reach the free throw line in two of the three games this series.
Want to guess how many free-throw-less games he previously registered since LeBron James and Chris Bosh teamed up with him in 2010-11?
Two (not counting injury-shortened games). That's it.
Wade remains one of the great foul-drawers in NBA history and it's one of the reasons he's a terror to guard even at age 31. Taking away Wade's free throw game is like removing James' ability to pass the ball.
Taking a detour
Wade has compensated for his lack of agility off the dribble by cutting to the rim and getting easy looks that way. In fact, 80 percent of his buckets in the restricted area this postseason have been assisted, whereas that number was just 57.1 percent in the regular season, according to NBA.com's stats tool. This is when it helps to have that LeBron guy around.
Yes, we have to credit Wade for finding an effective detour off the ball, but the Heat can't afford to watch Wade transform into Avery Bradley on the offensive end. Why? Because the road to a championship will get only harder. The Bulls' defense ranked fifth in defensive efficiency this season, but the four teams ahead of them? That would be the Pacers, Grizzlies, Spurs and Thunder. Two of those four could be next if the Heat get past the Bulls.
So you can blame the stingy Bulls defense for Wade's struggles, but just know that it probably won't get easier for the Heat here on out. The Heat have been able to absorb his ineffectiveness against a depleted Bulls squad thanks to Norris Cole and Ray Allen picking up the slack.
But going forward, the Heat need vintage Wade to show up. And if history repeats itself, it's only a matter of time before he does.