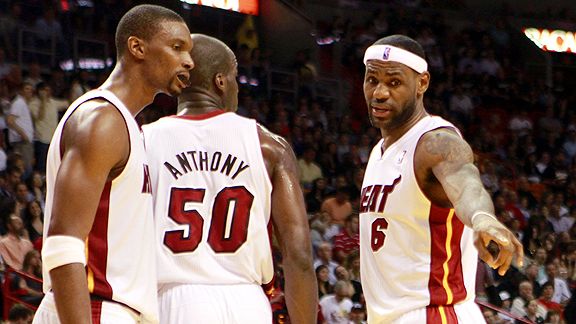 Marc Serota/Getty Images Sport
It wasn't a pretty win for the Heat, but there were a few positives they could point to.
MIAMI -- Their faces drawn and tans suddenly seeming faded, Micky Arison and Pat Riley both stared at the Heat bench from their separate courtside seats at the conclusion of the third quarter Friday night.
On a three-game losing streak and hosting the 76ers, current residents of the basement of the Eastern Conference standings, the Heat had a meager two-point lead after 36 minutes -- and were lucky to have it.
It was a rather joyless moment inside AmericanAirlines Arena. The owner and president did not look pleased and how could they be? Their nine-figure lineup was playing passionless basketball at a time when the Heat shouldn't just have been getting well but feasting on a doormat.
There have been quite a few failures and setbacks for the Heat in the season's first month, but this situation was the first time there seemed to be a dire vibe in the building. A loss to the 76ers and the Heat would slide to .500 16 games in-- and who knows what would happen?
But for now the Heat pulled themselves, or at least coach Erik Spoelstra plus their dignity, back from the edge.
After appearing only mildly interested for three quarters -- which, considering the circumstances, was hard to explain -- Miami came up with a fourth-quarter surge to avoid a four-game losing streak with a 99-90 victory.
The Heat found some defensive energy, while Dwyane Wade and LeBron James made a few All-Star plays. It was a win and everyone's lines in the box score ended up looking OK.
In the final seconds Arison got out of his seat to applaud. For the moment the pressure was eased. The Heat could rest a little easy, at least until their jet hits the tarmac in Dallas, where a much sterner test waits Saturday night.
"You never know what can change your momentum in this league," Spoelstra said. "Hopefully this will lead to some more positive play."
The Heat players and coaches have admitted the last couple of weeks have humbled them. The string of losses and miserable record against quality opponents -- they're 1-6 against teams .500 or better heading into their meeting with the Mavericks -- have tempered their enthusiasm.
So for the moment, they're taking solace in any victory. They said it before they took on the pesky Sixers, who got a high-effort game from Andre Iguodala and a season-high 21 points from Jodie Meeks off the bench. And Miami was certainly thinking that in late in the game.
"We've got to get away from worrying about how we get wins," Wade said. "We've got to focus on getting wins. We've got to worry about playing well."
That was the attitude Wade played with and perhaps it will become infectious. In the midst of a miserable shooting slump that saw him go 11-of-47 over the previous three games, Wade started 2-of-8.
But he kept his head down, attacked the rim relentlessly and the 76ers' soft middle eventually gave way. Wade got to the foul line 12 times and worked his way to 23 points with a season-high eight assists.
James was just 5-of-15 but had several crucial defensive rebounds in the fourth quarter and hustled to the opposite end to catch the Sixers off guard. He clawed his way to 20 points, eight rebounds and six assists.
Chris Bosh made three hoops in the fourth to help Miami cement its lead and ended up with 18 points and nine rebounds.
None of them played very well but they did leave with a win. Considering recent events and how fragile everything seems, that certainly qualifies as an accomplishment.
"Once we figure things out, what works best for us, I think that's going to really propel us," Bosh said. "It is not easy finding that out. If we had the answers to the test, believe me, we would have used them a long time ago."