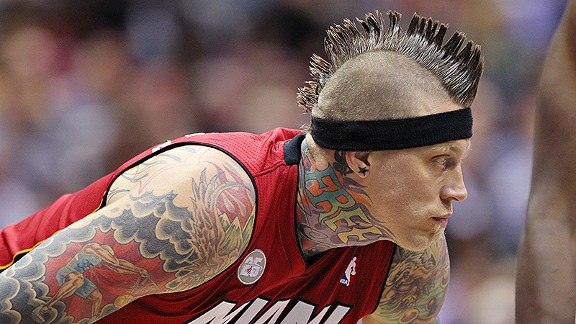 Mike McGinnis/Getty Images
The addition of Chris Andersen in February improved the Heat's ability to combat Indiana's size.
MIAMI -- Erik Spoelstra is already in adjustment mode.
The Miami Heat and the Indiana Pacers don't play Game 1 of the Eastern Conference finals until Wednesday, but the Heat's coach is tweaking at least the narrative entering the best-of-seven series to advance to the NBA Finals.
At one point while facing a series of questions about the improvements the Pacers have made since they lost 4-2 to the Heat in last year's conference semifinals, the Miami coach countered with a progress report on his own team.
"If we're talking about people assuming they're improving from their experience, hopefully, we've improved as well," Spoelstra said. "They're a very good basketball team. They've grown together. They've been together, their core, for several years. They've been through playoff experiences together. They've added some good pieces that fit their culture. They've developed a philosophy they believe in."
If Spoelstra's analysis sounds familiar, well, it is.
"We believe we've done the same thing," he continued, smoothly transitioning the focus to the Heat. "Hopefully, we're much better than the last time we played them. If we're the same team that we were last year, that won't be enough. Period. Fact. And that's why we've spent so much time this year trying to develop habits to improve. We don't feel we're the same team that played the Pacers last year."
If the Pacers believe they've gained ground on Miami over the past year, the Heat don't feel they've exactly stood still.
For every declaration made about the rapid growth this season of Pacers players Paul George, Lance Stephenson and Roy Hibbert, the Heat respond with the productive additions of Ray Allen and Chris Andersen along with the development of second-year point guard Norris Cole.
And that doesn't even include the steady expansion of LeBron James' overall game this season or the availability of center Chris Bosh, who was injured in the first half of Game 1 last year against Indiana and missed the remainder of the series with a strained lower abdominal muscle.
"Last year was last year [and] both teams are better than they were last year, so we'll see what happens," James said of anticipating an even more competitive series with the Pacers this time around. "We know it's going to be a challenge for us. We look forward to it. It's the Eastern Conference finals. No matter who you play, you should be locked in. It's one round to go to get to the Finals. So there should be no reason why you're not locked in."
The matchup between the Heat and Pacers represents the ultimate clash of playing styles, although both teams have adjusted this season to better adapt to the other team's game.
The Heat are bigger and deeper than they were during last season's run to a championship. After shifting virtually on the fly to go with a smaller lineup amid Bosh's absence, Miami signed Andersen in February just for these playoff occasions to provide length and energy off the bench.
Andersen once told Joakim Noah earlier this season the Heat brought him in strictly to match up with the Bulls center. He'll also give the Heat a bigger option, if needed, to complement Bosh and Udonis Haslem in the paint against the 7-2 Hibbert and rugged power forward David West. When the Pacers pummeled the Heat in the first of two double-digit victories in Indiana, West told ESPN.com that his team was much better prepared to face the Heat's frontcourt -- big or small -- this time around.
Meanwhile, Indiana can shift to a smaller and quicker lineup with speedy point guard D.J. Augustin and Stephenson in the backcourt. The Pacers have also added athletic swingmen in Gerald Green and Sam Young to help match up with James and Dwyane Wade on the perimeter. Committed to pushing in transition, the Pacers outscored the Knicks 12-0 in Saturday's series-clinching victory.
The Heat insist they won't be caught off guard by the Pacers, either. It's even grown to the point where Miami's players vehemently resent the notion they seem to struggle against teams with more size and perceived toughness.
"They have their style and we have our style," Wade said. "At the end of the day, you have to find a way to win playing whatever style the game calls for. We're not the most physical team. We don't have guys that look very physical. But we have guys that understand what it takes to win. Sometimes, we know you have to get into the fight."
Neither team plans to back down from the physical play that bordered, at times, on roughhousing last season. The Heat and Pacers combined for 276 fouls, seven conduct-related technical fouls, four flagrant fouls and two player suspensions during their six-game series a year ago.
In essence the Heat's series against the Bulls may have served as a warm-up of sorts for what could be coming next. In the 4-1 series win against Chicago, the Heat and Bulls combined for 232 fouls, 14 conduct-related technical fouls, three player ejections and one flagrant foul. The Heat can also draw from their series against the Bulls in the way they handled the opposing team's interior post play.
Bosh said there are similarities between what Chicago presented in Noah and Carlos Boozer at center and power forward and what Indiana has in Hibbert and West.
"They're different players, but I think playing against the Bulls, we've gone against that kind of style, that kind of tandem of a [power forward] and [center], and we've built a good rhythm against that," Bosh said. "That's nothing we haven't seen. In order to win a championship, these are the teams we're going to have to beat in order to get there."
Plenty has changed since last season, although both the Heat and Pacers bring back familiar faces and goals.
Indiana has gained confidence and experience.
Miami has added depth and versatility.
Neither plans to give an inch.
"When you have the two best teams in the East, that's exactly the way it should be," Wade said. "They got better and we got better, too. So let's play."
The Pacers have the league's most improved player in George.
But the defending champion Heat are staking their own claim as the most improved team.