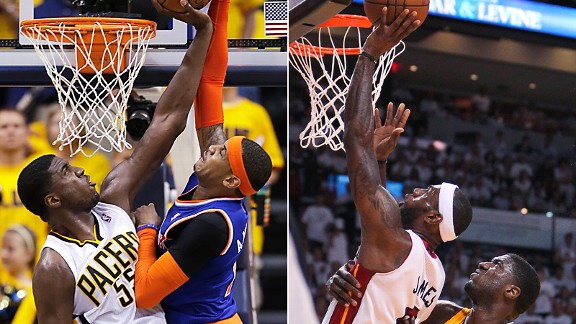 AP Photo, Getty Images
Roy Hibbert explains why the Miami Heat are more difficult to guard than the New York Knicks.
MIAMI -- It must be weird to be Roy Hibbert these days.
On Friday morning at the Indiana Pacers' Game 2 shootaround at AmericanAirlines Arena, he sat at a plush courtside seat with cameras, microphones and tape recorders jammed into his face. For several minutes, he fielded a barrage of questions about another player kneeing him in the groin area.
This is Hibbert's first Eastern Conference finals experience.
It must be weird to be Hibbert because he must wear two hats when talking with the media. In one breath, he would talk extensively about his "family jewels," as he put it. In the next breath, he'd put on his coaching hat and discuss the hard X's and O's of basketball.
For some people, the controversial layup from Shane Battier, the target of Hibbert's Thursday night tweet, is all they want to hear about. And that's understandable. Trash talk between athletes can be pretty compelling.
But for others, it's the X's and O's that makes the NBA experience fun. Why are the Heat so difficult to guard as a big man? Indiana coach Frank Vogel called the Heat offense "more intelligent" than the New York Knicks offense, but why is that the case?
Hibbert will explain.
During Game 1, Hibbert said he could hear LeBron James instructing his big men to do something that the Knicks didn't do enough.
What was James telling Chris Bosh, Chris Andersen and Udonis Haslem out on the court?
"'Be ready for that dump-off pass,'" Hibbert recalled.
In Game 1, when the Heat scored 60 points in the paint, Hibbert and the Pacers couldn't stop that dump-off pass.
Why?
Because James and Dwyane Wade are a threat to score and a threat to pass at the same time.
"When you play against a team this athletic with LeBron James, D-Wade and those guys, you have to pick your poison," Hibbert said. "Do you want LeBron James, who has a large launching pad, taking off and dunking on you? Or do you want Birdman making layups at the rim?"
The Pacers didn't have a dependable answer to that question in Game 1.
"It's kind of putting me in an uneasy situation because you have LeBron coming at you at 100 miles an hour and he can take off from anywhere," Hibbert said. "What do you do? Do you try to stop him or do you worry about that pass?
"It's a conundrum. I'm trying to figure that out."
James tallied 10 assists in Game 1, and Wade registered five. As a team, the Heat recorded 24 assists, four more than the Knicks did in any game of the Eastern Conference semifinals. In fact, James dropped more assists in Game 1 (10) than Carmelo Anthony did in the entire series against the Pacers (8).
To Hibbert, that's where you'll find the difference between the Knicks and the Heat.
"Last series, you didn't have to worry about guys making plays like that," Hibbert said. "Carmelo is just coming straight at you, it's easy to deal with. But with two or three guys around the basket ..."
Hibbert trailed off.
"We just have to do a better job," he said. "If I step up, somebody else has my back, and then we have a rotation after that. It's pretty tough when you have guys like Ray Allen in the corner, LeBron and D-Wade on the court at the same time, and you have Chris Bosh, who's a spot-up shooter. They're going to push us to the limit."
The Pacers spent Thursday's practice and Friday morning's shootaround figuring out how to defend the Heat's multiple threats.
"We just have to be able to help the helper," Hibbert said. "That's why Birdman and Chris Bosh have been living off the dump-off passes and stuff like that. We had our hands full. If we can stop the line drives, we can hopefully protect the paint a little bit better.
For the Pacers, the best way to deal with the Heat conundrum is to avoid it in the first place.
"We worked on some things," Hibbert said. "We're trying to stop it at the point of the ball screen so I don't have to be tested at the rim like four or five times in a row. We're working on ball screen defense and the guard-guard pick-and-roll.
Easier said than done.
"But that's hard to deal with when LeBron James and Dwyane Wade are coming at you," Hibbert said.