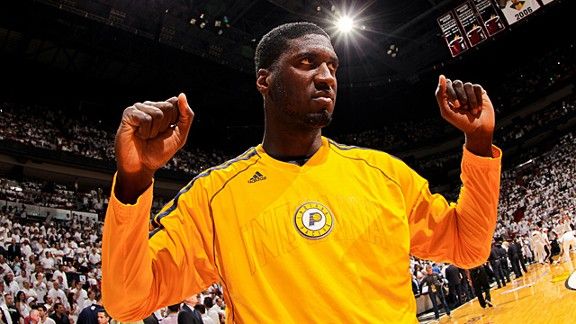 Andy Lyons/Getty Images
The Heat have had no answers for Hibbert in the first four games of the series.MIAMI -- It seems so long ago now that it's almost easy to forget.
But there's been only one role that hasn't exactly fit Indiana Pacers 7-foot-2 center Roy Hibbert during the Eastern Conference finals against the Miami Heat: bystander.
More than a week has passed since Pacers coach Frank Vogel made his biggest -- and perhaps only -- gaffe of the series when he decided his team was better off leaving Hibbert on the bench for the final seconds of Game 1.
The result of that mistake is well-known. With no Hibbert to deal with in the paint, Heat star LeBron James drove down an uncontested lane with 2.2 seconds left for the winning layup in Miami's 103-102 opening victory.
Considering all that has transpired in the past seven days, it's fair to suggest the Pacers have actually done a much better job stopping Hibbert than the Heat. Miami simply hasn't had an answer to contain the biggest man on the court, who seems to loom even larger with the series tied 2-2 entering Game 5 Thursday at AmericanAirlines Arena.
"I think I'm in the right place at the right time," Hibbert said of his impact on the series aside from that spot on the bench late in Game 1. "I try to do my assignments, try to be big in the paint as much as possible, try to be a target."
Hibbert's size makes him a can't-miss target. He's also a player Miami just can't seem to stop. The Heat knew entering the series that Hibbert would be a massive challenge. But the anchor of Indiana's front line has exceeded those expectations. Hibbert is averaging nearly 23 points and 12 rebounds in the series and is the first player since Dirk Nowitzki in the 2011 NBA Finals to have at least 20 points and 10 rebounds in three straight games against the Heat.
That big man trend didn't turn out so well for Miami the last time, with Nowitzki leading the Dallas Mavericks to a 4-2 series win for the title during the first season James, Dwyane Wade and Chris Bosh were teammates. The Heat haven't lost a postseason series since. They also haven't run into a problem in the post as large as Hibbert.
Miami hopes to be far more disruptive in Game 5 than it was during Tuesday's 99-92 loss in Indiana, where Hibbert shot 10 of 16 from the field to finish with 23 points and 12 rebounds. Perhaps the most impressive aspect of Hibbert's performance was that he played 40 minutes and committed just one foul during a game in which every other marquee star on both teams battled foul trouble throughout the contest.
The Heat are scrambling for ways to put more pressure on Hibbert by attacking the rim on one end and by pushing him outside of his comfort zone on the low block. Indiana has used its size advantage with Hibbert and David West to dictate tempo and terms in the paint. The Pacers also believe they're one blown defensive coverage at the end of Game 1 from being up 3-1 on the defending champions.
"We'll go back and see how we can adjust and make some changes," Heat forward Udonis Haslem said after his team was outrebounded 49-30 in Game 4. "I really don't know what to say, but we'll figure it out. We just have to continue to battle. Try to make it tough on [Hibbert], get him out of his sweet spots and contest his shots. At 7-2, being able to shoot that hook with both hands, that's tough to stop."
The Heat were hoping their frontcourt combination of Bosh and Haslem would be able to use their speed and perimeter shooting to create favorable matchup problems. It worked in Game 3, when the Heat scored a franchise-record 70 points in the first half. Bosh and Haslem shot a combined 14-of-19 from the field in Miami's 114-96 victory.
But that performance has been the aberration, while the norm has been the steady, relentless play in the paint from Hibbert and West, who combined to average 41.3 points and 20.5 rebounds through the first four games. By comparison, Heat starters James, Wade, Bosh, Haslem and Mario Chalmers have combined to average 21.4 rebounds in the series.
"We just have to do better," Heat coach Erik Spoelstra said Wednesday as the Heat regrouped in Miami. "We have to be more committed without any excuses and just get it done. That's what it's going to take to beat this team, and we're capable of it. That will be our focus in Game 5."
The Heat won't get bigger overnight in their attempt to better contend with Hibbert. They might be even more limited, with Bosh nursing a sprained right ankle that forced him to the locker room for treatment in the second half. He returned to finish with a playoff-low seven points and just three rebounds in 29 minutes on Tuesday.
Spoelstra did not provide an update on Bosh's status Wednesday, but Bosh said after Game 4 that he would get treatment and expected to be on the court again Thursday.
Even before the series started, Bosh said it was unlikely the Heat would alter his role and require him to post up more and go directly at Hibbert to get him in foul trouble.
"When have you seen me get in there and bang?" Bosh responded when asked whether he needed to pressure Indiana's frontcourt by working less from the perimeter and more from inside. "I'm going to bang enough on the defensive end. That's going to be my job as far as banging is concerned. On offense, naturally we space the floor. We will not be running any turn action or any drops for me against Hibbert. You can pretty much write that down."
The Heat haven't had a solution on either end of the court. Spoelstra has tried Bosh, Haslem, Chris Andersen and Joel Anthony defensively at center, and Hibbert has dropped in hooks with either hand over all of them at some point. The biggest damage Tuesday came in the fourth quarter when Indiana outrebounded Miami 16-4, including six offensive rebounds that led to seven second-chance points.
"David and myself, we really match up pretty well [against Miami]," Hibbert said. "And it's just a matter of who wants it more. And we embrace this challenge right here. If I get the ball, go ahead and score those little chippies around the basket, or be strong and get the offensive rebound."
West said Hibbert's role could be even bigger if Indiana's guards are more aggressive with post-entry passes. The Heat's best defense against Hibbert is to keep him from getting the ball inside. But after forcing the Pacers into 37 turnovers in the first two games in Miami, the Heat were able to generate only 24 over the two games in Indiana.
"We actually should have gotten him the ball a few more times than he actually touched it," West said of Hibbert. "He's just doing a great job of staying active, staying around the basket and taking advantage."
Hibbert's effectiveness hasn't come as a shock to the Heat.
"No, not surprising at all," Wade said. "It would be surprising if he's coming down hitting [3-pointers]. The guy is making layups. He's the biggest guy on the court. That's the impact he should have. We've got to do a better job of making it tough on him to get those shots."
The focus is to limit the Pacers to one shot attempt per possession moving forward. Indiana has grabbed 61 offensive rebounds and has averaged 19 second-chance points a game in the series.
West and Hibbert have been in the middle of the action.
"We just have to try to clean up some of those offensive rebounds that he's getting, because he's going to make some shots in the low post," James said of Hibbert. "He's so big, being around the rim, he's able to get a lot of offensive rebounds. If we cut that in half, it would help us out a lot."
Otherwise, David and Goliath will keep haunting the Heat.
As a lumbering, back-to-the-basket big man, Hibbert might be a dying breed in a league that eliminated the designated center position from the All-Star ballot earlier this season.
But he's breathing plenty of life into these Pacers while smothering the Heat in a role that has drastically evolved in this series since the end of Game 1.
Hibbert was a bystander back then.
He's the Heat's biggest headache now.