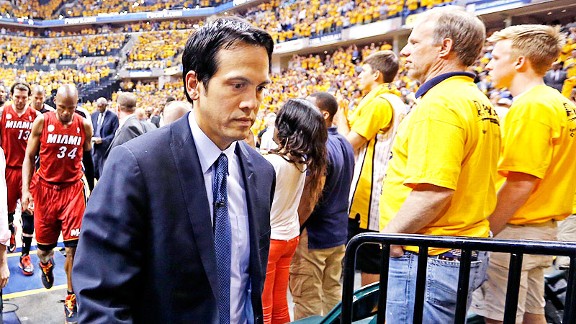 Al Diaz/Miami Herald/Getty Images
After Erik Spoelstra left the floor in Indianapolis, the long journey to Game 7 preparation soon began.
MIAMI -– Erik Spoelstra refused to divulge what time he woke up Sunday and arrived at his office for work.
That's because chances are the Miami Heat coach never actually slept or went home after the team's flight from Indiana landed around 3 a.m. Sunday, hours after the feisty Indiana Pacers forced a Game 7 on Monday in the Eastern Conference finals.
"A lot of us don't even know what day it is right now," Spoelstra said. "It's either a game day or an off day."
That scenario won't change the next time the Heat show up for work at AmericanAirlines Arena -- with one exception. Monday will either be a victorious game day for Miami -- or the offseason.
It's a sobering predicament the Heat probably never pondered just two months ago as they emerged from the second-longest winning streak in NBA history at 27 games.
Falling short of reaching the Finals seemed a far-fetched possibility even two weeks ago, when Miami won eight of its first nine playoff games by sweeping Milwaukee and overwhelming short-handed Chicago in the first two rounds. But a Heat team that had been on one of the most dominant post-All-Star break runs in history now hopes to avoid what would be a relatively disastrous finish.
Having already lost to the Pacers five times in nine meetings this season, including the playoffs, the Heat haven't exactly been exposed as any sort of frauds.
Just flawed.
A sensational see-saw series now takes a final swing, with the Game 7 winner advancing to face the well-rested San Antonio Spurs in the NBA Finals.
If the league needed a spokesman to pitch the intensity, emotion and high-stakes value of the winner-take-all spectacle of a Game 7, Spoelstra is the man for the job.
During his nearly 20-minute media session Sunday, the sleep-deprived coach tried his best to downplay all the disturbing trends and issues that have left the defending champions as vulnerable as they've been since LeBron James and company fell to the Dallas Mavericks in the 2011 Finals.
"The guys have good perspective," Spoelstra said of the Heat, who had a chance to close out the series Saturday but lost 91-77 in Game 6. "We met and talked briefly, even as the emotions were raw. We're not above a Game 7. We're not above competition. It's never easy to compete for a title. It's a treasure to be part of a Game 7 against a worthy opponent. We embrace it."
Much like a politician in the middle of a hotly-contested campaign, Spoelstra was in full spin mode Sunday. The dozen or so media members in the room were his focus group. The same message he delivered Sunday will be polished and presented again to his team Monday.
But if the Heat truly are embracing another slugfest with the Pacers, it's because they have no choice.
Miami has had a much tougher time than expected trying to wrap its arms around a burly and brutally defiant Indiana team that has dictated the terms from the outset.
Spoelstra suggested the Heat should feel fortunate to have the opportunity to play in a Game 7, where memories and legends are made. In reality, Miami is clearly the team that faces all the pressure to win Monday's game. And despite the message that came out of the Heat's practice facility Sunday, they remain a team still searching for as many answers in Game 7 as they did when the series opened.
Maybe even more.
"Everybody individually wants to play better, and we want to play better as a team," Dwyane Wade said in the aftermath of another sluggish performance in Game 6. "We are just going to have to self-will it, and we'll see how we respond."
Spoelstra had plenty of work on his hands trying to push his team through psychological and physical challenges.
The key issue is with Wade and Chris Bosh, who have been limited by nagging knee and ankle injuries, respectively, that have contributed to the least productive playoff stints of their careers. After combining for just 15 points on 4-of-19 shooting along with five turnovers in Saturday's loss, Wade voiced his displeasure with what he said were diminished roles in the offense for himself and Bosh.
At the same time, Bosh's voice barely rose above a whisper Saturday as he came to grips with his struggles in the series. In the midst of the worst stretch since his rookie season -– three straight games held below 10 points –- Bosh was one of the first players to arrive at AmericanAirlines Arena during the team's day off Sunday to address his poor play.
"I have to get back in the gym and work on my game," Bosh said as he dipped into a sense of desperation. "That's about the only thing that will help me now. My rhythm just seems off, it's been like that the whole series. Now I have to go find it. I've got 48 hours (between games) to do that."
As Bosh worked to regain his form on the practice courts, Spoelstra attempted to bridge the gap between Wade's desire to be more involved in the offense and James' approach to carrying more of a load to compensate for the disturbing lack of production from his top two sidekicks.
"We're at our best when all of our guys are active weapons and the ball is moving," Spoelstra said. "The Pacers are a great defensive team. They don't make it easy. When we have our assists below 15, that's not a winning formula."
Miami won all three games when it registered more than 15 assists, but lost all three when they had that many or fewer. But while also calling for more ball movement in an offense largely dictated on James' terms, Spoelstra said he won't accept Wade's knee issue as an excuse in the series.
"I'm not focused on the percentages," Spoelstra said of Wade. "I talk to our training staff. He's out there. He's ready to compete. There's no excuses. I'm more focused on what I can do … to get him in places where he can be aggressive, where he's at his best."
When pressed to reveal at what point in the playoffs he felt the offense shifted away from Bosh and Wade, Spoelstra was evasive but also credited Indiana's defense.
"It's not getting away. It's playing against a good defense," he said. "So you have to be committed as a team. But certainly, you always have to continue to reevaluate as a series goes on. When things that normally work aren't working, you have to go to something else. Or go back to what was working, and that's part of our evaluation today."
With each team countering the opponent's tweaks through the first six games of the series, Game 7 is likely to be less about adjustments and more about execution.
Spoelstra said he's unlikely to move away from struggling shooters Ray Allen and Shane Battier on Monday, although he also didn't rule out going back to Mike Miller after he provided a spark during a brief second-half Heat rally.
Faith remains in a rotation that won a franchise-record 66 games and produced the league's most efficient offense.
"Everything is on the table," Spoelstra said Sunday. "But our guys understand that anything goes. We were up 3-2 (against Indiana), we've won a lot of games and had already won two series … with the rotation we've been playing all year. It's tough because we have capable guys. Now you get to 3-3 and anything goes. The rotation we played has been extremely successful. That might be the way we still go."
Despite some players being frustrated with their personal performance, James insisted the team hasn't splintered. Instead, he said being pushed to the brink of elimination has challenged everyone to show a collective resolve.
The Heat still hold the advantage of having the decisive game of the series being played on their court, with overwhelming odds in their favor. Home teams are 89-23 when an NBA playoff series reaches a Game 7.
"We worked all season long to get home-court advantage," James said. "If we ever put ourselves in position where we weren't taking care of business on the road, we always have one more to fall back on at home. This is the position we're in and those guys are professionals. As champions, we'll figure it out. As the leader, I'll help them figure it out."
The Heat were in this same position a year ago when they rallied from a 3-2 series deficit to win Game 6 on the road against Boston and then closed out the series at home in Game 7.
But these Pacers aren't anything like those Celtics. They're younger, stronger, bigger and more relentless. Miami eventually wore down that aging Boston team. Indiana has gotten better and bolder with each game.
For that reason alone, expect the Pacers to play freely with the knowledge that a loss Monday only brings an end to the greatest season they've had in a decade or so.
The standard is far different for the title-or-bust Heat.
"They're not going to give it to us," Spoelstra said. "We're not going to give it to them. You have to take it. You have to take it and earn it against a team that's not backing up."
Spoelstra has pushed just about all of the adjustment buttons he's got, and yet the Heat still have yet to shake the Pacers. At this point, entering Game 7, he's got one thing left to fall back on. Faith in the guys who got him here.
Struggling or not.
No wonder he can't sleep.