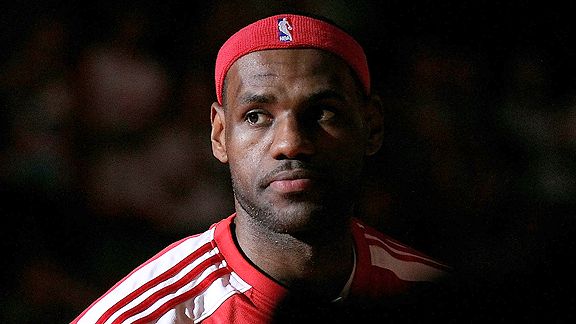 LeBron James: Emerging from Cleveland's shadow.
Can LeBron James take the on-court lessons he learned from Cleveland and apply them in Miami?
For the better part of the week, we've all been projecting what kind of reception LeBron James would receive in Cleveland. "How will the fans react" was our first observational priority. We knew they'd boo lustily, but there were also concerns that James' return would invite more irrational behavior from those who felt jilted by the way he departed Cleveland.
This morning we can take solace that with the exception of a few isolated incidents -- a single battery and a rally towel were tossed toward the Heat bench and a Heat fan in the upper deck was harassed -- fans in Cleveland behaved themselves. Was there closure? Are Clevelanders, who invested so much financially and emotionally into LeBron James, ready to turn the page?
There's no way to know. The power of collective memory tends to be directly proportional to a people's sense of place. I learned that growing up in the South, and by listening to friends from Ohio over the past six months or so, and meeting Clevelanders in print. I'm not certain the city will ever put James' exodus behind them. But watching James last night, there was strong impression that any weight he's been carrying around since his arrival to Miami feels a lot lighter.
Looking back, as much attention as we devoted to Cleveland's anticipated reaction to James' presence, we paid little mind to how James would respond beyond the idle speculation about whether he'd perform his pregame chalk toss. Vegas set some over-unders on James' point totals. And those who've staked out firm territory on either side of the James debate argued about whether he'd flourish or choke in the moment. But James' return to the Q was, above all, a social engagement. And how James would behave in such a context was a matter of speculation, largely because the situation was unprecedented. No athlete has ever made a homecoming charged with this kind of raw emotion.
John Krolik of Cavs the Blog observes James between the lines really closely. But last night he wasn't just charting James' shot selection, he was watching the mutual lines of reaction, studying James' decision-making during both half-court possession and dead balls:
One thing that stood out for me was that LeBron isn't comfortable being hated. He looked genuinely thrilled to see Andy again and give him a pregame hug, and he spent most of the game's dead time chatting up Boobie or his former assistant coaches. Those guys in the stands don't really know me. You guys do. We're cool, right? Isn't this wild? He had plenty of chances to show up the crowd, who at one point went after his mother, and never did. He didn't flex after and-1s. He didn't acknowledge the crowd with any gestures. He didn't ask to go back in in the fourth, which would have been the ultimate "screw you." He didn't dance. In all honesty, he was much more reserved than he was when the Cavs would blow somebody out.

He was animated, and plenty of people will say he was being disrespectful, but he was not embracing the villain role in Cleveland. He just wanted to force everybody to respect him again. I very much doubt it worked — after all this time, LeBron still doesn't understand just how deeply he hurt the 20,000 people that showed up on Thursday night. Remember in Taxi Driver when Robert De Neiro almost kills Albert Brooks for shooing him away from the girl he creeped out, or the scene in Fight Club when Edward Norton beats the living hell out of Jared Leto because he thinks Tyler Durden doesn't like him any more? That's what this felt like. LeBron is confused, frustrated and good at basketball. How can you like them and hate me? I can beat them up! He doesn't get that loyalty isn't a choice for the fans at the Q.
Maybe that's why they hate James: He has the luxury of choice.
As James has struggled out of the gate this season, we've heard various explanations for his discomfort. Some paint his divorce from Cleveland as a mutually destructive split: LeBron needed Cleveland every bit as much as Cleveland needed LeBron.
Emotional healing can't be easily measured, for a city or an individual. If the Heat start winning basketball games in bunches, we're likely to frame Thursday night's victory as the moment James buried all the lingering remnants of the past five months and officially joined the Miami Heat.
There might be a grain of truth in that narrative, but it might end up being as much about a realization on James' part that things are different in Miami. For seven years, he was asked to save a city.
That's no longer in his job description.