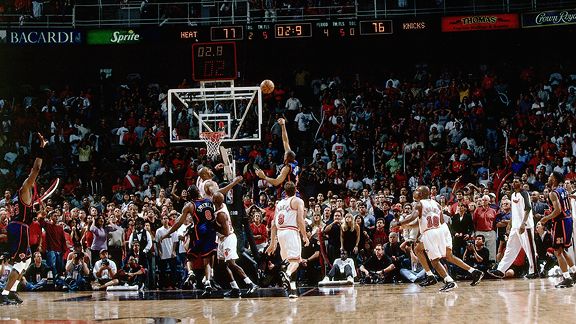 Fernando Medina/NBA/GettyImages
This Heat team hopes they don't share the same fate as the 1999 team.
The Heat carried their momentum into Salt Lake City on Wednesday night and beat the Utah Jazz in convincing fashion. Miami's 13-point victory marks their sixth-straight win by double-digits.
How notable is that? The good folks at ESPN Stats & Information delivered a tidbit this morning:
It's the 2nd time in franchise history that the Heat have won six straight games by double-digits (other was in February 1999).
Oh, that 1999 team. In the strike-shortened season, Pat Riley coached the Heat to a 33-17 record, which is the equivalent of a 54-win season in a normal year, earning them a No. 1 seed in the playoffs.
But Heat fans may have blocked out what happened in that postseason. That was the one where the Heat fell to the New York Knicks in the first round of the playoffs. That was the one where Allan Houston's one-handed leaner bounced in with 0.8 seconds left to send the Heat packing in Game 5. It marked the second-time in NBA history that an eighth seed upended a No.1 seed.
Just another chapter in the ultra-contentious Knicks-Heat rivalry.
So the six-game double-digit streak didn't portend a championship for the 1999 team which was lead by a Big 3 of Alonzo Mourning, Tim Hardaway and Jamal Mashburn. (Actually, that Heat team extended their win streak to seven games but the margin of victory in the seventh win over the Charlotte Hornets was only eight points, putting an end to Miami's double-digit string).
The Heat will have a chance to make franchise history on Friday night against the Golden State Warriors, a team that has lost by double-digits already eight times this season, but Heat fans hope the run leads to more than just a No. 1 seed.
By the way, take a wild guess who the Heat would face if the playoffs started today.