SACRAMENTO, Calif. -- Heat power forward Chris Bosh rejects the notion that his impressive rebounding totals in recent games have anything to do with a more focused desire to grab missed shots. After collecting a season-high 17 boards on Saturday night at Sacramento, he offered a fatalistic take on his fortunes as a rebounder.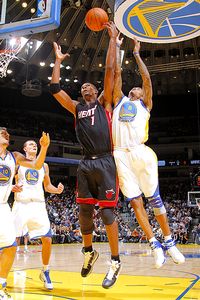 Rocky Widner/NBAE via Getty Images
Chris Bosh has been killing it on the boards during the Heat's streak.
"I'm always in a rebounding mood," Bosh said. "Sometimes they come to you, sometimes they don't. Sometimes it's about momentum. You get a few and the next thing you know they're all in your area."
Now, Bosh isn't claiming that luck fully determines the totals we see under the rebounding column in the box score each night. That's just the way the ball bounces doesn't begin to explain why guys like Marcus Camby and Kevin Love excel on the glass and why, for much of the early part of this season, Bosh struggled to match his career rebounding numbers.
So what's empowered Bosh to string together a stretch of strong rebounding games that's coincided with the Heat's current winning streak? It's not as if he's racked up impressive totals against weak competition. Sacramento entered Saturday night ranked 8th in the NBA in total rebounding rate (the percentage of available rebounds claimed by a team). Milwaukee, against which Bosh collected 12 last week, is also an above-average rebounding team. While Atlanta, against which Bosh had 10 rebounds, assigned pogo stick Josh Smith to put a body on Bosh underneath.
Bosh maintained that the improvement we're seeing from him on the glass can be attributed to the same 20-games-to-jell rationale that many in the Heat locker room reference to explain the team's winning streak.
"Everybody was kind of panicking outside the organization a little bit, like, 'Oh my goodness, he's not rebounding, he's not doing this.' Bosh said. "But things take time."
For Bosh, one of the problems he experienced early in the season was a lack of familiarity with his teammates and Erik Spoelstra's defensive schemes. A defensive player in a new system often finds himself lending disproportionate attention to figuring out stuff that comes naturally to a mainstay on a team: Where am I supposed to be on a specific rotation? Should I pick up the opposing center Joel Anthony just left to trap the point guard on the high pick-and-roll, or should I sink to the level of the ball if that point guard goes baseline?
"When the defensive schemes are different than before, you're in different areas of the court," Bosh said. "You're in a different position and you have to learn how to get in there and get your rebounds."
Once most players spend enough time in a system, those details become second nature. Bosh feels like he's developing those instincts with the Heat. Now he knows which areas of the floor belong to him on a specific defensive coverage scheme. Since there's no residual anxiousness about where he's supposed to be, when the ball goes up, Bosh can devote his single-minded attention to getting himself in position to grab a potential miss.
"We keep playing more games, and I'll see the same situation," Bosh said. "It's, like, 'OK, I can be right here.' You kind of put yourself in better position. That's all defense is about. That's all rebounding is about, being in the right position at the right time."
These aren't radical shifts in productivity or psyche. A defensive possession or two per quarter when Bosh feels confident that he's in the right place and his eyes are firmly locked on the release might just be the difference between a mediocre six-rebound game and a boffo double-digit haul like Saturday's. If double-digits become the norm for Bosh, we'll know his claim that he's always in a rebounding mood is more than just good rhetorical positioning.