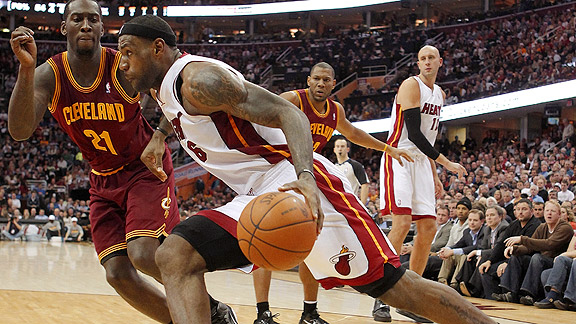 Gregory Shamus/Getty Images
LeBron James broke Cleveland's heart, but it's the Cavs' on-court game that is most broken.
MIAMI -- Winless so far in December and struggling to find much to rally around, talk shows and message boards in Cleveland are calling for the Cavaliers to be "blown up."
The metaphor is well-worn in sports: knock the shaky team/structure down and start again. But here is the problem that the Cavs -- well at least their fans -- are struggling to come to terms with.
It already has been blown up.
The cornerstone of the basketball operation went to Miami and will play against them on Wednesday night for the second time this season. In the wake of that, the entire team has been crumbling whether it is the team's official position or not.
With LeBron James gone, the team's foundation -- in this case the player that the roster was assembled to fit around -- just can't stand. And it isn't right now.
The Cavs have lost eight consecutive games and have a brutal schedule. Seven of their next nine games come against teams with winning records. And nearly all of their struggles, whether is it easy for the franchise to admit, can be attributed to losing James.
"I think a lot of it has to do with the transition to a whole different situation," Cavs coach Byron Scott said. "I know it is going to take a lot of time."
It is the truth, but it is also hard to live with for a team that had won 127 games over the last two seasons.
Offensively, the Cavs lost their all-time franchise scoring leader and the runner-up in last season's scoring race. That is just a factoid. But they also lost the central hub of their attack, which was structured for years around getting shooters who could complement James when he drew the defense.
Scott has tried changing his rotation and altering his starting lineup several times. He's installed a Princeton-style system that encourages equal opportunity for everyone on the floor. He put the team through a vigorous training camp to help them get in shape to out-run opponents.
And yet, without James, the Cavs rank third to last in scoring (93.2 points per game) and no player on the team averages more than 14 points a game.
"They have no one on their roster who can consistently create his own shots," said a scout who recently watched the Cavs. "They didn't have many last year either when they were a 60-win team but the guy they did have was the best in the league at it. It makes a bit of a difference."
On defense the Cavs also lost perhaps the best player in team history. James was first team All Defense in each of the past two seasons and last year finished second in the voting for Defensive Player of the Year. When he wanted to be, James was one of the best on-ball defenders in the league and always an excellent help defender.
When the game was on the line over the last several seasons, James was always on the opposition's most lethal threat, which meant everyone from Dirk Nowitzki to Chris Paul to Kobe Bryant.
He was also the Cavs' best defensive rebounder last season, which allowed him to ignite fastbreaks more than anyone else. It is that kind of speed that the team craves now but simply can't find.
Without that crutch and with Scott focusing so much on the offense, the once stout Cavs defense has collapsed. During their losing streak they are giving up 117 points per 100 possessions, far and away the worst defensive efficiency in the NBA during that time.
For the season, the Cavs are giving up nearly 103 points per game and 48 percent shooting, both ranking them near the bottom of the league.
"We're doing a lot of things, and we watch it on tape, that are very uncharacteristic of us," Scott said. "There are things we haven't talked about doing. Sticking to the things we talk about going is a big thing for us."
After losing James, their defensive captain, all of that is understandable as well.
The Cavs players don't want to talk about James and probably don't want to think about him. They have grown tired of discussing their on-court interactions with him from the last meeting on Dec. 2 in Cleveland.
But the stats and the results simply show what they can't deny -- they're still in a hangover from losing him.
"We can't control what he does, all we can control is what we do," Daniel Gibson said. "Everyone in this locker room is tired of losing game. We can't focus on him, we need to focus on ourselves."