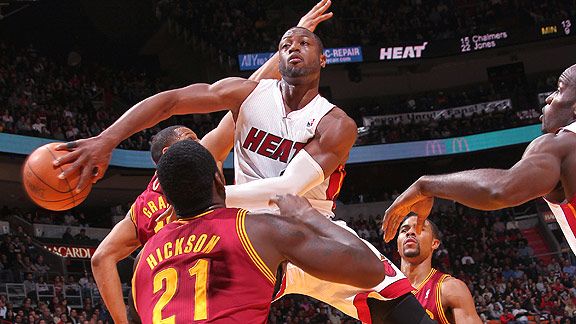 Victor Baldizon/NBAE/Getty Images
Dwyane Wade scored 15 of his 26 points in the fourth quarter of a sluggish Heat win.
MIAMI -- Even as their win streak hit double digits Wednesday night, the Heat set off a small but clear alarm. The next few days will tell if they were paying attention to it or not.
The last three weeks have proven the Heat are actually a good team, a conclusion plenty were doubting about that long ago. The next week and a half, though, will provide a much better idea of just where they stand.
The 101-95 win over the Cavs didn't have anywhere near the same intensity as the last time the teams met on Dec. 2 in LeBron James' return to Cleveland. Instead it seemed to act as an appetizer to what the Heat are facing between now and the end of next weekend.
That main course starts Friday in New York against the suddenly significant Knicks, then continues next Monday against the Mavericks in Miami before a trip to Phoenix and then Lakers for the Christmas Day centerpiece.
That's quite of run of big-time games for the Heat, one of the hottest and most-watched teams in the league after running their win streak to 10 games.
So what's the issue? Well nothing … yet.
However, there was clear some slippage against the Cavs, who have now lost nine games in a row. The Heat played their first game that was in doubt down to the final minute since an overtime loss to the Grizzlies on Nov. 20, and simply did not look as sharp as they have during the streak.
"I think we all know that we can play better and more focused and be more committed to a higher standard," said Heat coach Erik Spoelstra, who clearly was trying to toe the line between issuing a warning to his team but not seeming overbearing.
"We're striving for perfection right now. Is that realistic every minute you're on the floor? No. But in games like this we can play better."
It was especially evident during the fourth quarter when the Heat let a 14-point lead bleed all the way down to just three thanks to missed free throws (six of them), untimely turnovers and poor rebounding.
The Cavs were fighting hard, playing some of their best defense in weeks as coach Byron Scott chopped down his rotation to eight players in an effort to squeeze out an upset.
The Heat never seemed in serious danger and were able to get the job done. But it was not the relentless effort the team had showed as they piled up nine consecutive double-figure wins.
Keeping that pace up is impossible, true. But another outing like this one over the next week might mean an end to the current streak. And Spoelstra tried to delicately make the point amid the pleasure over another win.
"I think we all know, if we're true to ourselves, that we could've played a more consistent game from beginning to end," Spoelstra said. "We can play better and more focused and be more committed to a higher standard."
The Heat did positive things, especially at the defensive end in the second half. After giving up 50 percent shooting in the first half, the Heat recommitted themselves and held the 3-point-happy Cavs to just 31 percent shooting during the final 24 minutes.
Dwyane Wade shook off a sore wrist and some shooting struggles to catch fire in the fourth and score 15 of his 26 points.
James had a poor shooting night, making just 5-of-15 attempts from the field, but he attacked the rim to earn 18 free-throw attempts and also set a season high with 13 rebounds.
So the Heat got through it, though it isn't clear the team senses the looming threat or what Spoelstra seems to be a bit concerned about heading into the next stretch of games. Players seem pleased to be humming along.
"Do you want to play every game perfect? Yes, we do," Chris Bosh said. "Is it the coach's job to demand perfection? Yes, it is his job. As a player, I'm just happy we won. As far as I'm concerned, I've never won 10 games in a row, I'm happy."
"We executed enough plays down the stretch to win," James said. "For us, we're happy that we're continuing to win."
They're a new team, but the Heat still have some classic issues and here is another one. The coach is never happy, while the players appear to be enjoying a win. There's a happy medium, of course, and perhaps the team is right in that zone. It probably won't take very long to find out, perhaps Friday night at Madison Square Garden.
"Part of it is the human condition, you tend to relax," Spoelstra said. "We got the win, we've won 10 straight, and that ultimately is the most important thing. I get it. We also want to make sure we're playing to our potential."