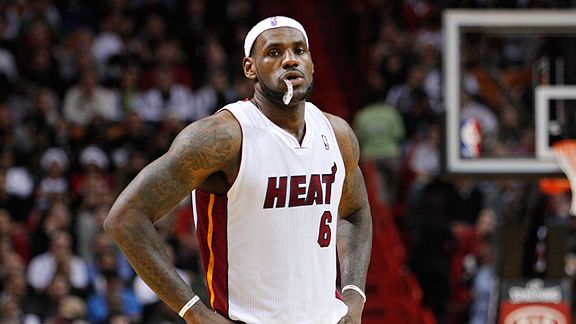 AP Photo/Alan Diaz
LeBron James: "The Decision" is getting smaller and smaller in the rear-view mirror.
MIAMI -- How do you know LeBron James and the Cleveland Cavaliers have moved on from the pain, the disappointment, the anger, the dissatisfaction and the scorn from their once-bitter breakup during last summer's free agency?
All you had to do was listen to the silence on that once-noisy subject.
James fielded at least two dozen questions before and after the Heat's 101-95 victory over his former team Wednesday night at AmericanAirlines Arena. And none of them contained the words "decision" or "regret" or "what would you do differently" if James had the chance to do it all over again.
James has made his decision. He doesn't regret it. He won't apologize. And he's living quite comfortably in that new $9 million Coconut Grove home, while the consequences, backlash and critics slowly fade into the distance.
"It's slowing down. It's getting better and better," James said Wednesday of moving beyond any discontent from his free agency decision and settling into a dominant role with the Heat. "My transition to a new city. My transition to moving. I think you all have seen my new house. The transition to moving in to my new house, which everyone in the world has seen, it's still challenging. But it's a lot smoother than it was the first couple of weeks or maybe the first month."
Two weeks ago, that wasn't the case when James faced the Cavaliers for the first time back in Cleveland, where emotions were raw and wounds had yet to heal. The reception would have been warmer for Michael Vick at a P.E.T.A convention than what James got back in Cleveland on Dec. 2 as he led the Heat to that 118-90 victory over the Cavaliers in his first game as a visitor.
But this time? There was virtually no trash-talking between James and his former teammates, no taunting in front of the Cavaliers bench after fadeaway jumpers and nothing that came remotely close to any display of emotion.
Of course, the change of scenery had a lot to do with that. The decibel level of cheers from the late-arriving Heat fans who eventually packed the arena Wednesday didn't come close to the volume of scorn Cavaliers fans blasted in Cleveland. The media crush that descended on Cleveland earlier this month and essentially put James on trial in the court of public opinion was easily four times larger than the group of reporters that were assigned to Wednesday's game in Miami.
James has moved on. Apparently, so have the Cavaliers, who were punked by James in their first meeting but showed more pride fighting to the finish this time.
Byron Scott, in his first season coaching the Cavaliers, likes to say that the process of moving beyond LeBron has been relatively easy for him. Scott never had the emotional attachment. He never coached LeBron and was barely part of the failed recruiting effort to get him to stay.
Scott is starting with a fresh slate. And on Wednesday, even in defeat, the Cavaliers reversed their disgraceful effort two weeks ago in front of fans that clearly deserved better.
"If we can continue to play this hard, and with this type of energy every single night, then we are going to give ourselves an opportunity to win; that's all you can ask," Scott said after the Cavaliers' most competitive outing during a losing streak that reached nine games. "For the next 57 games, hopefully that's what the guys will do. If we do, then we'll be in good shape."
There's really no such thing as being in good shape in Cleveland. At least not now. Not when the wounds of losing the greatest player in franchise history remain relatively fresh.
James didn't have one of his better games on Wednesday. He finished with 21 points and a season-high 13 rebounds in 39 minutes. But he missed seven free throws, 10 of 15 shots from the field and had four turnovers. But he did have one thing going for him in Miami that he never had in Cleveland: a reliable sidekick who could take over and win games on nights when James struggles.
Dwyane Wade, who scored 21 of his game-high 28 points in the second half, is the reason James refuses to look back on his decision to leave Cleveland with remorse. Playing alongside Wade and Chris Bosh during a 10-game winning streak is also the reason why James can look forward to a new line of questioning without any regret.
"Winning appeals to me," James said. "It's not about saving franchises or saving this or that. That's what I said all over the summer when I decided to come here. This was my best chance to win."
Cleveland is in the past for LeBron. Now, it's on to New York for Friday's game against the Knicks, the other team James is accused of spurning in his decision to sign with the Heat. And James is already expecting a reaction from fans in Madison Square Garden similar to the one he got in Cleveland.
Well, not quite.
"Can't be worse than Cleveland," James said. "I'm all uphill from here."
Of course, he meant downhill.
As was the case with his exit from Cleveland, LeBron's delivery can be a bit off.
But the direction of his focus no longer is.