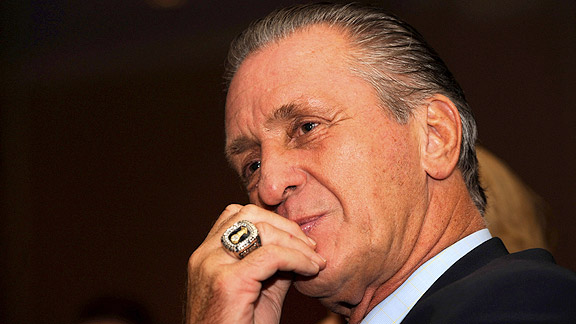 David Dow/NBAE/Getty Images
Pat Riley: Occasionally seen, rarely heard this season.
MIAMI -– Amid all of the chatter, the speculation, the ire, the anger, the commotion and recent comeuppance the Miami Heat have already experienced this season, the architect responsible for assembling this controversial project has been a man of few words.
In fact, Pat Riley's silence has been almost deafening.
Riley has been stoic in his vow to remain publicly muted through the early-season evolution of the NBA's noisiest and most scrutinized team.
He's seen, but rarely heard. Ubiquitous, yet non-inhibiting. It seems to be all part of the Pat Riley space program. He's giving coach Erik Spoelstra and stars LeBron James, Dwyane Wade and Chris Bosh enough room to operate with the understanding, of course, that the rope can always be tightened should a break-glass-in-case-of-emergency situation arise.
So far, it hasn't. Riley wasn't with the team in Dallas, when the season reached a low-point that required a players-only meeting after a frustrating 9-8 start. He didn't travel with the team to Cleveland, when James reentered the lion's den during the Heat's most galvanizing moment of the season. And Riley didn't plan on being in New York on Friday night, when Miami (19-8) carries its 10-game winning streak into Madison Square Garden to face the not-so-bad-after-all Knicks.
It's a separation that should be seen as the surest sign of support for the direction this team has taken since that despair late last month in Dallas. Yes, Riley's shadow still looms large in the hallways, practice courts, office suites and arena tunnels as it did during those days when he patrolled the bench as coach.
But the Heat president's priorities don't include much preaching these days. From all indications, Punxsutawney Pat has turned down all but two media requests when asked to give a forecast of his team this season. He spoke to Magic Johnson in a televised interview before the start of the season. And earlier this week, Riley spoke to a newspaper in Ohio to offer his support to Cleveland coach Byron Scott, who is struggling in his first season with the Cavaliers.
Those closest to Riley insist his view of the Heat hasn't changed since his last public appearance, which is why he hasn't come out since that Sept. 23 preseason press conference. So I went back to the tape, and discovered that much of what he said three months ago still resonate today.
Was Pat prophetic? Perhaps. Let's take a listen at 10 soundbites from the preseason.
Riley on the negativity and criticism surrounding the Heat
Pat then: "Why there's so much negativity out there? I don't know. I think most of it ... is silly. Just let this team become what it can become or what it can't. Just let it happen. Everybody out there is just trying to do something right now to raise the ante on us. I think the more you raise the ante on a team, especially these guys and how they talk about it, I think you might see something even more special."
The situation now: The Heat have responded to that tumultuous 9-8 start by running off 10 consecutive wins entering Friday's game. The current streak included a franchise-record nine victories in a row by a double-digit margin.
Riley on the Heat developing amid high expectations
Pat then: "I'm excited about the process of this team becoming a team, how it works out, how it's going to fit, how everybody else is going to fit. To me, it's an incredible opportunity for this franchise to build something really good. So we have a wonderful taproot."
The situation now: That maturation process was short-circuited by major injuries to Mike Miller (thumb surgery) and Udonis Haslem (foot surgery), the team's fourth and fifth-best players behind James, Wade and Bosh. It's taken weeks for the Heat to regroup, but they have found some rhythm recently.
Riley on his faith in Erik Spoelstra
Pat then: "He's got all the qualities and I think he's got a great staff. I think he's very prepared. He's excited about it. All he's got to do is coach the team. Managing the media is part of coaching a team. Managing the officials, that's part of (managing) the team, managing the president, that's part of the team, managing the owner is part of the team. It's the whole game."
The situation now: After surviving Bumpgate with LeBron in Dallas and that episode of wavering public support from Wade, Spoelstra has as firm a grip on this team and his job as ever. Do you really think Spo would have been as bold as he was during the turmoil without Riley's backing?
Riley on defense and rebounding setting the tone
Pat then: "Erik will continue to, as he always has, as we always have, talk about defense and rebounding. It's going to be defense and rebounding. If you want to get out in the open court and be able to use what you do have, you're going to have to defend hard and you're going to have to rebound."
The situation now: When Miami was 9-8, it was one of the worst rebounding teams in the league. That has changed during the 10-game winning streak. Bosh has transitioned from soft to smooth. And Wade's exploits are again defying all logic for a player who is 6-foot-4 in shoes.
Riley on the sky being the limit for Big 3
Pat then: "When you have two players like Dwyane and LeBron, then you have a dynamic that anything can happen on any given night at both ends of the court. When you add Chris Bosh to the equation, a guy now on the inside that can also stretch the floor with enough size and enough quickness, then you have the elements of putting together a complete team.
The situation now: The Heat's Big 3 were never going to unlock their potential and play with more trust and chemistry until they started to hold each other accountable. That began to happen after they lit into one another during that players-only meeting in Dallas. They've been a different group ever since.
Riley on Spo handling adversity
Pat then: "I think Erik is ready for this. I think the last two years have really steeled him to being able to deal with all of the aspects you have to deal with as a head coach. The pressure of just making the playoffs or making the fourth or fifth position, you feel the same kind of pressure you would if you were trying to win a championship or if you were just trying to make the playoffs."
The situation now: Let's just say that Riley has placed a huge part of his Heat legacy in Spoelstra's hands, and is 100 percent intent on seeing his handpicked successor become a coaching success.
Riley on what the Heat will look like when all comes together
Pat then: "I do envision them having some incredible moments on the court because you have some incredible talent. How it manifests itself is going to be determined on the philosophy and how they play together and accepting roles and stuff."
The situation now: As astounding as it might seem, the Heat might be playing with house money right now. This team might not be whole until next season when they'll have a healthy Miller and Haslem and the use of salary exceptions to address needs at point guard and center. Assuming, of course, there's not a labor lockout.
Riley on Heat hate
Pat then: "I don't know where it's all coming from, and I quite frankly, don't care. Because we did something we feel was special for our franchise and for our city. We had dreamt about it. We talked about it. We had planned."
The situation now: Perhaps Cavaliers owner Dan Gilbert can take his tampering investigation and stick them you know where.
Riley on Wade's conditioning
Pat then: "He's in great shape. I think he's in better shape than he was in last year. And he might be in the kind of condition he was in when he came back from the Olympics. So, he's very motivated. He knows he's going to have to be healthy and be in great shape to take advantage of this opportunity.
The situation now: Even with the bruised shoulder, sprained wrist and another assorted bumps and bruises, Wade is playing his best basketball of the season and is the reigning Eastern Conference player of the week. When the Heat struggle, where there's been a will, there's been a Wade.
Riley on title-or-bust expectations
Pat then: "What is being perpetuated out there in the media, and rightfully so, because if you take a look at the talent we have on the board, is everybody says that. That isn't the kind of pressure we want to put on the team. We want to go minute by minute, day by day, week by week, month by month, see where we are at the end of the season, get into the playoffs and go from there."
The situation now: Miami has climbed to second in the Eastern Conference standings behind Boston, which is 2-0 against the Heat this season. In all fairness, it's probably not title-or-bust for the Heat in Year 1 of this project. But anything short of a trip to Game 7 of the conference finals should be considered a huge disappointment. So, in essence, it's title-within-the-first-two-seasons-or-bust.