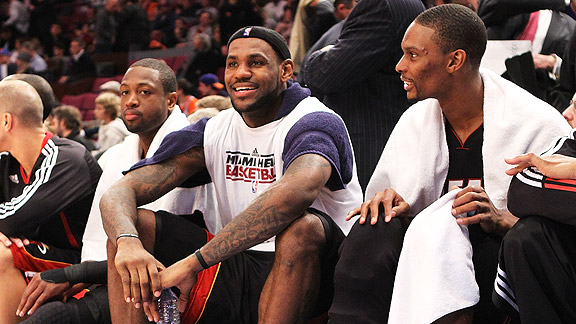 Al Bello/Getty Images Sport
Why did LeBron James choose the Heat? To be surrounded by Dwyane Wade and Chris Bosh.
NEW YORK -- There were thousands of fans at Madison Square Garden on Friday night still frustrated that LeBron James was there wearing a black road uniform and not a white Knicks jersey.
Later in the night, when the Heat's 11th consecutive win was sealed, the once-frenzied Garden crowd was silent. The reason James signed with the Heat was as clear as black and white.
James (as he has said repeatedly and again Friday) picked Miami over his other suitors because of the chance to play with Dwyane Wade and Chris Bosh. The wisdom of that choice will be determined over the next six years. But James was very comfortable with the short-term returns on his first trip to Manhattan since jilting the Knicks.
The Heat's big three combined for 84 points in the 113-91 victory, with James producing another fantastic New York performance. Wade and Bosh scoffed at boos and jeers to join him in the group's best collective effort of the season.
"The message I got from Miami was everything I needed to hear," James said when asked about his choice of the Heat over the Knicks. "The system, the coaching, the organization. And D-Wade and CB being good friends of mine, I thought it was best suited for me."
This was the type of game James had in mind. He recorded his 30th regular-season triple-double and his first at the Garden (he had one but lost it when the NBA took away a rebound after a game in February 2009). He finished with 32 points, 11 rebounds and 10 assists.
James made his first three shots -- all contested jumpers -- which Knicks fans have grown accustomed to seeing. In his previous four visits to the building, James had averaged 40.3 points, with two 50-point games fueled largely by great outside shooting. On Friday, he shot 14-of-23 from the field and made just one free throw, a rarity for him in high-scoring games but an example of how the atmosphere charged him.
"It is not a spotlight I can't handle," James had said before the game when questioned as to whether he chose Miami to avoid the pressure of playing in New York. "It is not a situation I can't handle."
Wade handled it as well. He had a complete effort with 26 points, eight rebounds, five assists and three steals. Bosh had 26 points and seven rebounds, and was part of an effort that broke Amare Stoudemire's streak of nine consecutive 30-point games.
Stoudemire still had 24 points but needed 28 shots to get there, a ratio the Heat gladly accepted.
When Bosh went to the foul line several times, he was hit with arena-wide "overrated" chants. After he'd played Stoudemire to a virtual draw, Bosh just laughed about it.
"We're all going to have our turn," Bosh said. "Today was the first time I could really tell the difference [in the jeering]. We thrive in this kind of environment."
Usually those sort of comments are more canned than true -- especially for Bosh, who does not have a history of coming up big under pressure. But that statement can't be disputed for now, because the Heat have indeed backed it up recently.
In a vicious environment in Cleveland earlier this month, the Heat delivered their best game of the season to that point. In Utah, which can be a high-altitude pressure cooker, they turned in a dominating effort. Then Friday, when the Garden was at playoff-style noise levels in the first half, the Heat did it again.
In all three games, it was James, Wade and Bosh combining to play well, a formula that overwhelmed the home team.
In essence, that is why they joined forces. It sure hasn't been popular, but for the past three-plus weeks, the combination has been quite effective and there aren't signs of any immediate slowing.
After a rough first 17 games during which their play was under scrutiny, the Heat now seem to be enjoying answering the public relations fallout as they cross the country and disappoint fans who came to boo them.
"These guys, they're not afraid of the lights," Heat coach Erik Spoelstra said. "We've experienced a lot of this already. Everybody booing us, having creative signs ... I think they all like that, being the designated villain for the night."