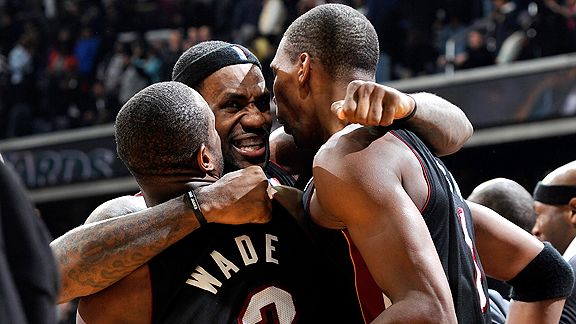 Greg Fiume/Getty Images Sport
32.6 seconds is a lifetime in the NBA, the difference between sorrow and celebration.
WASHINGTON -- It was 32.6 seconds of funk.
Oh, there are dozens of more games and plenty of heavy-handed drama to come this season that probably will relegate it to irrelevance. It's just another game on a Saturday night in the middle of the season's long journey.
In a just world, the final 32.6 seconds of the Heat's get-together with the Wizards ought to have some special place other than just a simple line on the season's ledger. There was chaos and heroics. Carelessness and failure.
The Heat won it, 95-94, in both amazing and somewhat embarrassing fashion to run their winning streak to 12 games. Then they celebrated on the court with LeBron James hugging teammates, Chris Bosh letting our roars and Dwyane Wade pounding his heart and rolling his eyes.
Erik Spoelstra didn't see all that. He had speed-walked off the court with a smirk that was part disgust and part awe.
"We played a horrible basketball game, we really did," he said a few moments later.
In those 32.6 seconds, the Wizards showed why they have a 6-19 record. They squandering what would've been an uplifting victory on a day when they were surely distracted by the team's trading Gilbert Arenas.
The Heat, meanwhile, proved they are the type of team with the depth and confidence to get it done -- even when they're tired, lack focus and are on the road.
"You have crazy games like this during the NBA season," said James, who had 32 points. "It is always good to be on the winning end of it."
So let's take a little look at what happened in the bizarre half-minute.
32.6 seconds: Josh Howard hits a tidy floater to give the Wizards a five-point lead. It sure looks like it is over especially since Wade had just put up the Heat's third airball of the half at the other end of the floor, trying for a tie.
23.7: Bosh, who had played his worst game in weeks defensively while committing seven turnovers on the offensive end, gets a play run for him to shoot a 3-pointer. He makes it, just his third of the season.
"I told him 'Boy, that was a tough game for you,'" Spoelstra said. "He never got into a rhythm so I decided I'd run a 3-point special for him. I guess sometimes you need to be more lucky than good."
19.8: Trailing by two, the Heat foul Howard and put him at the line. Howard misses the second free throw. But both Wade and Mario Chalmers forget to box out the foul shooter. So Howard gets the rebound and gets fouled again. Not exactly good basketball.
18.4: Howard misses another free throw, and the Heat issue a formal thank you from the bench. But he does make the second, restoring what looks like a solid four-point lead.
16.8: Wizards forward Andray Blatche, suddenly afraid of 29 percent career 3-point shooter Bosh, commits a disasterous foul on Bosh who is set up behind the arc, considering launching another 3-pointer. It takes virtually no time off the clock and puts an 80 percent foul shooter at the line.
16.8: Bosh converts only two of his three attempts at the stripe. Now trailing by two, Bosh's miss costs the Heat the opportunity to foul and still have a chance to tie on the next possession.
Basically, he took Blatche off the hook.
13.6: The Wizards commit a senseless turnover. Blatche decides to inbound to Nick Young, who was less than five feet away and also pretty much double-covered. Young isn't looking for the ball and he fumbles it as Wade dives for the steal. The ball ends up in the hands of Heat guard James Jones, whom Young fouls. Not only is it questionable to foul Jones there, but Young gashes Jones' left elbow and draws blood. This will be important in a moment.
Jones then makes both free throws, thus allowing the Heat to score four points to tie the game. They accomplished it in 3.2 seconds without making a field goal or getting a rebound -- pretty remarkable.
12.6: After a timeout to collect their thoughts, which they probably need after that little ordeal, the Wizards advance the ball to the Heat's end of the court. Howard inbounds the ball to teammate Kirk Hinrich but, not surprisingly, it's not a well-executed pass.
Hinrich is off-balance when he catches the ball and about to fall out of bounds. It appears he's about to call a timeout to save the possession. This is problematic on two levels. One, neither team had a timeout left and Hinrich is facing possible a Chris Webber situation. Second, calling a timeout falling out of bounds has been outlawed in the NBA.
No fear, though, instead of letting Hinrich become a goat, Heat guard Mario Chalmers shoves him for no good reason to commit a foul. As the game is tied and Hinrich is under distress, there's no earthly reason to do this.
Hinrich, who is shooting 85 percent at the line this season and was a perfect 4-of-4 on the night, takes his good fortune and misses the first free throw. This essentially costs the Wizards the game, but they don't know it just yet.
In between the free throws, however, an official notices Jones' bloody elbow that was inflicted by Young a couple of indescribable mistakes back. While Jones is getting it treated, the Heat end up with a free timeout, during which Spoelstra draws up a play to be executed after the Hinrich free throw. With no timeouts left, this is a rather nice stroke of good luck.
"It was a serendipitous break for us," Spoelstra said.
7.9: Hinrich makes the second free throw and then Heat are ready. They have a countermeasure play designed if James, who is supposed to get the ball, is doubled-teamed. The Wizards do double-team James and he feeds Wade in stride as he bolts up the court. This ignites a fast break chance and Blatche has no choice but to foul Wade.
Wade makes both free throws -- his 19th and 20th points -- for the difference in the game.
3.0: Hinrich covers about 90 feet in fewer than four seconds, shedding his man on the fly to get a shot for the win at the rim. But Joel Anthony and James are there and both jump -- legally straight up, officials decide -- before Hinrich can get as close as he wants.
As a result, the last-ditch attempt goes straight up in the air and Wade, trailing on the play, grabs the ball. But as his momentum takes him out of bounds, Wade tries to make a smart play by throwing the ball high in the air to kill the clock.
Hold on, now. Wade mistimes the toss. Instead the ball comes down to Howard outside the 3-point line with a split second left -- just enough time to fire up a shot.
Eddie House has come off the Heat bench and is pounding Wade's chest out of bounds on the baseline to celebrate the play. But Wade, knowing he may not have been liberal enough with the heave, pushes House away afraid to look.
Now, let's flashback for a moment to March 31, 2007. That was when Wizards forward Michael Ruffin, on the same Verizon Center floor, tried the same heave only to leave too much time for Toronto's Morris Peterson. Peterson caught the lob, made a crazy shot and the Raptors won in overtime.
But on this night, the craziness had to end.
Howard's shot clangs off the rim.
"I had a slight heart attack," Wade said later.
No kidding.