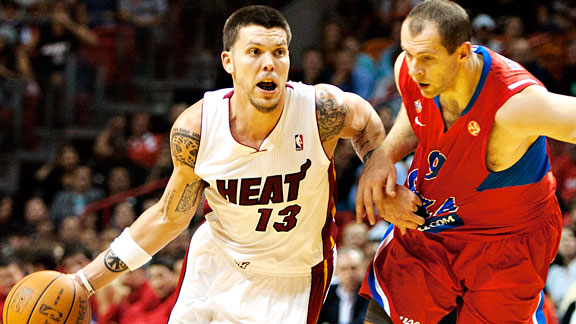 Jonathan Brownfield/US Presswire
Mike Miller is back, but whose minutes will he claim?
MIAMI -- Allen Iverson once lectured us on this very subject.
Practice.
"We talking about practice," Iverson said several years ago, amid all of the fuss and focus on his practice habits. "Not a game. Not a game. Practice. We talking about practice."
Who needs practice? Apparently, Miami Heat sharpshooter Mike Miller didn't need it after all.
For days, the Heat were talking about practice -- specifically how much Miller needed to get some in before he would suit up to make his season debut after missing the first two months of the season to recover from thumb surgery.
But that plan abruptly changed Monday night, when Miller made his brief, yet long-awaited first appearance in Miami's 98-96 loss to the Dallas Mavericks.
Perhaps it dawned on team president Pat Riley and coach Erik Spoelstra that it was a practice that got Miller in this mess to begin with. The last thing Miller needed was another shot at trying to defend LeBron James in practice.
Yes, we talking about practice.
It was in practice on Oct. 20 that the right thumb on Miller's shooting hand was nearly dislodged from his body after it got caught in James' jersey during a rugged defensive drill. So in an odd, inadvertent sort of way, James was responsible for knocking Miller out of the lineup, as well as for his return to it.
James' early foul trouble against the Mavericks opened the door for Miller to begin what could be a lengthy and, at times, uncomfortable acclimation process as a member of the Heat's rotation. The stinker of a performance Miller delivered during his four minutes of playing time in Monday's loss could be chalked up to rust and first-game jitters.
He won't have too many 0-for-4 shooting displays, which last night included an air ball from 3-point range. Maybe he did need a practice to shed that much rust before he was rolled out into the rotation.
"Mike is going to play a big part in what we're doing," Spoelstra said. "We'll work him in. It'll probably be slowly at first, and then as he gets more comfortable and healthy, and in more shape and rhythm, his role will increase."
Miller will get his shots to fall. Eventually, he'll show why the Heat gave him that five-year, $29 million contract last summer after securing James, Dwyane Wade and Chris Bosh. As the Heat moves forward with making Miller a mainstay in the rotation, the veteran sharpshooter already seems to be right on target in embracing the bigger-picture perspective that came with his addition.
It was only by coincidence that the first time the team attempted to force-feed Miller some minutes also happened to be the night the Heat suffered their first loss in three weeks. But the reality is that incorporating Miller into the mix will disrupt the continuity Spoelstra was just beginning to establish with his rotation. Everything from the Heat's point guard play -- Carlos Arroyo and Mario Chalmers have split playing time -- to how Spoelstra might juggle Wade and James on the perimeter could be altered in an attempt to tap Miller's shooting, playmaking and rebounding.
Miller's return means the Heat can eventually get to that dynamic "big" backcourt that would feature Miller, Wade and James on the perimeter. It also means the Heat can go explosively small, with Wade, Miller, James and Bosh at shooting guard, small forward, power forward and center, respectively.
The options are limitless, but the issues are complex, even when adding a career 40.5 percent 3-point shooter who has averaged 13.7 points, 5.1 rebounds and 3.2 assists over 10 seasons.
"Obviously, I want to play, but I understand the bigger picture," Miller said of the process of working himself into what's been a fairly successful game plan without him. "There will have to be sacrifices made, and maybe it'll have to be me [making them]."
The Heat prided themselves on sacrificing, so it won't be a totally new concept.
Sacrifice was their buzz word over the summer, when Miller joined Wade, James, Bosh and Udonis Haslem. They collectively agreed to take less money than they could have procured elsewhere in free agency to play together.
Sacrifice continued to be a theme into the season when Joel Anthony lost his starting job at center to Zyrdunas Ilgauskas, and then both lost playing time when Erick Dampier was signed last month to join what is now a committee approach at the position.
And sacrifices, whether fair or not, are in store again. No player in the Heat's rotation may be affected more by Miller Time than James Jones, who ranks sixth in the league in 3-pointers made and has boosted the Heat as much with his defense as his shooting touch.
Jones is the Heat's leader in charges drawn this season. And he might be asked to take one for the team when it comes to his role. It's part of the process Spoelstra referred to when he said the Heat "might need to take a step back in order to take two steps" forward with the rotation.
"You don't make any adjustment. You just try to stay sharp and put the [decision-making] on Coach -- that's his job," Jones said. "We all understood when we signed up that this would be an up-and-down season and guys would be needed at certain times. Upstairs, in his office, I'm sure he has an idea of what's going to come next with the rotation. But we've all bought in. We're all 100 percent on board."
The Miller-inspired rotation makeover won't happen overnight. His minutes of playing time will gradually increase during this week's road trip, during which the Heat plays at Phoenix on Thursday before Saturday's Christmas showdown against the Los Angeles Lakers. But it could be about a month before Miller finds his rhythm and provides the versatile punch the Heat expected when he signed.
"There will be an adjustment period for the team," Miller said. "It's a tough situation because we're playing really well. The way I play basketball, it's easy for any system to fit in, especially here because these guys make the game so much easier."
The timing of Miller's return, which was about a month ahead of schedule, could be seen as gift.
But there will also be growing pains along the way. However, those can be limited, especially if the Heat keep Miller out of LeBron's path when he finally gets that first full-contact practice in on Wednesday.