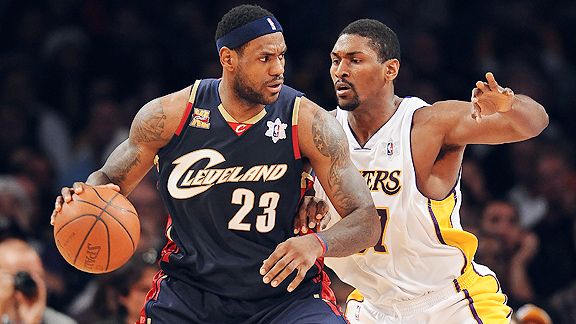 Lisa Blumenfeld/Getty Images Sport
Remember Christmas Day 2009 in Los Angeles? Didn't think so.
"Mama there goes that Meme!" is a HoopSpeak.com feature in which Beckley Mason and Ethan Sherwood Strauss, like curious extraterrestrials, probe, abuse and ultimately learn from a popular media meme. In this special Christmas edition, the guys examine why it is we're so drawn to this Christmas Day matchup.
Ethan: On Christmas, millions will bask in a Heat-Lakers game so hyped, it's hard to fathom how basketball will still exist in its aftermath. While Saturday's Miami-Los Angeles mega-battle probably won't implode the sport, it will decide how we go back and frame our preconceived notions about both teams:
The media after a Lakers loss: "The Lakers win in the playoffs, the regular season means nothing. I now smugly chuckle at your silly, naive overreactions"
The media after a Heat loss: "This shows that Miami doesn't have what it takes to win like the Lakers do. Perhaps LeBron lacks that brutal killer instinct -- you know, the one displayed by flicking your wrist under a ball."
With apologies to the Heat Index: The game does not matter. In fact, it sort of mirrors Christmas itself. We build up the moment, then quickly flee like Harold Hill exiting River City. I vaguely recall the last LeBron-Kobe Christmas game. The ascendant Cavs stepped into Staples and stepped over the Lakers. Five months later, confetti and champagne rained, decking the halls of that same arena. The Lakers had won yet another title. The Cavs weren't even in the building.
That 2009 match was not predictive or important. So Beckley, why do we watch this upcoming Christmas litmus?
Beckley: Your math is correct. For these teams this game means no more nor less than any other nonconference game on the schedule. And you're right, no game played in December necessarily gives either team a discernible advantage going into future matchups. Hindsight may inform significance, but for now, all we have are two elite teams playing a game worth one win.
But I think you overlook a crucial element, and that is that this game will feature five of the top fifteen players on the planet in one 94-by-50 foot space.
This in itself demands celebration.
Drawing consequence from 1/82 of a season can be absurd, but what about the inherent meaning of seeing the three best wing players of the past decade on the court at one time? How about the worth of being privileged to a contest of styles between the fury of the Heat fast break against the mature elegance of the Lakers' Triangle?
This meeting is a basketball eclipse. So what if the dulling glare of the 82-game grind returns December 26th? The spectacle of this regular season ritual is worth taking in.
Ethan: Okay, you're cluing me into a love of this Heat-Lakers game, my heart's growing three sizes, fit me for the magnum pacemaker. I'm reminded of how we can appreciate this sport, divorced from standings. A short time ago, I saw Blake Griffin play in a totally meaningless NBA preseason game. His dunks threw people from their seats, sent them talking in tongues. Griffin brandished athleticism that we could hardly absorb or process. The night was special because of what we saw combined with the visceral impact of such a sight. Time flew faster than frightened bats, an alley-oop validated my existence on the planet. Basketball doesn't need stakes, the talent exhibition is enough. I'm watching Lakers-Heat for the sheer joy of watching Lakers-Heat.
Wait, why haven't I brought up Dwyane Wade? What about Pau Gasol? Lamar Odom exists, right?
Beckley: Odom … who? You know that when it comes to hype memes, Pau and Dwyane are two warm-up acts who deserve top billing. Each has been the best player in an NBA Finals series, and both have played better than their overshadowing counterpart for chunks of this season. But neither Wade nor Gasol seems to swell with the all-consuming hero narrative like LeBron or Kobe.
That's too bad for Gasol, who is uniquely equipped to control this game by dominating the pivot on both ends. On Saturday, I believe Pau and Odom's ability to pass over and around the Heat's quick hands and length and preserve the flow of the triangle will be more important than whether Kobe can personally out duel Wade. But even that story line has gone largely untold. And what's really interesting about the lack of meme wattage devoted to the Wade-Bryant match-up is that these two will actually be, you know, guarding each other. While the legends of LeBron and Kobe are battling it out in blogs and message boards around the country, Wade and Bryant will be making their arguments in person on Saturday.
So fill the narrative void, Ethan, and tell me who you would take between Wade and Kobe.
Ethan: We've historically photoshopped LeBron against Kobe--lacking a single shared playoff series, the two are existential enemies at most. This Cold War came at the expense of what should have been a bigger national Wade vs. Bryant fight. So let's wage it right here on these pages.
Kobe has the bigger market, better team success and this season's statistical edge. Dwyane has dusted KB individually over the long haul. Also -- as you alluded to -- Bryant never owned a Finals quite like Wade did. And yes, I know that many fans attribute the Dallas-Heat series to the surreal renderings of Salvatore Dali.
It's Dwyane over Kobe in career Player Efficiency Rating (PER), Win Shares, and Wins Produced. Plus, if we subtracted Wade's injury-torn 2007 campaign, he would dominate the advanced stat alphabet soup insofar as a man can dominate a soup. Since any rational Bryant critique gets dismissed as "hating," here's some hate: In my personal opinion, Dwyane claims a better career than Kobe. December 25th, 2010, should be hyped as Wade's chance to show why -- especially since Bryant is playing so well right now.
What's funny is how so many pundits favor the Lakers for reasons unrelated to LeBron, Kobe, or Dwyane. I keep reading, "The Lakers will win with their size." Beckley, why is size mattering more than ever before?
Beckley: You'll have to ask Jimmy Johnson for that answer. But I can tell you that I recently watched Miami nab seven offensive rebounds in one possession against the purportedly larger Mavericks. Maybe we need to re-imagine the conventional size versus speed narrative. The Heat have actually accumulated a greater total rebound differential (the difference between a team's rebounds and their opponents' rebounds) than the Lakers. And what's this? The Lakers are averaging greater than one steal per game more than the fleet footed Heat. Clearly, appearances can be deceiving.
Well, maybe not appearances, strictly speaking. It seems strange to focus on how the two teams would literally stack up when the Heat's starting five is collectively listed as being three inches taller than that of the Lakers. The Heat's problem isn't that their centers aren't big enough -- they're actually quite large -- it's that they aren't nearly as central to their team's success as Gasol and Bynum.
I can see this game playing out like a castle siege, with Gasol and Bynum acting as the ramparts in the paint. The charging Heat wings will try to raise the citadel with driving offensive assaults and quick-strike weakside blocks and steals on defense. This isn't about size versus speed, it's about flow versus disruption. If the Gasol et al hold down the fort, only an epic 3-point barrage from the Heat will win the day.
Ethan: The size fixation is really more about "size that's good" than "size." Odom, Gasol and Andrew Bynum deservedly own greater star power than fading giants like Dampier and Illgauskus. The Heat don't lack literal height, like pre-Gortat Phoenix. Their height is just aging and wrinkled. In the spirit of Monty Python, I'd shout, "Illgauskus and Dampier aren't quite dead yet!" As for Juwan Howard … the reaper is fondling what's left of his skills.
In reference to your strategy breakdown, what's your actual basketball prediction here? I'd go with the Lakers just because Kobe is really motivated. He just wants it so badly and he really, really loves basketball.
Just kidding, I'd favor the Lakers because the game is at Staples.
Beckley: I'm glad we got through this without mentioning Bosh. I guess I'll take the Heat because they seem to play Thrice As Nice as the alpha dog villains with a target on their backs who have more to prove to Charles Barkley. Plus, they'll be festively dressed in their Christmas reds.
You can follow Beckley Mason (@BeckleyMason) and Ethan Sherwood Strauss (@SherwoodStrauss) on Twitter.