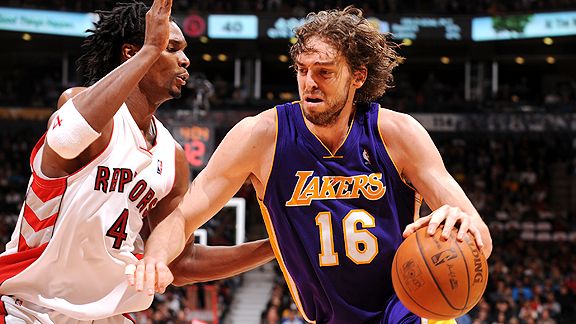 Andrew D. Bernstein/NBAE/Getty Images
Chris Bosh and Pau Gasol: Similar profiles, different paths.
As the much-anticipated Christmas Day matchup approaches between the Los Angeles Lakers and Miami Heat, the parallels between Chris Bosh and Pau Gasol will be obvious. Both are All-Star big men who, after struggling to bring home championships for their original franchises, changed scenery as they entered their primes, joining clubs brimming with talent. What's more, they've each drawn considerable criticism -- no matter how unwarranted it may be -- for their supposed "soft" play.
Bosh and Gasol can sympathize with each other in many respects, but it's also worth appreciating their distinct differences. Here are three:
Second fiddle vs. third option
Gasol was traded from the Memphis Grizzlies to the Lakers before the trade deadline during the 2007-08 season. In Memphis, Gasol had established himself as one of the great young big men in the game. In that capacity, he took on the role as the Grizzlies' No. 1 scoring option.
But the Spaniard played with other go-to options and he gradually saw fewer touches as the seasons went by. Beginning with his All-Star season in 2005-06, Gasol's usage rate (the percent of team possessions a player is used on offense) had dwindled from 26.4 percent in 2005-06 to 25.3 percent in 2007-08 -- and falling further to 22.7 percent in 2007-08 before the organization famously shipped him to Los Angeles. Integrating into the Lakers' offense with Kobe Bryant would be an adjustment, but Gasol wasn't exactly Chamberlain in his appetite for scoring.
Gasol's scoring burden pales in comparison to what Bosh experienced in Toronto. The former Raptor's usage rate in 2009-10 was a career-high 28.7, shouldering the ninth largest scoring responsibility in the NBA last season. By comparison, Gasol's 22.7 percent in 2007-08 ranked him 71st.
Not only was Bosh used to getting an enormous number of shots in Toronto, but he has to integrate into an offense in Miami with not one, but two of the league's most ball-dominant wings in LeBron James and Dwyane Wade. Gasol should be fortunate that he only has to deal with one Kobe Bryant on his team. While you could accurately call Gasol a second-fiddle to Bryant, the big man in Miami is more like a third wheel. As such, Bosh has seen his usage rate plummet from 28.7 percent in Toronto last season to 24.0 as member of the Heat. The only way you could equate the respective environments of Gasol and Bosh would be to put Carmelo Anthony in purple and gold.
Systemic changes
In addition to dissimilar pecking orders, Gasol and Bosh's biggest systemic adjustments would come on opposite ends of the court. Gasol had the unenviable task of mastering Lakers head coach Phil Jackson's triangle offense on the fly. It takes years for some players to feel comfortable in the triangle offense, and some never actually do.
Bosh, on the other hand, must acclimate to Erik Spoelstra's highly disciplined defensive system, a massive change from his Toronto days when the defense was more porous than a colander.
It took a little time for Gasol to learn the simple, yet multi-faceted triangle offense just like it will for Bosh to feel comfortable with the demanding defensive rotations in Spoelstra's system. So while Gasol had to study X's and O's to get up to snuff, Bosh is forced to develop instinct. Unfortunately for Bosh, there's no crash course for intuition. Compounding the issue is that Bosh's defensive sensibilities were essentially neutered playing with the worst defense in the NBA in Toronto.
In terms of skill set, Gasol is a perfect fit for the triangle offense, as he's a gifted passer and equally effective from the elbow and the block. Bosh hopes his crafty finesse on the offensive side of the ball translates on the defensive end where exploiting angles is just as integral to success. The early results have been positive, as the Heat rank as a top team in defensive efficiency.
Same position, different matchups
It's easy to overlook that when the Lakers are at their healthiest, the 7-foot Gasol plays the role of power forward. Lately, Gasol has slid into the 5 slot while Andrew Bynum recovers from knee issues, but figures to spend most of his time at the 4 once Bynum is reintegrated fully into the rotation. No doubt that Gasol is offensively skilled as any big man, but it certainly helps to have a few inches on the defender -- especially in getting the clearance necessary for a midrange jumper.
Bosh doesn't have that liberty. If anything, the 6-foot-10, 230-pound power forward has been at a height disadvantage for long stretches this season, as Spoelstra asked him to play the 5 early in the season. Although it doesn't fully explain the precipitous drop-off in rebounding, it's clear that Bosh could use a couple inches underneath. In the end, Bosh doesn't enjoy the mismatches that Gasol experiences alongside Bynum, one of the largest players in the NBA.
While their positional labels may both read "PF" in Saturday's starting lineup, the two inches in height make a world of difference.