PHOENIX -- Leaning in with a giddy smile, LeBron James draped his arm around the legend sitting next him for a photo that gave him a rare quality. For a second, James looked like just a fan.
That defined the nice moment James shared with Muhammed Ali during halftime of the Heat's 95-83 victory over the Suns on Thursday night. Several players stopped by for photo ops with the living legend, treatment Jack Nicholson doesn't even enjoy.
James had met Ali before but said: "It feels like the first time every time you get an opportunity to see him and shake hands with him. He's by far one of the top two greatest athletes ever. He did more for sports than just boxing. No athlete will ever be able to compare what he did in the ring and outside the ring."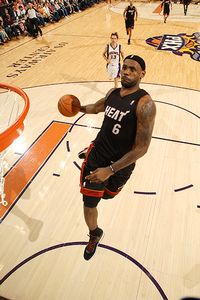 Barry Gossage/NBAE/Getty
LeBron James: Inspired by Muhammed Ali sitting courtside?
Who else is in James' top two? He mentioned Michael Jordan and then added Pele. Depends on taste, probably.
Out in the Heat's proverbial ring, they were missing one of their top two against the Suns, as Dwyane Wade was a late scratch with a sore knee. It appears that the decision to sit Wade was precautionary and he'd likely be ready to play on Christmas against the Lakers in Los Angeles.
With Saturday's big matchup looming and the Heat's margin for error smaller without Wade, the game had a dangerous potential for a letdown loss.
But there were a couple of things going in the Heat's favor as well. The Suns were playing their first game with new players Mickael Pietrus and Marcin Gortat (Vince Carter was out with injury) and in the midst of an adjustment period. Second, the Suns didn't have anyone to effectively guard James or Chris Bosh.
The Suns had an early burst, which vaulted them to an 11-point lead. After that, James -- who has had some huge games in Phoenix during his career -- realized he'd better start attacking without Wade.
Attack he did. James fired in 21 points over a 12-minute span of court time during the first and second quarters to get the Heat the lead for good. His most emphatic move and the explanation of his mood on the night happened in the closing seconds of the first half.
Trapped near midcourt with just seven seconds left, James turned the corner and used a pick from Erick Dampier to find a small gap. Then, in less than three seconds, he covered 25 feet, split no fewer than four Suns defenders and threw down a wicked slam while getting fouled.
The Suns were never really in the game again after that.
"When you have a guy like Dwyane Wade, that's a lot of points, rebounds and a lot of command out," said James, who finished with 36 points.
"It was important for myself to be more aggressive and the rest of the guys to follow that lead."
After a lethargic start that is what Bosh did as well. After dominating the Suns' less than fierce front line in the last several meetings as a Raptor and a Heat, Bosh had just two points in the first quarter. But he came out attacking in the second quarter, leading a Heat run, then scored 11 points in the third.
By the time it was over, Bosh had 23 points and 11 rebounds.
The Heat also benefitted from the Suns' looking a little unsteady with their new players. The Heat vanquished Phoenix's second unit, which had Gortat and Pietrus, and held the Suns to their lowest offensive output of the season. Steve Nash had 18 assists but scored just four points, as his team shot just 40 percent, even with Jared Dudley having a career night with 33 points on 11-of-16 shooting.
"LeBron and Chris and they really carried us at times, they made the game easier for our other guys," Heat coach Erik Spoelstra said. "We got enough plays from them … to close out a win."
Now it's on to L.A.