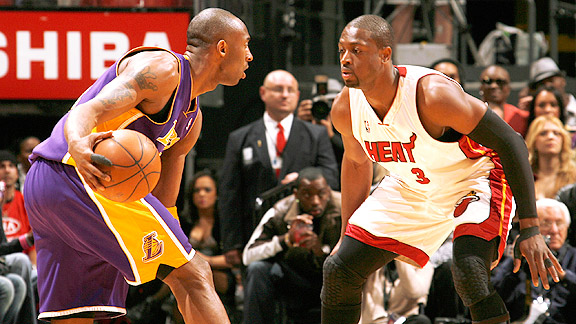 Issac Baldizon/NBAE/Getty Images
It might be tough with all the glare, but Kobe Bryant and Dwyane Wade will be locked in and focused.
Can Kobe and Artest stop Wade and LeBron?
Purely in terms of one-on-one matchups, Kobe Bryant and Ron Artest may be the toughest defensive tandem Dwyane Wade and LeBron James have faced thus far this season. Even at 31 years old, Artest is still physical enough to body up James, and the former defensive player of the year takes as much pride in his defensive assignment as anyone in the league. With that said, James has dropped 63 points in two games against Artest while the latter was wearing purple and gold. Artest has successfully tempted LeBron into taking jumpers, but he has to do a better job of contesting shots and closing out. To take advantage of Bryant, Wade needs to move without the ball and get him off balance; Bryant's at his best when he has the time to dig in to defend. Bryant and Artest make up two of the best isolation defenders you'll find, but the way the Heat like to run the pick-and-roll, it may not even matter.
Efficiency (Lakers' offense) vs. Efficiency (Heat's defense)
While the Heat continue to find their rhythm with the ball, their defense has stifled most opponents most nights. But as stingy as they've been, the Heat have posted three of their worst defensive performances of the season against system offenses: Boston's meticulous rotation of pick-and-rolls, Utah's flex offense and Orlando's well-spaced four-out/one-in half-court attack. The Heat get after it defensively but, like most teams, can be thrown off their marks when offenses force them into continuous motion, something the Lakers' triangle offense will demand of Heat defenders. When operating effectively in their system, the Lakers will throw far more at the Heat than simple pick-and-rolls at the top of the floor. The Lakers' constant movement will require the Heat to keep their collective head on a swivel. Gamble in those passing lanes, as Dwyane Wade likes to do, and the Lakers will quickly counter by filling that open void. Play Pau Gasol tight on those post feeds, and he'll find a cutter on a handoff or diving to the hoop. The Heat will need every ounce of their quickness and intuition to blanket the court. Watching the crafty Lakers go to work against those strengths will be a lot of fun.
How aggressively will Heat attack?
In the offseason, Lakers coach Phil Jackson said that despite the Heat's roster, he wasn't convinced that talent alone could carry Miami to a championship. "It's not always scorers and talent that wins it. But it's teamwork that does it," Jackson said in September. The Heat are a far more coherent team than they were a month ago, but they're still leaving a lot of money on the table offensively. No team in the NBA devotes a greater percentage of their shot selection to long 2-pointers and takes a smaller percentage of its shots at the rim than the Heat. Herein lies the biblical struggle for the Heat. Defenses intent on walling off the paint and protecting themselves against penetration are daring James, Wade and, to a lesser extent, Bosh to fire shots from beyond 17 feet. How readily Miami's superstars cooperate, particularly against the Lakers who have so much length in the interior, will tell us a lot Saturday. James and Wade must determine how much they want to make the Lakers' defense work over 48 minutes. Will LeBron, in particular, let the Lakers off the hook by taking a single dribble to the right of a high screen and putting up a 20-footer, or will he pressure the Lakers as he did a year ago today by attacking the rim?
Heat's revolving door at center
How much Zydrunas Ilgauskas will we see on Christmas? If recent trends offer any indication, it won't be much. Joel Anthony replaced Big Z midway through the first quarter of the Heat's Thursday night win over the Suns, and Ilgauskas never returned. The Lithuanian's six minutes of playing time was a season-low. Head coach Erik Spoelstra has favored Anthony against faster teams that have athletic, stretchy big men who tend to feast on Ilgauskas' slow feet. With the Lakers likely starting Lamar Odom on Saturday, it will be interesting to see how Spoelstra counters, since Ilgauskas has no business being on the floor unless Andrew Bynum is out there; Gasol and Odom would tear him to pieces. As the Lakers rank as one of the NBA's most potent offensive juggernauts, Spoelstra may elect to play the defensive-minded Anthony and sacrifice the floor spacing Ilgauskas offers with his mid-range jumper. It would be Anthony's first meaningful minutes against the Lakers since December 2008.
The Lakers are always around the rim
The triangle offense is designed to find players shots close to the basket, and having three capable big men makes that task even easier. Unlike the Heat, who choose to concentrate their shot selection along the perimeter, the Lakers want to pound the paint every chance they get and use their size to do that. Bynum is gradually becoming healthier. As mentioned above, there's no natural matchup on the Heat's roster to contend with him. Gasol and Odom need no introduction. And it's not just the big men, either. Kobe Bryant takes 7.3 shots per game inside of 10 feet, using his perch in the left post to work. The Lakers' vaunted length also makes them a pesky unit on the offensive glass, where they rank third in the league in offensive rebounding rate. The Lakers will do everything their power to take the fight into the paint where they can wield their size, which means everyone in a Heat jersey must play big Saturday.