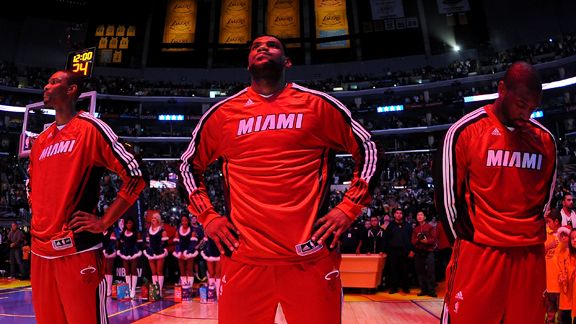 Noah Graham/NBAE/Getty Images
On Saturday, the Heat's three superstars basked in the warm glow of their mutual success.
LOS ANGELES -- Have all the players' only meetings you'd like, pick up a veteran big man or two and feel free to reshuffle lineups.
What the Heat have something going for them is more basic and vital than the cosmetic changes that have been getting credit for their turnaround. They feature a concentration of talent that's playing together and prospering, an asset that's tough to beat in this sport.
On Christmas afternoon, the Heat won for the 14th time in their last 15 tries, hammering the Lakers 96-80. It was Miami's highest-degree-of-difficulty win of the season.
There were several contributing factors, including another fine defensive effort and a general Lakers malaise that sent Kobe Bryant into a fiery tizzy after the game.
Yet all of those side issues were truly secondary to the combined play of LeBron James, Dwyane Wade and Chris Bosh. It may seem obvious but it is also a powerful reality:
When the three of them all play well, the Heat are awfully hard to beat.
On Saturday, they combined for 69 points, 29 rebounds, 16 assists and six steals. Relative to their play over the last month, it wasn't even impressive. Relative to their play in the first weeks of the season, it was a radical shift.
At the core, that's why they've gone from barely over .500 to routinely thumping opponents.
The Heat have their flaws. Depth is an issue. Dealing with some opposing big men can be troublesome. But their margin for error expands dramatically when Bosh, James and Wade play to their skill levels.
"There's no question that they carry a heavy load," Heat coach Erik Spoelstra said. "But the balance, poise and the trust that we've been trying to build is to create a game where we use their talent to make the game easier for the team."
It was a struggle to find that balance -- a struggle that probably isn't over -- but the effort has borne fruit.
Early in the season James felt he was playing out of position at point guard as he watched his scoring and shooting numbers plunge. Wade had given up his midrange game, one of his greatest offensive weapons, under the guise of trying to fit in. Bosh looked bewildered at times and admitted he felt lost, resorting to midnight conversations on the team plane to find some common ground.
Saturday was a time to evaluate how far they've come.
James is now back to playing mostly the point forward role he flourished in over his seven years in Cleveland. It enables him to be more comfortable and productive, which he demonstrated against the Lakers with his second triple-double over the last week -- 27 points, 11 rebounds, 10 assists and four steals might not have been James at the top of his game, but it was close.
He also shot 8-of-14 from the field, bettering his 51 percent shooting in December after he had converted just 44 percent in November. His shots now come with more confidence and understanding of his place, rather than simply trying to find a random spot from which to jack it up.
Nowhere does this show more than in his 3-point shooting. James was dreadful from 3-point range in November, making just 26 percent of his attempts. He was firing them up at such a brisk rate that Spoelstra may have been prudent to consider fines as a deterrent.
In December, James is hitting at 45 percent and there's reason. He's shooting them out of a controlled offense now, generally knowing where the shot is coming from. Oh, he still fires up an out-of-flow bomb once or twice a game. But against the Lakers he made 5-of-6 3-pointers, and four of them confident, spot-up jumpers within the scheme of the offense.
Now on to Wade. Despite playing with a sore knee, he had 18 points, five rebounds and six assists while playing as the point man on the Heat's effective defense on Bryant. Several times, Wade spun off picks and hit leaning jumpers or waited for the defense to shift away only to attack from the weak side, catching the Lakers sleeping.
At times during the first month, Wade played like he was in chains, waiting for a shot to open up for him instead of making it happen. He would either wait to shoot a 3-pointer from a kickout pass or force a drive into traffic.
Now the midrange creativity is back and it shows.
Wade didn't shoot well against the Lakers, but he's still shooting nearly 55 percent in December, a massive jump from his passive November. He's averaging five more points per game during the Heat's 14-1 run since their loss at Dallas on Nov. 27. Those are meaningful numbers, though just watching the freedom with which he plays now compared to four weeks ago is proof enough.
"That is a tough balance where they can be who they've been for years and been so successful and yet strike a balance to have trust [in each other]," Spoelstra said. "I think [Saturday] was probably our best game in terms of that."
Bosh's transformation to being his old self -- if not as sharp statistically as James and Wade -- might be the biggest key to the Heat's stride. Playing against a Lakers team loaded with size, Bosh was the clearly the best big man on the floor on his way to 24 points and 13 rebounds.
When the Lakers attempted to limit his 15-foot jumper he likes so dearly, Bosh took the ball to the basket. A month ago in these spots, he was prone to turn passive and allow someone else to pick up the slack. On Saturday, he made seven baskets inside two feet, four more than he'd made in any one game this season.
Bosh's focus on rebounding, especially at the defensive end, has been a vital cog in getting the Heat to become one of the best transition teams in the league. He's averaging two more boards per game in December than in November. In the process, his effort is allowing Wade and James to run and post the numbers they weren't putting up during the season's dreary early days.
Put it all together, which is what the Heat have been doing, and you have a team that looks pretty formidable.
The role players will need to have their days -- all championship teams need that. But champions also have great players who play well together, to which the Lakers themselves can attest.
That, of course, was the point of this whole Miami experiment. Currently, that plan is gaining some traction.
"That is the purpose and the reason for us three to come together," Wade said. "To have that dynamic, to continue throwing things at [other teams]. We want to continue to put pressure on the defense and never give the opportunity to rest."