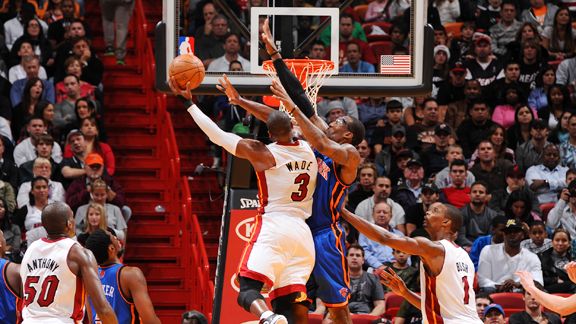 Andrew D. Bernstein/NBAE/Getty Images
Thanks to Dwyane Wade, the Heat-Knicks rivalry isn't really a legitimate rivalry -- at least not yet.
MIAMI – Dwyane Wade proved yet again why he wants no part of a renewed rivalry with the New York Knicks.
"No," Wade said defiantly when asked if he would like to see the Heat-Knicks series return to the drama-filled, knock-down, drag-out style of basketball that defined their matchups a decade ago. "You'd lose too much money [in fines]. Can't do that."
Instead, Wade continued to do his part Tuesday night to make sure the series remains as one-sided as possible in the Miami Heat's favor. With Spike Lee sitting courtside, a sold-out AmericanAirlines Arena as his backdrop and a feisty Knicks team that just wouldn't go away, Wade had all the elements he needed to set the stage for another show-stopping performance against one of his favorite nemeses.
In carving up the Knicks for a season-high 40 points, including 15 in the fourth quarter, Wade led the Heat to a 106-98 victory that ran their winning streak against New York to seven. In mixing up all facets of his game, Wade was 13-of-28 from the field, 13-of-16 from the free throw line and had nine rebounds, two assists, two steals and a block in 38 minutes.
Rivalry? What rivalry?
It was simply a case of the Heat having too much weaponry for the Knicks. Wade provided the most headaches on a night when Miami scored a season-high 56 points in the paint and dominated the boards, 50-32. Heat coach Erik Spoelstra couldn't have scripted a better box score if he were given the opportunity to do so before the game.
Even beyond Wade's dominance, there was an impressive balance to the Heat (24-9), who tied a franchise record with their 14th December victory. The team has won 15 of its past 16 games overall.
LeBron James (18 points, 10 rebounds), Chris Bosh (18 points, 10 rebounds) and Zydrunas Ilgauskas (14 points, 10 rebounds) -- who comprise the Heat's starting frontcourt -- each finished with a double-double.
Wade, Bosh and James are capable of alternating starring roles within this Heat cast. But this was a night when Wade clearly took the lead against the Knicks. He attacked the basket early, finishing with two dunks in transition and four free throw attempts. In the second quarter, he made all four of his free throw attempts, but missed four of six shots from the field. In the third quarter, Wade started to find the range on his baseline jumper and knocked down four of his seven attempts in the period.
But that was all just the matinee that preceded the magical finish in the fourth.
The first victim was Knicks guard Wilson Chandler, who watched Wade drill a jumper from 19 feet out. The shot ignited a stretch during which Wade scored 12 of the Miami's next 16 points. The Heat have three perennial All-Stars, but Wade was the one showered with the "M-V-P" chants late in the fourth.
"I was mixing it up," Wade said. "I was being aggressive and going to the basket but also looking for my outside shot. Guys did a good job of getting the ball to my sweet spots. I was just in the groove of things."
The Knicks have become all too familiar with these shows from Wade. During Miami's seven-game winning streak against the Knicks, Wade has torched them for 46, 55, 26, 30, 32, 26 and 40 points.
"He was able to get to the weak side with some ball movement, and trust that we would swing the ball," Spoelstra said. "That was our game plan. He was the beneficiary of that. He was able to attack the seams the way that he does."
Spoelstra has grown accustomed to seeing this kind of display from Wade. For Wade's new teammates, it's a luxury they were not used to having on their previous teams.
"That's the sacrifice I made, and that is how I wanted it," James said of having a teammate capable of carrying the offensive load. "It takes a lot of pressure off myself. We have multiple guys who can take over down the stretch. D-Wade had it going. He made big shot after big shot."
As a result, Wade also continues to be the biggest burden that hinders the Knicks from establishing a rivalry with the Heat again.