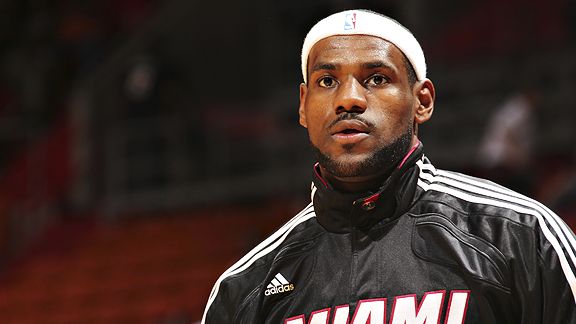 Victor Baldizon/Getty Images Sport
By next weekend, LeBron James figures to jump about 50 spots on the Heat's all-time scoring list.
When LeBron James steps onto the court in Boston on Tuesday night -- the same court where he last played a meaningful game -- he'll do so in an unfamiliar position. For the first time since March of 2008, James will be playing a game as something other than his franchise's all-time leading scorer.
James holds the Cleveland Cavaliers' career records for points, field goals, field goal attempts, 3-point attempts, free throws, free throw attempts and steals. Now as a member of the Miami Heat, he enters the 2010-11 season tied for 179th on the team's all-time scoring list.
That will change quickly.
With his first basket, James will pass at least two players, and if he can match his career scoring average against the Celtics (just shy of 31 PPG), he'll find himself tied with Don MacLean and Jeff Malone for 150th on Miami's all-time list after just a single game.
Considering James's relative lack of experience with the Heat -- and the franchise's relatively short history -- the more interesting thing to track this season will be James's place in NBA history. Currently, he ranks 110th in total points scored after only seven seasons in the league. That number may not seem that impressive until you realize that James is behind more than 700 players in total games played. James's 15,251 career points put him 40 behind John Drew, the player just ahead of him on the NBA list. James is 73 points behind Sam Perkins and 96 behind Shawn Kemp, which means with a good first week of the season, James could leapfrog three players in the all-time rankings. He needs 330 points to reach the top 100 (assuming Grant Hill, who is currently 103rd, continues to move up as well), so he should easily cross the threshold by the middle of November.
Here are some other milestones to track for LeBron entering the 2010-11 season:
LeBron James's Ranks on All-Time NBA Lists
Dwyane Wade may not rank as highly on the NBA's all-time lists, having missed an average of 15 games per season since entering the league, but he does have a healthy lead on James in the annals of Heat history. Wade is already Miami's all-time leading scorer, and has established a 2,508-point cushion over Alonzo Mourning. For James to pass Wade over the life of their current contracts, he'd have to outscore Wade by an average of 21 points per game.
Wade is also Miami's franchise leader in assists, steals, field goals, field goal attempts, free throws and free throw attempts, but isn't within striking distance of the top spot in any other categories. He currently ranks sixth in Heat history in games played and should move into the top three by the end of the season, but his path to breaking Mourning's career record is blocked by Udonis Haslem, who re-signed with Miami this summer and already has a 46-game lead on Wade.