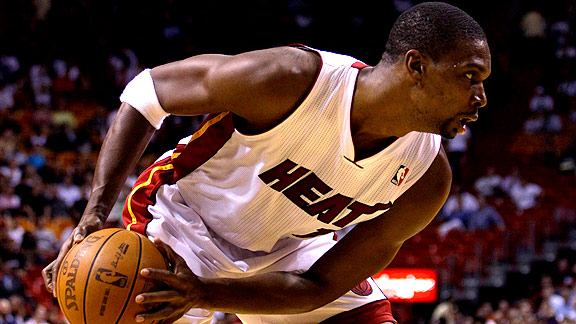 AP Photo/Lynn Sladky
Chris Bosh won't be lobbying for an All-Star bid on YouTube this season. He'll let his play do the talking.
After being asked whether he thought he was worthy of an All-Star bid this season, Chris Bosh looked away and pondered the question. For a moment, it appeared he was searching for a selfless, diplomatic answer.
Then he responded with a devious smile.
"Of course."
Bosh knows his numbers are down this season -- at least, the numbers that everyone talks about. Bosh is averaging 18.6 points, 8.2 rebounds and 51.3 percent shooting this season, far cries from the career highs he enjoyed in 2009-10 for the 40-win Toronto Raptors. So maybe it's no surprise that he ranks fifth in All-Star voting among Eastern Conference forwards behind LeBron James, Kevin Garnett, Amare Stoudemire and Paul Pierce.
But to him and many others, being an All-Star isn't about lofty per-game averages and flashy aesthetics; it's a reward for playing winning basketball.
"I know I'm not the most popular player out there," Bosh said after Saturday's game. "I just concentrate on playing solid basketball. That's what All-Stars do. Whatever it takes to help this team to win, that's what I'm going to do."
It's a different tune from what he's played in the past. As of now, Bosh says there are no plans to don a cowboy hat and dress like a car salesman in another YouTube All-Star voting campaign, as he did in 2007.
"I'll keep my cars to myself right now," Bosh said Friday.
This season, Bosh is letting his game speak for itself -- and his game certainly deserves the All-Star nod. Sure, Bosh's per-game averages don't scream superstar, but his overall contributions are certainly All-Star-caliber.
Among Eastern Conference forwards, only James has tallied more win shares than Bosh this season, according to Basketball-Reference.com. In fact, Bosh ranks seventh in the NBA overall.
What are win shares, you ask?
Win shares is an advanced metric that estimates how many wins a player contributes to his team, combining both offensive and defensive value. In 2010-11, Bosh's play has translated to 5.1 wins so far, topping the totals for Pierce (4.6), Garnett (4.3) and Stoudemire (3.5) -- all of whom lead Bosh in fan voting.
Also bolstering his candidacy is that no other player has been a part of winning basketball more than Bosh this season. The Heat's starting power forward leads the NBA in plus-minus, with the Heat having outscored opponents by 322 points while he's on the floor. James and Manu Ginobili are tied for second with a plus-289 rating on the season.
Standing in Bosh's way is that his biggest strides this season are subtle. Although strong rotational work and pick-and-roll coverage are important to the ultimate goal of winning, dazzling help defense doesn't exactly send fans sprinting to the All-Star ballot box. But Bosh has vastly improved in these areas this season, a requirement in Heat coach Erik Spoelstra's airtight defensive schemes demanding quick footwork and team-focused habits.
The knock on Bosh, of course, is that he's soft as Charmin Ultra. But the truth is that he's stopping opponents in the post. Overall, the power forward has allowed only 47 points on 67 post-ups against him this season, according to Synergy video data -- a rate that places him ninth among the league's 62 qualified big men. He ranks even better in one-on-one isolations.
Bosh's conservative style of play doesn't lend itself to fan adulation, unlike that of his more electric competition. Stoudemire masks his deplorable defense with thunderous dunks, and his 26.4-point scoring average grabs our attention even though it's spurred by outrageous shot volume, not efficiency. Garnett doesn't have eye-popping numbers, but his visible intensity makes his strong defense more captivating to audiences. People pay to see their theatrics as much as their talents.
Given that it's unlikely that Bosh will leapfrog Garnett, Stoudemire and Pierce in the fan voting, Bosh probably will have to rely on the coaches' vote to earn a bid. As part of league rules, each coach must fill out a ballot selecting two guards, two forwards and a center, with the top seven vote getters winning a spot on the team in addition to the starters whom fans select. With a weak lot of shooting guards, there's a good chance that, for the second year in a row, the East's All-Star bench will be dominated by big men. That boosts Bosh's chances at landing a spot. Unless coaches harbor serious anti-Heat resentment, Bosh should garner more support than other forwards in the field, such as Josh Smith, Wilson Chandler or Carlos Boozer.
In the end, Bosh is still playing All-Star basketball if the criteria are based on merit. He's not putting up the same gaudy per-game numbers as we're accustomed to seeing, but then again, Stoudemire and Dwight Howard are the only Eastern Conference players to beat Bosh's scoring and rebounding averages. Bosh has a more complete game now in ways that aren't obvious to the casual fan watching the highlight reels. But the sharpened eyes of opposing coaches can see his development. That alone may be all that matters.