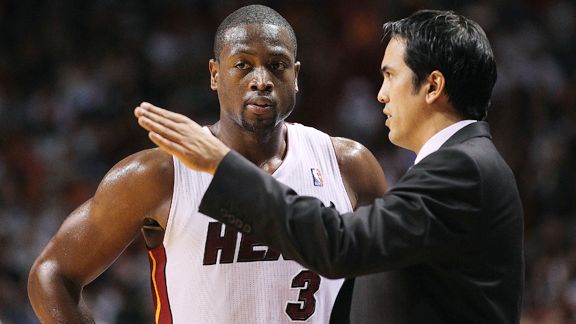 Mike Ehrmann/Getty Images Sport
Dwyane Wade and Erik Spoelstra each won awards from the NBA on Monday.
CHARLOTTE -- The Miami Heat's record-setting 15-1 December has been recognized by the NBA, as Heat coach Erik Spoelstra, guard Dwyane Wade and forward LeBron James received the league's top in-season honors.
Spoelstra was named Eastern Conference coach of the month after guiding the Heat to their most successful month in franchise history, which also included a league-record 10 consecutive road victories in a calendar month. Wade was named conference player of the week for the second time in December after averaging 36.7 points, 7.3 rebounds and 3.7 assists during a 3-0 week for the Heat, a stretch that included a 40-point game against New York, followed by a 45-point outburst against Houston.
James and Wade were each named Eastern Conference player of the month for December. They became the first teammates to share the monthly award since Michael Finley, Steve Nash and Dirk Nowitzki did so in November 2002 for the Mavericks. For James, it was his 16th NBA player of the month honor, tying him with Michael Jordan for the most since the award's inception in 1979-80.
The Heat were 10-8 at the end of November but carry a 26-9 record into Monday night's road game against the Charlotte Bobcats.
Several elements have factored into the Heat's turnaround. Spoelstra said Monday that his team was humbled by a rough start in November and regrouped with more focus and effort, specifically on the defensive end of the court. Miami ranks among the league's top teams in defensive efficiency and opponents' field-goal percentage. The Heat are a half-game behind Boston for the East's best record.
"We're very aware," Spoelstra said after the Heat's shootaround on Monday. "But I'm not going obsess about it. But we're nearing the halfway point of the season, and it is relevant. But the most important thing is to get back to playing to our identity. It's great we went on that run, winning 15 of 16. But I want to hit that reset button (in January)."
Wade said the team's chemistry and focus improved over the past month, and that it was only a matter of time before the Heat starting to hit their stride after trying to integrate other key players such as LeBron James and Chris Bosh.
"We're a good team," Wade said. "But we have to find ways to be a great team. That's what we're working toward now. Things have started to come together for us. We had a great month, but the goal is to keep improving from here."