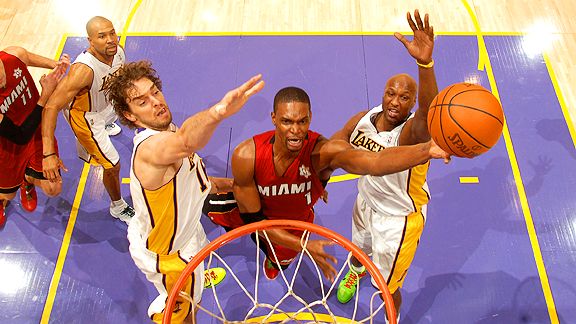 Andrew D. Bernstein/NBAE/Getty Images
Chris Bosh on the Heat's run: "You have to find some type of motivation to keep it going."
MIAMI -- Erik Spoelstra refused to flip the panic switch when things were stormy and headed south with the Heat. Now that the forecast has been filled with nothing but sunshine and victories, the Miami Heat coach is ready to reach for a completely different trigger: the reset button.
Curiosity may have killed the cat. But there's a concern that complacency might derail the Heat. Guarding against potentially bad habits -- and boredom, frankly -- is the challenge Miami faces as the self-proclaimed "Heatles" take their rolling stones act on the road for their longest trip of the season.
Having won 19 of their past 20 games and off to the best start in the franchise's 23-year history, the Heat (28-9) embark on a five-game western trip that carries them through three time zones in nine days starting with Friday's game against the Milwaukee Bucks.
The Heat will depart without much of the baggage that weighed the team down initially during that turbulent 9-8 start to the season. Miami has proved it can battle through the pressure. The next obstacle, Spoelstra said, is to remain focused and hungry amid the extended prosperity.
"It's a tough process," forward Chris Bosh said. "When you look at all the great teams that played, they were good at that. Not so many teams can do it because it's so hard. You have to find some type of motivation to keep it going. Usually, losing is the best motivation."
Losing?
Bosh, as cerebral and measured in his message off the court as he is methodical on it, briefly paused to allow his words to sink in after a recent workout. Just the thought of losing has become a foreign concept around the Heat, whose only setback in six weeks was a 98-96 home loss to Dallas.
Losing is an alternative the Heat don't want to explore as they address defensive lapses that led to surrendering a season-high 119 points to Houston, 72 points in the first half against Golden State and a 33-point fourth quarter to New York.
"We don't want to have to get to that point," Bosh said. "We don't have to lose a few games to get our minds into it. We just have to focus. For us, it's just winning and trying to stay consistent. Now more than ever, we have to stay on top of each other to keep this stride going."
Hence Spoelstra's latest motivational mantra.
"It's great that we went on this run, but I want to hit the reset button," Spoelstra said of breaking down the team's sense of accomplishment. "Erase that from our minds and work on the process again of trying to get better and thinking that since we've won, that that's good enough."
The Heat shored up some of their "slippage" in the past two games by throttling the short-handed Charlotte Bobcats and pulling away late from the defensively rugged Milwaukee Bucks. Those two balanced performances allowed Miami to regain its footing on offense and its defensive grip.
"It's not a look-over-your-shoulder thing -- we're just playing basketball," forward LeBron James said. "If a guy has it going, we go to him. It's coming out of our offensive sets. It's not like we're playing a lot of one-on-one basketball. It's coming off great sets, and guys are benefiting."
Defensively, the Heat have regained their dominance. Miami entered Thursday ranked first in opponents' field goal percentage (42.3 percent), third in defensive efficiency (97.8 points allowed per 100 possessions) and third in rebounding differential (3.38). Maintaining that momentum is a priority as the Heat visit the Bucks, Portland Trail Blazers, Los Angeles Clippers, Denver Nuggets and Chicago Bulls.
"The most important thing is getting back to playing to our identity," Spoelstra said. "We had the league's best defense after December, and we stumbled (recently). That's how competitive it is and how much we have to stay hungry. We don't have to be humbled like we were in November to be humble. We can keep that state of mind and make improvements like we did in December."
That process presents an ultimate test for the Heat, who have won't have to search far for motivation on the road trip. Miami's players have embraced their villainous roles and the harsh receptions they get in every arena they visit. Those things have galvanized them and kept them sharp enough to win 11 consecutive games on the road, three short of the franchise record.
"That's ideal for us," guard Dwyane Wade said of avoiding complacency. "But the great teams do it. They understand how to always have an edge, have a balance. That's a challenge. Coach understands it's human nature. You win (19 out of 20), human nature is you think you just show up and do it, sometimes. But every night, you're not going to be able to do it. Hopefully it was a wake-up call, and we don't have to go on a three-game losing streak or something before we wake up."