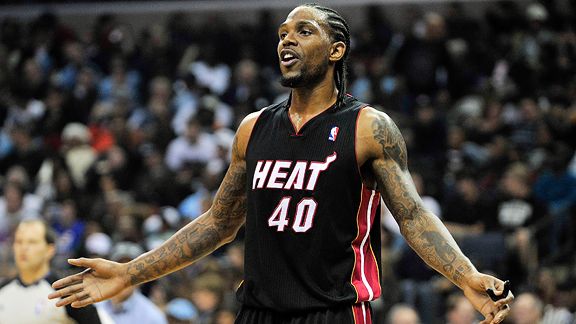 Grant Halverson/Getty Images Sport
The Heat have decided to let their injury exception for Udonis Haslem expire.
MIAMI -- Things looked uncertain 45 days ago when it was granted, but now the Heat will let their Udonis Haslem injury exception expire.
The Heat could have used the $1.85 million exception to sign or trade for a player before Thursday's deadline, which marked 45 days since Haslem went down with a torn ligament in his foot. Winners of 19 of their last 20 games, the team opted instead to leave for a five-game road trip confident it didn't need to make any additions.
"Pat (Riley) and I talked about it," Heat coach Erik Spoelstra said. "We feel like getting Mike Miller back (from his own injury) is like adding a player we needed."
With a full 15-man roster, the Heat would've had to waive a player to add another. In the wake of losing Haslem they also made another move, cutting Jerry Stackhouse and signing veteran center Erick Dampier, which made using the exception less pressing.
Spoelstra also said that Haslem's progress in his recovery -- the forward got his cast off this week and is still on track to return near the end of the regular season -- helped convince the team to stand pat for now.