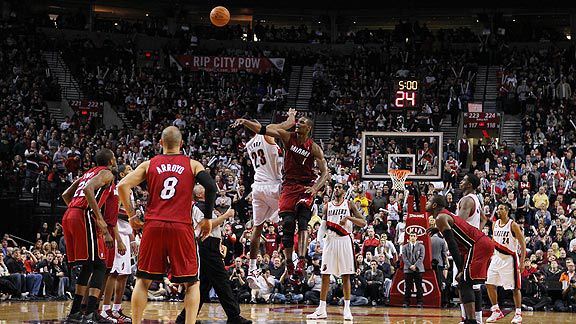 Mike Nelson/US Presswire
The Heat had only one big man on the floor when the ball was tipped for overtime in Portland.
PORTLAND, Ore. -- Who do you want on the floor in crunch time?
That might be the most vital question a head coach confronts, and it's fraught with all kinds of danger.
Field a conventional lineup, and you'll probably escape the third degree in the postgame media scrum -- but you also might miss an opportunity to win the game with a creative adjustment.
Go big, and you'll have an advantage inside and on the glass, but you'll probably be the slower team. Furthermore, unless your bigs can shoot the ball from distance, you're also clogging the court offensively.
You can spread the floor with perimeter players, but in doing so, you give up a lot of size on the boards and leave your defense vulnerable to the opponent's post game.
With the Miami Heat down 89-82 to the Portland Trail Blazers and a little more than two minutes to play in regulation, Heat head coach Erik Spoelstra summoned James Jones off the bench and inserted him on the floor in place of Joel Anthony.
"I just wanted to get another player who could stretch the floor," Spoelstra said. "They were doing a very good job on our pick-and-rolls and with their schemes, keeping the ball in front of us. I wanted to create a little bit more space."
In the Age of Bonner and Seven Seconds Or Less, there's nothing radical about having only one conventional big man on the court or calling perimeter players centers, but it's not something the Heat have done during their torrid stretch of play in the past six weeks.
In fact, much of the Heat's success has been attributed to a reliance on good old-fashioned basketball convention: a point guard -- either Carlos Arroyo or Mario Chalmers -- on the floor at all times. LeBron James and Dwyane Wade situated firmly at the wing positions, spelled by Jones. Chris Bosh logging most of his minutes at his native power forward, backed up by Juwan Howard. A center-by-committee consisting of Zydrunas Ilgauskas, Anthony and Erick Dampier.
Normality wasn't working for the Heat on Sunday night. The Trail Blazers were strangling them in the half court and luring James and Wade into the sort of isolation-heavy sets and careless freelancing that doomed Miami during the first month of the season. Spoelstra knew the Heat needed a jolt, so he went small.
Over the next 7:11, including the five-minute overtime period, Miami outscored Portland 25-11. The Heat successfully scored on 11 of their 14 possessions and held their own defensively, even with James drawing 7-foot center Marcus Camby as his defensive assignment.
"It's not going to work every game, but I think it was the right situation," James said. "Coach made a great call, and we made some good plays."
Some of those plays had nothing to do with strategic adjustments. After all, James is capable of launching -- and draining -- a contested step-back 3-pointer with four traffic cones as teammates. But he was also able to bully his way to the rim at the two-minute mark of regulation against a stretched Portland defense on the Heat's first offensive possession out of that timeout.
"It opened up the court for LeBron to have more driving lanes," Spoelstra said.
It wasn't just James. A couple of possessions later, Wade sliced up Patty Mills with a crossover dribble and eluded a late LaMarcus Aldridge at the rim.
By replacing an offensive cipher like Anthony with Jones, one of the most prolific 3-point shooters in the NBA, the Heat instantly became a more difficult team to guard. They lost Anthony's defense, which had been solid against a tough cover in Aldridge, but got the offense flowing again by putting Portland in a tough spot. While Spoelstra had to make a difficult call by placing James on Camby, Trail Blazers head coach Nate McMillan was put in a similar position by the Heat's smaller lineup, as Jones explained.
"It's successful because, naturally, they'll leave the small forward on LeBron and they'll put the power forward on me," Jones said. "When you have guys like we have attacking the basket, if I'm stretch 4, that means the power forward -- LaMarcus -- has to come out past the 3-point line. So that creates space. And when you're in a possession game, the more space you have for these guys, the better."
Going small against a tiny, less orthodox team like Golden State is one thing, but Portland leads the league in offensive rebounding. Is it safe to assume that if Spoelstra is willing to roll the dice against the Trail Blazers, the Heat's small-ball lineup is officially open for business against any and all takers?
"We've had it in our pocket for a while. It was just a matter of pulling the trigger on this," Spoelstra said. "We've talked about our versatility all season long, and it really felt like we needed consistency and continuity early on, but this certainly now is a good sign that we can start to do that. It might be a way we can use our versatility more."
A 25-11 edge against one of the bigger teams in the league not only makes Spoelstra look smart but also makes the small-ball proposition a somewhat easier sell to players who might prefer a traditional lineup. Once Mike Miller returns to full health and regains his rhythm, the option will be even more alluring for Spoelstra. If the Heat can string together a couple of successful outings like the final seven minutes on Sunday night, small might find its rightful place on the Heat's whiteboard.