CHICAGO -- Damn, those pingpong balls.
Had they bounced the way they were supposed to, the way the draft-lottery odds indicated they should, the way everyone in the Heat organization prayed they would three years ago, Derrick Rose wouldn't be the excruciatingly amazing thorn in Miami's side the way he was Saturday night.
Instead, Rose would be playing alongside Dwyane Wade in the most dynamic backcourt the NBA would have seen in quite some time. But the treason those darn pingpong balls committed against the Heat during the 2008 draft lottery becomes more painfully obvious with each passing season.
Saddled with the league's worst record at 15-67 and rewarded with the most pingpong ball combinations among lottery teams, the Heat had the audacity to dream of snagging the draft's top prize in Rose and pairing him with a perennial All-Star in Wade.
What transpired that late spring night in 2008 still resonates as the worst bounce in the 23-year history of the Heat franchise. Miami was bumped to second in the draft order and ended up with Michael Beasley, who's since been traded. Chicago defied the odds, scored the No. 1 pick and chose Rose.
The bounce still burns. The Heat have since had to settle for watching Rose and Wade wage amazing battles against each other. None was more thrilling than the performance they delivered Saturday night in the Bulls' 99-96 victory over the Heat at the United Center.
Rose had 34 points, 8 assists, 4 rebounds and 3 blocks in 43 minutes. Wade countered with 33 points, 6 rebounds, 5 blocks and 4 assists in 35 minutes. Rose sparked a 17-0 run to open the second half that put the Bulls in control. Wade kept the Heat within striking distance, despite missing LeBron James because of an ankle injury and losing Chris Bosh in the second half to a sprained ankle.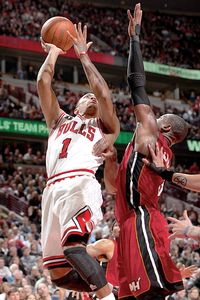 Gary Dineen/NBAE/Getty
Had a pingpong ball bounced the right way, Dwyane Wade and Derrick Rose might be teammates.
To this day, it's hard not to think about what might have been had it not been for those darn, faulty pingpong balls. There's also a degree of irony. The Heat have yet to find a long-term fit at point guard since they missed out on Rose. Meanwhile, the Bulls have shuffled through shooting guards since Michael Jordan's departure, hoping to find someone like Wade.
Erik Spoelstra was promoted by Pat Riley after the 2007-08 season and took over as coach during what would have been Rose's rookie season with the Heat.
"I can't sit back and enjoy it," Spoelstra said when asked after Saturday's game whether it's possible in the midst of the game to marvel at the magical moments Wade and Rose provided. "But I can certainly respect that [Rose's] game has come a long way in three years. Those two guys were really entertaining tonight. And I'm sure the Chicago fans got every bit of their money's worth."
Wade and Rose have the ultimate respect for each other. They share Windy City roots. They both attack the basket with reckless abandon and are essentially impossible to defend. On Saturday, they spent time guarding each other in the game's decisive moments. There were very few defensive stops in their matchup but plenty of specular offensive highlights.
"Both of us do our best to lead our teams," Wade said. "After halftime, he came out very aggressive and got his team a 10-point lead. I tried to do the same thing. Derrick is one of the great players in the game today and probably will be for a long time to come. You don't see a point guard with the ability he has. And now he's added an outside shot to his arsenal. Chicago's got a good one."
And Miami missed out. Thanks to those darn pingpong balls.
Wade once envisioned having Rose as a teammate but has since watched him blossom into one of the league's elite players. The Heat have regrouped from that lottery heartbreak by landing James and Bosh in a blockbuster free-agency haul this past summer.
But Wade's admiration of Rose was tempting, so much so that Wade met twice with the Bulls this past summer and considered signing with Chicago. But free agency dealt the Bulls the same blow that buckled the Heat's hopes of a Wade-Rose backcourt.
So any wishes to see that explosive guard tandem must be delivered in All-Star Games. It happened at Cowboys Stadium last season, when Rose made his first All-Star appearance and Wade was named the game's Most Valuable Player. Bank on their teaming up again in Los Angeles next month as the likely Eastern Conference team's starting backcourt.
The Bulls are pushing hard for Rose to return to the All-Star Game. On Saturday, the campaign placed a real rose and a poster of Rose in each media seat. It was a classy gesture, albeit unnecessary. Rose's game speaks for itself -- and makes a convincing argument.
"I feel appreciated," Rose said after the game.
He's also grown to appreciate the challenges from Wade. At one point in the fourth quarter, Wade and Rose were going at each other like siblings on the playground, with one trying to top the other's previous feat.
"That's why I'm in this league," Rose said. "I love competing against the best. [Wade] was making hell of shots, tough shots. It's really exciting when a game is like that, because it makes you bring your best stuff."
Wade and Rose will be bringing the best out of each other as rivals for years to come. After Saturday's showdown, Rose walked toward his bench and waved at Wade in the distance. That gesture wasn't good enough. Wade wanted more. So instead of waving, Wade walked toward Rose, and they embraced.
Performances like the ones they put on Saturday make you wonder what they would be like as teammates.
But lottery fate denied that possibility in 2008.
And free agency prevented it again in 2010.
Still, it's amazing to imagine what might have been. It's worth saying again.
Damn, those pingpong balls.