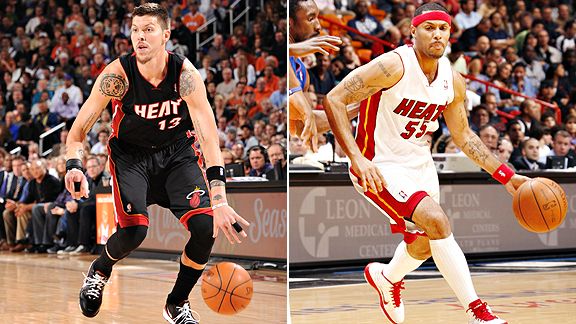 Getty Images
Injuries have allowed Eddie House and Mike Miller to get some burn for Miami.
MIAMI -- Eddie House insists he never lost confidence in his shot. What he was uncertain of, however, was whether he would ever get another extended opportunity in the Miami Heat's rotation to shoot.
So after a recent surge in playing time over the past two games, it's no wonder House sounded more like he was emerging from retirement than simply coming off the bench for his first action in weeks.
"When you don't get to play the game, you miss the game," House said of falling out of the rotation in late November and not playing for most of December. "That was one of the things I was telling my family -- that I really missed the game, getting out there and competing. But what can you do? You just try to stay ready for when your number gets called."
While waiting, House assumed a new identity: Stay Ready Eddie.
"I just tried to keep my mind right, keep my wind right," House said. "When I got practice time, that became more like my game time. I had to stay in it mentally, stay into the game every game. That's pretty much it. Just stay with your regular routine."
After providing a boost off the bench during the Heat's recent road trip, House hopes to parlay that spark into a regular spot in the playing rotation. An ankle injury that forced LeBron James to miss the past two games created an opening for House, who responded with 15 points in 17 minutes against the Denver Nuggets and had 13 points in 24 minutes against the Chicago Bulls.
After playing 39 minutes in all of December, House has seen 41 minutes of action the past two games. The combined 28 points he scored against the Nuggets and Bulls are the most he's had in consecutive games this season. He's also 7-of-11 from 3-point range in those games.
House's performance against Denver might be dismissed as "garbage time" production because he played after the Heat were down by 30. But House earned legitimate minutes against the Bulls. He hasn't been a part of the Heat's rotation on a consistent basis since the Nov. 27 loss in Dallas that dropped Miami to 9-8 and sparked a players meeting and tweaks from coach Erik Spoelstra.
House's departure from the rotation coincided with an increased role for point guard Mario Chalmers and more confidence in swingman James Jones to take over as the primary 3-point shooting threat to stretch the floor for James, Dwyane Wade and Chris Bosh.
The benching didn't sit well with House, who initially said he was not told why he was removed from the rotation and couldn't understand the demotion. But he's since kept quiet, kept working and kept staying ready, and he is hopeful for a chance to play again.
House is in a different situation than Mike Miller, who also has delivered two encouraging efforts the past two games after struggling in his return from preseason thumb surgery. in his time in the rotation, Miller has shown flashes of the all-around play the Heat expected. He's averaged 5.5 assists and five rebounds in the two games.
"You see why we brought the vets in that we did," Spoelstra said of the recent contributions from Miller and House. "Everybody has kept themselves ready. We're just using all our players the best we can. It was a real credit to Eddie. He hasn't played much the last four weeks, but when his number was called he stepped up for us. It's the same for Mike Miller in just getting back in shape."
Like House, Miller is hoping for a chance to build on his recent efforts as the Heat try to end their three-game losing streak on Tuesday against the Atlanta Hawks. Opportunities for Miller and House have been tied to James' health. Bosh is also nursing an ankle injury, and their status will be re-evaluated before Tuesday's game.
"It's one more step for me," Miller said. "Unfortunately we've been losing, but it's good to be a part of things a little bit more. Obviously, it's going to take some time. When LeBron comes back, it's going to be [fewer] minutes again, but I understand my situation completely. When I get my minutes and get consistent minutes, I just want to contribute to helping us win games."
For House, the challenge amid his deep freeze on the bench was to maintain his confidence and swagger despite losing playing time.
"I always felt I could do this the whole time," House said of his hot-shooting stretch. "That's the type of mentality I always had. I believe in myself. My whole goal when I get called out there is to do everything I can so I don't get put back out of the rotation."