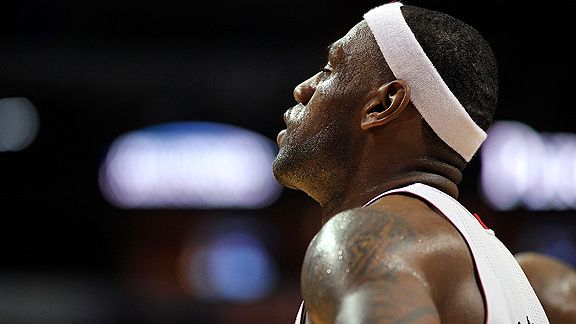 Mike Ehrmann/Getty Images Sport
LeBron James: seeing more minutes at power forward, like it or not.
MIAMI –- LeBron James would like to make two things clear. Well, at least when it comes to the category of his position.
He is not to be referred to as a point guard, which he declared in November. And he is not to be considered a power forward ("I'm not a 4," he said this week), which he's now playing intermittently with the Heat, and likely will continue to do so for the near future.
Like with many of James' statements these days, there's some irony there. For the stretch run of the Heat's 93-89 overtime loss to the Hawks on Tuesday night, James was playing power forward and point guard … at the same time.
The Heat are having some issues right now, having lost four games in a row while dealing with an array of injuries to their stars that has tossed the team off its rhythm. However, one nugget that is coming out from this stretch -- during which Chris Bosh has been out due to injury and the Heat have had trouble matching up with some opposing athletic power forwards -- has been James' playing power forward.
"It is something I've had in my back pocket since training camp," Heat coach Erik Spoelstra said.
It is an intriguing thought process and not a new one. For several years, the Cleveland Cavaliers experimented with James at the power forward spot. Not only is it a logical strategy because of James' size, but the Cavs' stats experts created charts and graphs displaying how effective the lineups often were.
Last season, when the Cavs were at their best in the middle part of the year, coach Mike Brown specifically built in 8-10 minutes a game with James at power forward. It was forgotten late in the season after the team traded for Antawn Jamison and there wasn't really room there. In retrospect, that may have been a mistake.
Now, Spoelstra is experimenting with the idea. James himself said he's "OK with it," the requisite star blessing.
At the start of the season, when Udonis Haslem was healthy and Bosh was putting up much better numbers playing full-time power forward and not part-time center, it stayed in the back pocket. Spoelstra was more interested in having James play the point guard, a role that didn't seem to suit the team well and one James privately and semi-publicly grumbled about.
Now with Haslem out long term and Bosh dealing with his sprained ankle, the Heat are woefully short of athletic big men while Spoelstra is battling to find guaranteed playing time for perimeter players like Mike Miller and Eddie House.
The result has been James' getting those minutes at power forward. He even started and finished the second half there on Tuesday -- while playing de facto point guard on offense for much of the time (let the record, if not the lineup sheet, show).
Of course, playing James at power forward on offense and letting him use his ambidexterity and size to wreak havoc in the post would make the most sense. But coaches have been losing that battle with him for years. It isn't about calling the plays. James simply is more comfortable facing up and rarely commits to getting post position.
It is generally assumed that when James ages and loses some explosiveness, he'll actually take the time to learn the positioning and footwork that would make him deadly with his back to the basket. This isn't an unworkable character flaw. Michael Jordan and Kobe Bryant didn't get serious about post play until later in their careers.
In the short term for the Heat, it probably means James' getting time defending some athletic power forwards to help balance out a roster that is perimeter-heavy -- even when Bosh returns.
"There's pros and cons with it," James said. "Defensively it allows us to do a lot of things. We can switch on the pick-and-roll. I can use my athleticism off defensive rebounds. Teams are used to a [power forward] getting the rebound and then going out on the break."
Spoelstra has even rolled James out at center recently. He defended the Blazers' Marcus Camby for five overtime minutes two weeks ago in Portland. On Tuesday, he also defended the Hawks' center, which happened to be Josh Smith at the time.
"If Chris is out and [Haslem] is out, you get into your depth chart a little bit," Spoelstra said. "If we're healthy, we'll probably do it in short bursts."
Ultimately, that seems to be the plan. James will get steady minutes at power forward, with Bosh sliding over to defensive center, and if he returns healthy, perhaps Haslem in the same role. There are plenty of reasons why it could be effective in the playoffs, especially because it would give the Heat flexibility when dealing with the challenging matchups teams like the Magic, Celtics and Bulls present.
The early returns have been mixed, but more practice is coming.
"For the most part when we've had that lineup it has been very good for us," James said. "We've been working on it in practice. We're going to keep trying to get better."