It's no secret that Chris Bosh's rebounding numbers have been disappointing this season. After averaging a career-high 10.8 rebounds for the Toronto Raptors in 2009-10, the five-time All-Star has collected just 8.2 rebounds per game in his new digs in Miami.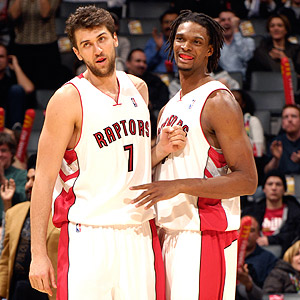 Ron Turenne/NBAE/Getty
Did playing next to Andrea Bargnani give Chris Bosh's rebounding numbers a boost?
When hatching a theory to explain a rebounding dip, people usually begin with effort, or lack thereof. After all, rebounding a basketball demands not just size and athleticism, but a little bit of sweat too. You need to work for those rebounds. And Bosh is an especially easy target for this line of criticism after his infamous "chill' comment back in November, not to mention his recent complaints about Chicago Bulls center Omer Asik hustling for a loose ball.
But before we close the book on why Bosh isn't rebounding as much, we need to account for this very important, yet often ignored factor:
Bosh is no longer playing next to Andrea Bargnani.
Bosh's former frontcourt companion in Toronto is one of the worst rebounding 7-footers in NBA history. In fact, only two 7-footers have posted a lower rebounding rate over their career than Bargnani (min. 100 games). Fewer collected rebounds by the former No. 1 overall pick means more available rebounds for his teammates. And as the next tallest starter alongside Bargnani, Bosh would, in theory, have been the biggest beneficiary of Bargnani's lack of rebounding knack.
Could Bargnani's rebounding deficiencies have had a boosting effect on Bosh's rebounding numbers?
Yes, it does appear that Bosh not-so-magically rebounded better when Bargnani was at his side in Toronto. Looking at the 2009-10 data, Bosh collected more rebounds with Bargnani in the game than when Bargnani was off the court.
Chris Bosh, 2009-10 season with Raptors (per-40-minutes)
Data courtesy of ESPN Stats & Info
Here we see that Bosh collected collected 12.6 rebounds every 40 minutes when he played with Bargnani last season. And when Bargnani went to the bench, Bosh saw his rebounding numbers tumble down to 10.7 rebounds per 40 minutes. Since Bargnani and Bosh shared the court often, Bosh's overall numbers looked pretty stellar at 12.0 rebounds every 40 minutes.
Now, it's conceivable that there's something else going on here. Bargnani could be such a poor shooter that there are more available rebounds simply because Bargnani's missing more shots. But that theory doesn't hold much water. For one, Bargnani shot 47 percent from the field last season, which isn't great but it's not terrible either. And secondly, when we look at Bosh's rebound rate as a percentage of available rebounds, which neutralizes that effect, he's still collecting far more when Bargnani is on the floor (18.3 percent compared to 15.9 percent).
So with this information in mind, it's possible Bosh's rebounding prowess may have been a little overstated in Toronto. No, the finding doesn't suddenly mean Bosh is chopped liver as a rebounding force. But it does mean that we probably should have tempered our expectations a bit.
Back in early December, Bosh felt that he needed some time to familiarize himself with the Heat's defensive schemes before he could work on positioning for rebounds. And it's looking like he's figured that out. After averaging just 8.5 rebounds per 40 minutes heading into the month of December, his rate has climbed up to 9.8 since. That's still not quite as good as he was in Toronto sans Bargnani (10.7 vs. 9.8) but he's certainly closing the gap.
In the end, the case of Bosh's rebounding serves as a lesson for us basketball fans. Sometimes we rush to judgment when we see a big change in a player's statistics and place the blame squarely on the individual. But as we're seeing with Bosh, basketball players are also products of their environment.
Context matters.