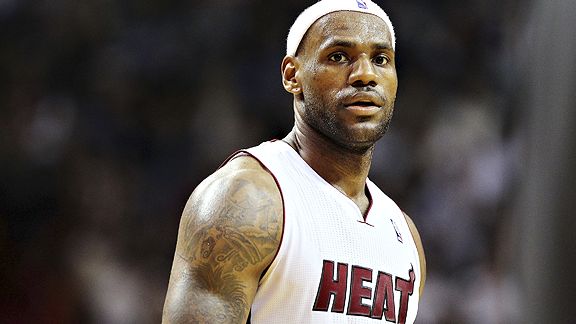 Mike Ehrmann/Getty Images Sport
With Chris Bosh out, can LeBron James carry the Heat as a high-post threat?
When the Heat ripped off 21 wins in 22 games, their success was attributed to a bunch of factors -- emerging chemistry, a newfound freedom to improve on run-outs, individual talents learning to coexist.
Amid all the fanfare surrounding the Heat's success, something more fundamental was at work. LeBron James and Dwyane Wade didn't magically learn how to work together, nor did Chris Bosh just suddenly become more confident. Those positive results were very much the product of a system that lent the Heat a coherent philosophy on offense. During their winning streak, the Heat were establishing a very fluent offense predicated on a number of corner sets.
There's nothing new about the corner offense. The corner's greatest hits have resided in NBA playbooks for years. Rick Adelman has run a read-and-react corner offense successfully for years in Sacramento and Houston, and many of its basic tenets can be found in the Triangle. Corner sets feature a three-man formation on one side of the floor with two players positioned on the weak side. As much as anything else, good corner systems rely on big men with multiple skills who can facilitate the offense at the elbow. Think Vlade Divac, Chris Webber, Pau Gasol, Luis Scola and Brad Miller.
Enter Chris Bosh, who started to find his footing in the offense after Miami began to introduce more and more corner sets into its game plan in late November. Little by little, these plays became the Heat's bread-and-butter stuff, maximized for the team's unique collection of personnel. And you'd find Bosh at the focal point of just about every single one of them.
Sometimes Bosh would offer a handoff to a cutter, while at other times he'd shoot a silky 18-footer when his defender got crossed up on the action. There were even shades of the San Antonio Spurs' variation of the corner, with Bosh playing the role of Tim Duncan in one of the Heat's favorite and most efficient sets. Bosh would receive a pick from the man on the wing, then would set one for the ball handler, then would roll to the post or to open space for a jumper.
Life was beautiful for the Heat in December, and Erik Spoelstra's refinement of the offense had a great deal to do with that.
Then Chicago happened, and Chris Bosh hasn't seen a full-contact practice since. In his absence, the Heat have tried to plug the hole at power forward with a committee that includes Joel Anthony, Juwan Howard, James Jones and, of course, LeBron James.
But this is a tall task because so much of what the Heat run requires very specific things from the power forward. We like to debate the merits of "LeBron at the 4," but positioning James at power forward demands a whole lot more than just having him work in the post and guard bigger dudes on defense. If the Heat want to stay true to their playbook while playing James at Bosh's slot, that means James has to spend more possessions at the elbow and fewer along the perimeter.
The other option is to scrap the repertoire of sets that were working so efficiently for six weeks and draw up some entirely new stuff. We saw a bit of that in the woeful Atlanta game. The Heat, somewhat ironically, ran some of Hubie Brown's old "Hawk" offense, with double stacks low to free up shooters on curls. If the Heat were out of sorts last Tuesday, it might be because they were not only incorporating new sets into their offense, but trying to run the old ones without Bosh. The final result was a 92.7 offensive efficiency rating, their third-worst outing of the season (opening night at Boston and the debacle versus Indiana on Nov. 22).
The Heat got a reprieve on Saturday night against a Toronto team that can't string together more than 15 seconds of steady defense. But the Heat had also clearly made adjustments to their play calling. They ran a bunch of their tried-and-true corner sets, but opted for more weakside options by moving the ball from side to side against Toronto's beleaguered zone defense.
There's never a good time for an injury like Bosh's high ankle sprain, but a stretch of only one game over eight days offers the Heat a singular luxury -- time to acclimate the team to new roles in the offense. Spoelstra has spent much of the past couple of days at practice reintroducing his team to its favorite sets, but with a new flavor.
Many -- if not most -- of those sets use the power forward in the high post, so don't expect James to necessarily be backing down defenders in the manner of an old-school post player. But we'll probably see James roll hard to the basket off screens, something he hasn't done a lot of in Miami, despite his combination of power and speed. He'll also have plenty of opportunities to shoot from midrange as Bosh often does, put the ball on the deck from the elbow Amare-style, work with Wade in handoff situations and hit teammates on backdoor cuts. When defenses load up on James at the elbow, he'll be in the perfect position to sling a cross-court pass to a weakside shooter.
James has been a reluctant power forward in the past, but this time around he's being cast for the role out of necessity. With plenty of practice time, some heady instruction, play calls that have produced a ton of points and a desire to conquer a new facet of the game, James has a chance to break new ground as a Power Facilitator.